New Panda Update: How to Avoid Being Penalized
With a new Panda update in the works, you as a webmaster, will do well to update your site to get the best results from the algorithm change, when it rolls around. Einstein said that insanity is doing the same thing over and over, expecting different results, and Google is making constant algorithm changes (much to our infuriation, often) to make the search engine better for users. Probably for the first time ever, the new "softer" Panda, is set to help small businesses to obtain better rankings.
New Panda Will Remove Spammy and Shallow Content
In the last few years, duplicate content issues were the number one issue on the search engines. The original Panda mainly dealt with that, and started making webmasters aware of the value of quality, original content.
The new Panda helps small business websites with quality, relevant content to rank better.
Panda determines the depth of content, and removes poor content that:
is lower in quality than printed publications.
lacks complete and comprehensive relevance.
is lacks enthusiasm or expertise.
has one-sided perspectives.
is poorly written.
lacks originality.
You can determine whether you have been penalized by previous updates by:
1. Being Aware of Roll-Out Dates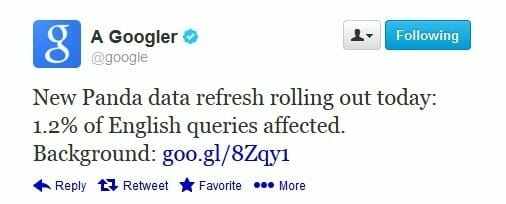 Knowing when updates were rolled out will help you link events on your site to the specific roll-outs. Penguin updates seem to occur at certain times of the year, specifically during May and October each year. The "softer" new Panda update is expected in May this year.
Tip: Subscribe to tech news sites to stay in the loop and to apply changes, such as those suggested below, timeously ahead of updates.
2. Knowing How to Detect Penalties
Google is not going to send you a sweet little note to tell you that you have been hit by an update. You will need to work through your Analytics and other Webmaster Tools with a fine-tooth comb to detect issues. Then you will need to diagnose and treat them accordingly.
Does a recent drop in traffic coincide with an update?
Have you suddenly stopped ranking for certain keywords, and has that caused a significant drop in your site's traffic?
What You Can Do Content-Wise to Avoid Panda Penalties
While content quality is a significant issue, it is important to mention link quality and diversity as well. You can use Webmaster Tools to assess backlinks to your site and remove spammy links from your profile.
Anchor Text
How diverse is your anchor text, in terms of the ratio between "money" to "non-money" links?
Money Anchor Text:
Phrases for which you are trying to rank.
Non-money Anchor Text: Generic phrases that look natural, such as business names, website names, click here, etc.
If you think Google is fussy, you should see your readers! Google is looking after your readers' interests, and that's why they are so particular about your website content.
As far as content is concerned, bear these factors in mind when you create new content:
1. Make it Comprehensive
When someone visits your site, they are not coming there to click on "buy" and get out. They need to be nurtured. They need to get value. Your content should answer the 4 Ws and 1 H.
1. What
2. Why
3. When
4. Where
5. How
2. Make it Meaningful
Don't just tell them to buy and how buying will benefit them. If you give your readers more value from your content than what your competitors do, they will buy from you. When writing your content, ensure that you give them value. Make your content stand out and they will return to you.
3. Make it Balanced
Don't tell your readers that you are the best – SHOW them! Instead of tooting your own horn and being inflexible in your opinions, share differing opinions. Make it balanced and fair. Be light on the "pushy" content and use a softer approach.
4. Make it Easy-to-Read
Quality content is easy to read. Language errors and spelling mistakes trip up the reader's mind as he or she has to mentally correct it in order to understand your message. Write clearly and double check for errors. Alternatively, hire a professional writer to write your work, or at least have it proofread for language, grammar, spelling and sentence structure issues.
5. Make it Better than What You'd Find in Print
Google wants to provide a better reading experience than print publications offer – somewhat unrealistic? Of course! Not just anyone gets to write for a print publication, but anyone whip up a website. Well, that's exactly why Google creates algorithms to sift the good content from the bad.
What does a print article look like?
In-depth information. Articles are much longer than you would find on the average website.
Passion. Writers are experts on the topics they cover.
Balance. Writers cover both sides of the story, including analysis and insights.
As a website owner, you can do various things to counteract penalties from the new Google Panda update, but it all starts with the quality of your content, followed by your interaction with other sites. Start working on your site now – don't leave it until you are penalized.