Everyone online marketer is raving about Clubhouse right now, and for good reason. It can take your business to new heights.
If you're wondering how this new social media app can help you to market your business, I wrote this article with you in mind.
As of February 2021, Clubhouse has more than 6,000,000 million users. That's huge!
With Clubhouse, you have a chance to pop into one chat room and hang out with celebrities and influencers such as Perez Hilton being interviewed by Katie Couric, then another chat room where Elon Musk is talking about the new developments in AI and space travel.
Clubhouse offers a ton of benefits to business owners and marketers, especially if you know how to use the app.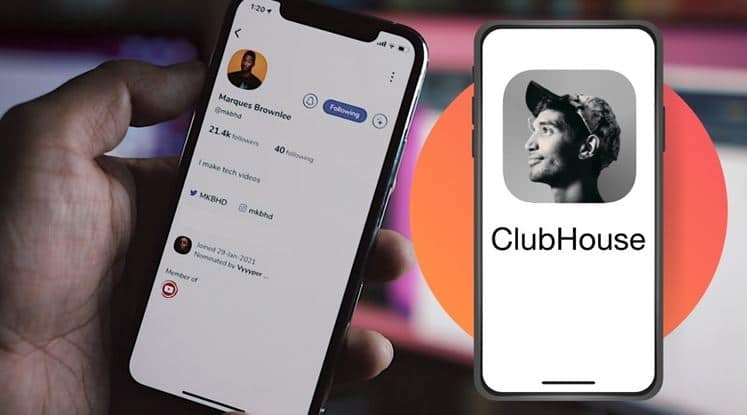 As an exclusive members-only club, Clubhouse gives you the leverage to reach influential entrepreneurs, venture capitalists, politicians, and so on.
You can also ask intelligent questions in chat rooms, and receive a wealth of unfiltered answers and expert opinions. You can also host your own rooms, and build a community around a topic you're passionate about.
What is 'Clubhouse?'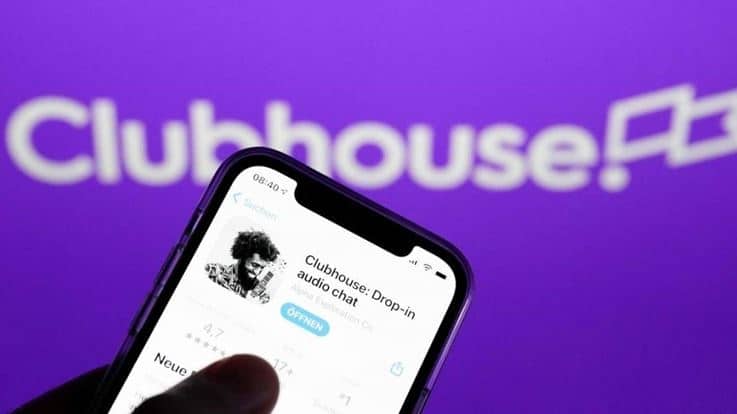 Clubhouse is an audio-based social media app. It's an invite-only chatting app that requires no videos or photos, aside from your profile pics.
Clubhouse allows invited users to join a chat room and listen to live conversations, panel discussions and presentations, interviews, and podcasts within chat rooms.
When you become a Clubhouse user, you're eligible to start a room to discuss any topic of your choice. You can also make the room accessible to guests and decide who should speak during a session.
The Clubhouse app was created in May 2020 by Paul Davison and Rohan Seth.
Today, this amazing interactive app has gained a lot of traction and attracted celebrities like Oprah, Ashton Kutcher, Chris Rock, and several others — who have hosted or participated in conversations on the app.
So can you join Clubhouse right now?
Unfortunately, you can't. It's not like Twitter or Instagram where anyone can register for free. Clubhouse isn't available to the public (yet).
Right now, it's an invite-only app. But you can download it for free from the App Store, sign up and reserve your name, and be on the waiting list.
How To Get An 'Invite' to Clubhouse?
There's no fast rule to getting an invite to the Clubhouse. However, there are simple steps you can take to prove your expertise and purpose.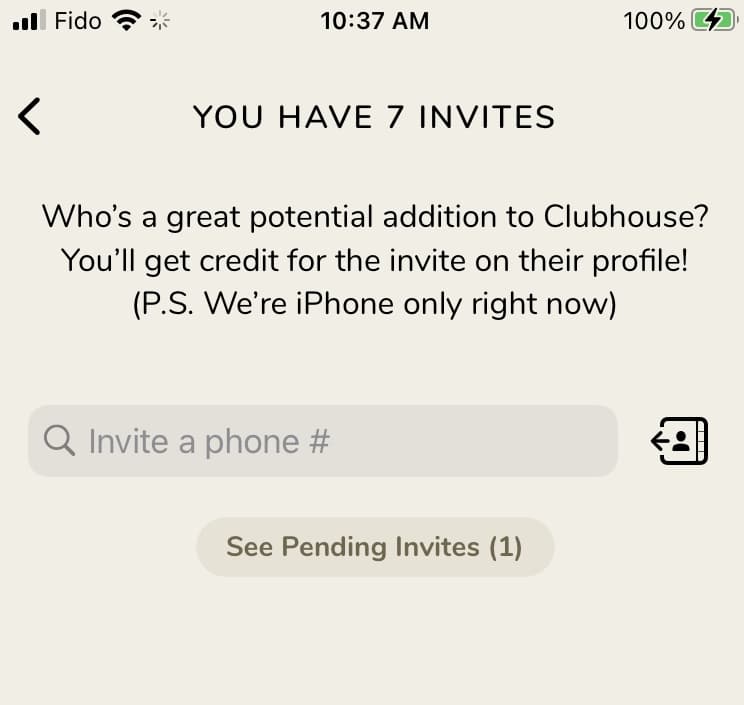 You can reach out to your network or participate in active groups on LinkedIn, Facebook, and Instagram. Let people know you want in and why.
You might get an invite from users. Keep in mind that some users are selling their Clubhouse invites, which is weird — considering it's a free app. If you come across websites that are selling access to the Clubhouse app, ignore them. They might be scammers.
How Clubhouse Can Help You Market Your Business
You can take advantage of the digital experience created by the Clubhouse app to take your business to new heights.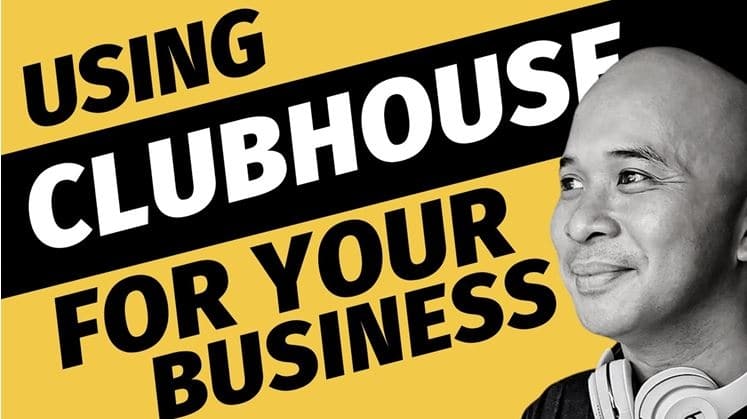 Image Source: YouTube
Clubhouse is a hybrid of podcast and chat rooms. So the experience you get when you listen to a podcast, plus chat rooms make the app a fantastic tool for any business.
When you join a Clubhouse chat room, it'd feel like you're hanging out with friends without having to mess around with all the troubles of visual media.
That said, here are some of the proven ways you can market your business via Clubhouse:
1). Learning From Experts
You need the right knowledge to grow your business. And sometimes, you need to tap into the minds of industry experts.
Clubhouse has chat rooms that you can participate in. From marketing, finance & business to Artificial Intelligence (AI), you'll get expert advice at no cost during casual conversations in these chat rooms.
If you're looking to get new leads, build relationships with customers, or scale your business, there are chat rooms you can learn a wide variety of topics from.
2). Find The Right Talents
You can't possibly market your business all by yourself. One effective way to reach more customers is by hiring new talents.
When you join and participate in Clubhouse rooms related to your business, there's a chance you may connect with people with knowledge and experience your business needs to flourish. I hired a new marketing manager after spending some time in Clubhouse.
If you need a virtual assistant, simply head to the respective chat rooms and participate.
Tell the users why you're looking for a VA, and you'll get messages from potential talents. Make sure you follow up and share your SOPs with new hires if you want them to do a great job.
3). Win New Clients By Giving Away Expert Advice
As a marketing expert, there are businesses and potential clients in need of your advice. You can create a chat room to share your tips and secrets.
Building a community of active followers on Clubhouse can help you reach even more clients — especially if you're a B2B company.
If you're a tax consultant, you can create a chat room to share beginner and advanced tax strategies and best practices for entrepreneurs. In this chat room, you can answer people's questions related to tax and accounting.
You'll find your business making a deeper impact in people's lives. More importantly, you'll win more clients as a result.
4. Get User Feedback To Improve Your Business
Every successful business gets and makes decisions with users' feedback. If you want to market your business effectively, Clubhouse users can provide you with ideas, insights, and suggestions.
One of the founders of Clubhouse usually asks for user's feedback and opinion on a new feature they just added.
You can get beta testers in a Clubhouse room. These users can test your software and give unfiltered feedback that will help you decide the way forward.
Ideally, it's best to create a room and encourage users to share their feedback on your latest business idea or product. Clubhouse can help you validate your idea before you get serious with it.
But it doesn't have to be a business idea before you can ask for help. If you're struggling in areas of lead generation, product marketing, customer retention, and so on, start a conversation. Be open to feedback and your peers will be there to help out.
5. Optimize Your Clubhouse Profile For Building a Network
You can make your business via Clubhouse by optimizing your bio. Your Clubhouse profile or bio is the gateway to your business, so make it count.
What do you want to be known for in Clubhouse? Your bio is the only chance you have to prove that. Clubhouse is also a search engine — where users can search for specific keywords related to their business or personality. Here's a great bio from Arika Clark: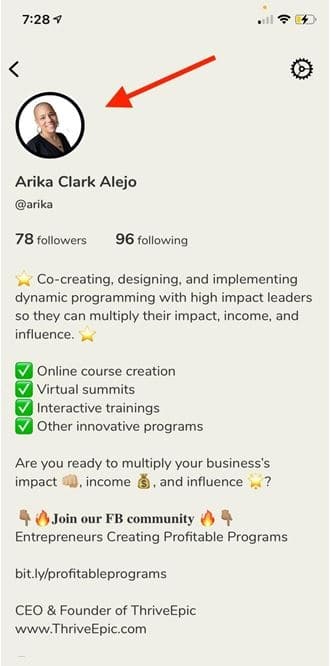 Users can also search the club directory or member directory to find you. You'll be able to attract the right followers if you optimize your Clubhouse bio properly.
It's best to create a detailed and extensive informational bio. It also makes sense to include emojis and other catchy elements. This will help you attract the right audience to your profile.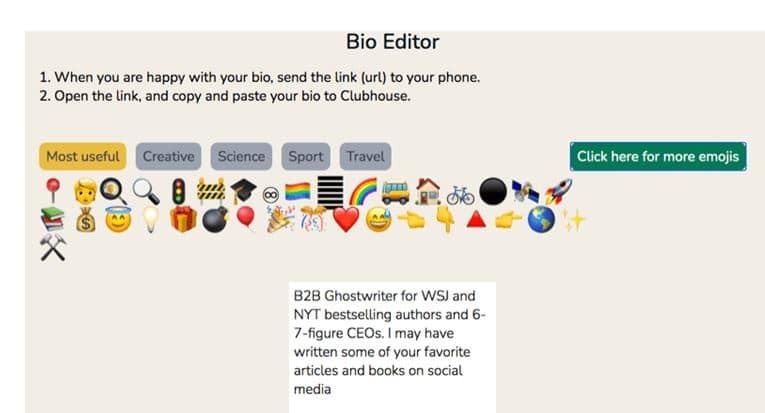 Make sure your basic profile covers your title, where you work, your content channels, clubs you've created, and your social media profiles.
At this time, Clubhouse doesn't support links in your profile or bio. However, you can include your username for each profile, then add a call to action (CTA) that encourages people to engage with your message on Facebook or Instagram.
Expert Tip: Make sure you have a professionally-looking bio and picture. Depending on the room you're participating in at the time, you might want to change your bio and picture to suit that room.
6. Partner With Other Clubhouse Users
In general, social media is all about connecting, sharing, and collaborating with other users on the platform. Clubhouse facilitates this releasing a collaboration tool in 2019.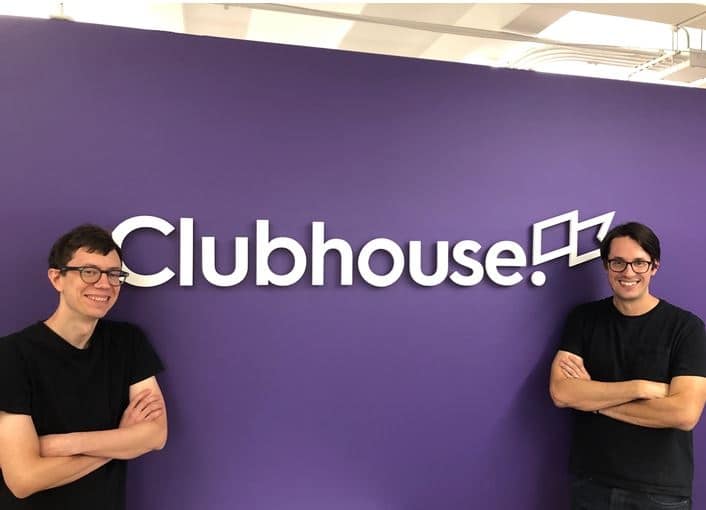 You need to have this mindset when you get an invite to Clubhouse.
When you start a room, it's important to make it accessible to others. Don't be the only one there.
If you know Clubhouse users (such as influencers) who have a lot of followers than you do, don't envy them. Rather, think of ways to collaborate with them.
Remember that when you collaborate with an influencer, there's a huge chance that their followers will get a notification about the new deal. These followers will like to join the room and follow you as well, after all, the person they trust and love is your partner.
If you have fewer than 100 followers on Clubhouse, you can use this partnership strategy to attract 200 – 500 new followers every single day.
Conclusion
Being an audio-only social media app, Clubhouse has come at the perfect time, seeing that podcasting is gaining a lot of attention — with 75% of U.S. adults listening to podcasts regularly, according to Podcast Insights.
And considering the exclusive nature (invite-only) of Clubhouse, it's an indication that the playing ground has been leveled.