Are you taking advantage of local searches to promote your local business to local consumers?
There's a trend in local interests in Google search engine right now, which as we've seen over the years is only going to get more popular.
Businesses that have physical addresses can get their website ranked in Google Map Packs as long as they follow the right approach as stipulated by Google.
Apart from online reviews (which I'll discuss at length below), if your business appears at the top and 10% local consumers like your business name, they will either call or visit your store, office, showroom, restaurant, etc. (source)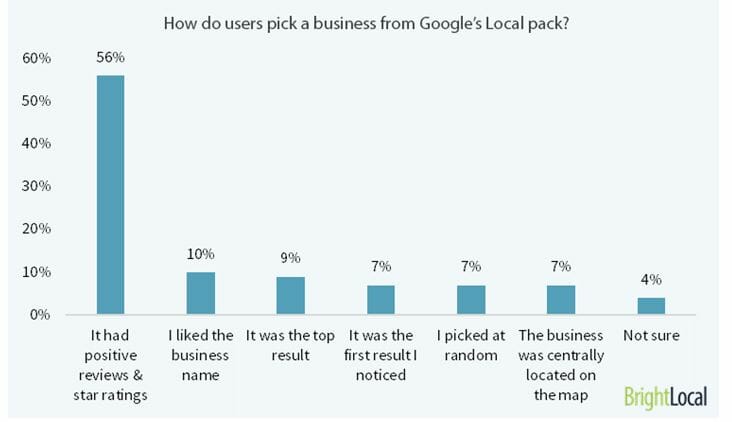 More so, mobile devices like Smartphones and Tablets, coupled with the ease of getting a WiFi internet access have made it a lot easier for consumers to search for local products, local services, and local businesses on the go.
Google, for example, is at the forefront of this mobile search surge and they're responding accordingly. If you're observant, you can tell how integrated local search results have become with organic results. Sometimes, it's hard to tell the difference.
What is Google's Map Pack?
This is better explained with an illustration. Through the map pack or local pack as others call it, local stores and offline businesses with a physical address can successfully compete with the competition to reach their local consumers effectively, regardless of the competition from known brands.
This is better explained with an illustration: I go to Google and search for 'Car Body Shop Birmingham.' Take a look at the map pack results: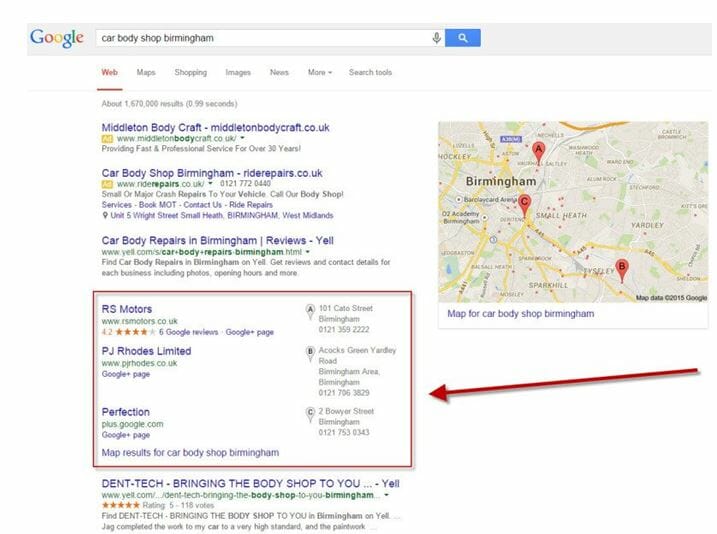 Your business doesn't have to be purely offline to rank in the Google Map Pack or Local Pack, as long as you have a physical address where local audience and customers can find you, you have a fighting chance in the search engine.
In the past, Google enabled 7 results in the map pack but in 2015, it was reduced from 7 to 3.
The aim is to provide search users with the right information they're searching for. When properly optimized, a local business can show essential information such as the address, photos, reviews, prices, opening hours, and so on.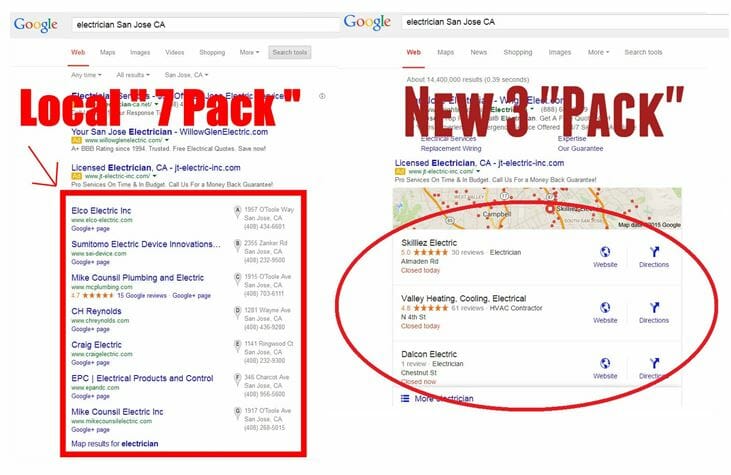 Why You Should Rank in the Google 3 Pack
Every business wants to attract, acquire, and convert prospects to customers. And offline businesses are not left behind.
More than ever, they want to attract people who are looking for businesses close to them, especially when they append the suffix 'near me' to their searches or clearly enter the name of the state, city, or street.
The amount of traffic and potential customers you can attract from Google 3 Pack is huge.
In March, I had a printing work to do in Aberdeen. So I go to Google, entered the term "Printing Press in Aberdeen" and boom, I saw Ink Shop Printing – which happens to be a small business in the town.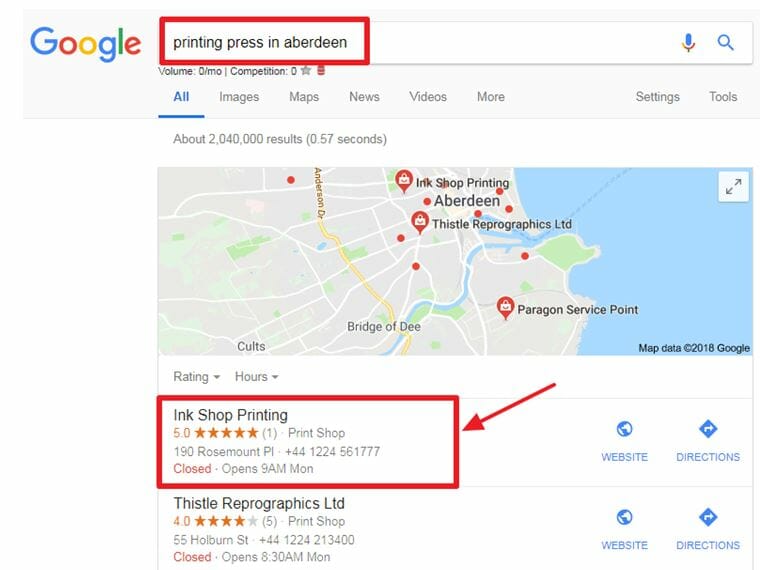 I visited the company and spent some cash. Can you guess how many orders the company gets per day from just ranking in the Google 3 Pack? You can't even begin to imagine it.
Here's another reason why you should rank in the map pack: the local pack appears on top of search results 93% of the time, according to Search Engine Land. This means you can get more visibility for your store or showroom by getting it featured there.
The traffic potential is also enticing. A study by Advanced Web Ranking shows that the first, second and third local results receive 33.55%, 14.96% and 9.3% of clicks respectively, according to Advanced Web Ranking.
To verify whether or not your business is currently ranking in Google 3 Pack right now, here's what you should do:
Input the names of your product or service + your country or "near me"
For example, Office moving company Toronto | Office moving company near me
If your business doesn't appear in the map pack, don't fret. But understand that you have work to do. It's not going to be easy — but if you follow this guide, you should be able to implement the simple steps.
1). Use consistent NAP across the top-ranked directories
NAP is an acronym for Name, Address, and Phone Number with Area Code. These are the 3 most important details about your store or local business. With it, potential customers in your locality can easily reach you.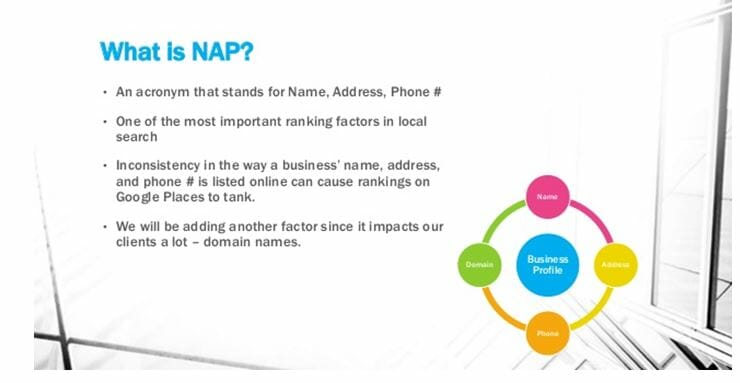 In some cases, you might want to add your business website to it; thus the NAP + W).
When it comes to getting Google's love for your store or office, you have to make up your mind to stay consistent with your NAP across the top-ranked websites and directories.
Your Phone number is really important because 88% of mobile users can "click to call" on their smartphones (without trying to type in the digits themselves) to reach your customer care quickly.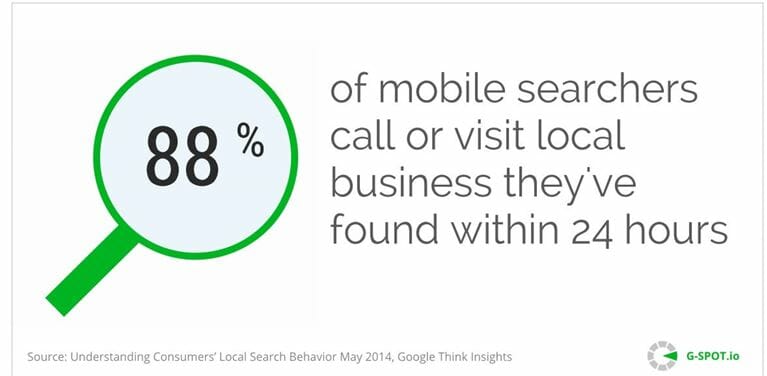 In other words, anywhere you have the opportunity to list your business (and there are so many directories online), you should maintain the same format and information.
For example, if your NAP is:
Talisman Movers Company LLC.
383 Drive, 20708, Laurel, Maryland.
Phone: (+1)7094738092
Then you should maintain this format everywhere. If you submit the NAP above in directory A, you should submit the same format in directory B, C, D, E…Z. If peradventure the format changes, you might lose your ranking (assuming you're already in the Google 3 Pack).
If your business address and data changes, you should update your listings in Google My Business as quickly as possible. Unfortunately, most businesses don't do this. A survey of 350 SMBs carried out by ConstantContact found that 49% of businesses never update their name listings online.
According to Moz, when a business has an accurate and consistent NAP, they have implemented an important on-page SEO signal which accounts for 21% of the search factors.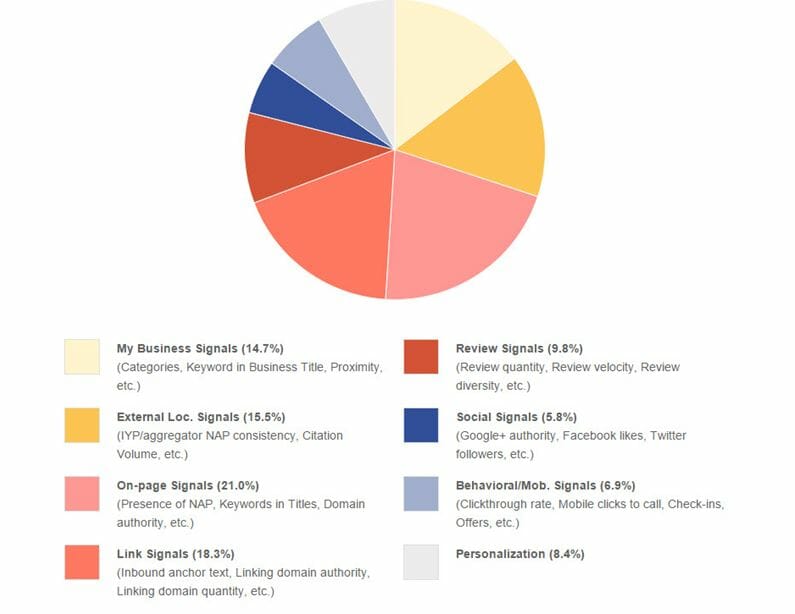 Having seen the importance of an accurate and a consistent NAP, the next step is to implement it.
Caution: Don't use NAP info that appears as an image because search engine spiders will not crawl the information inside the image.
The best approach is to fill the NAP in your website's footer. Your website visitors can easily find it there.
Once your NAP is clearly showing on your website in the most consistent format, you should get credit for it from Google My Business. For your email address, use the one attached to your business domain rather than a free Gmail address.

Ideally, use a business phone number with your local area code. Steer clear of the 800 number.

As for category, Google stipulates that "your business category should describe what your business is and not what it does".
Once your primary category is about what your business is, you'll likely see a boost in rankings in the Google 3 Pack. If you have selected the wrong category when listing your business in Google My Business listing, all hope isn't lost. You can quickly modify it from your dashboard.
You can change your business category for your Google My Business listing from your dashboard.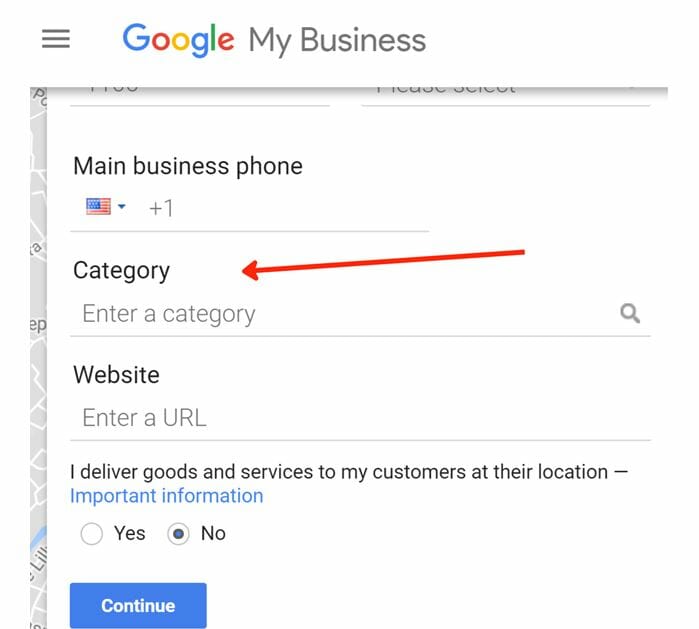 If you spend time optimizing NAP in your website, across trusted directories, and getting credit from Google My Business listings, then you're all set on the right path.
We'll discuss other things you can implement to further increase your odds of not only ranking in the Google 3 Map — but ranking #1 position and getting a higher click-through rate.
Get Relevant Reviews from Trusted Platforms
Online reviews are your gateway to Google Map Pack rankings. It doesn't matter how long your store or office has been operating in a particular state or city, if you can get enough reviews about your products and services, Google will have no option other than to push your ranking in the pack.
But why is Google so concerned about signals from online reviews?
Well, it's because Google follows users. And users, above everything else, religiously hunts for reviews of their favorite stores, products, services, and events.
But don't take my word for it. BrightLocal conducted a Local Search Survey in 2015 and found that 92% of consumers regularly or occasionally read online reviews.
The same survey also revealed that 68% said positive reviews made them trust a company more. If this doesn't motivate you to go all out and develop a strategy to get more reviews, I don't know what else would.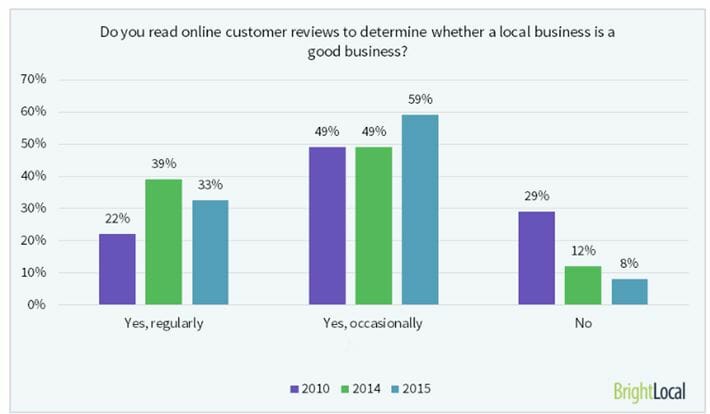 As a ranking factor for the Google local 3-Pack, online reviews could just be the missing piece in your local SEO strategy. Once you find it, you'll be on your way to pleasing customers.
After all, 72% of users will take action after reading a positive review? With several statistics been published in favor of online reviews, local stores can't wait for another loophole to get hundreds of reviews from their target audience.
With all these exciting statistics about online reviews, how do you get them? Are there any specific steps you can take today to guarantee results?
Sure, there are.
Let's discuss some proven ways that still works:
i). Genuinely ask for reviews: Most businesses think they have to cut corners to use incentives (if you have, it's okay) to motivate their customers to write reviews. But it doesn't have to be so. Trusted brands simply ask genuinely.
Here's how: when a customer or user have used their product or service for a few days, the company will send a quick email asking for a quick review of their products on Google. Don't be shy, ask for a review on TrustPilot, Yelp, etc.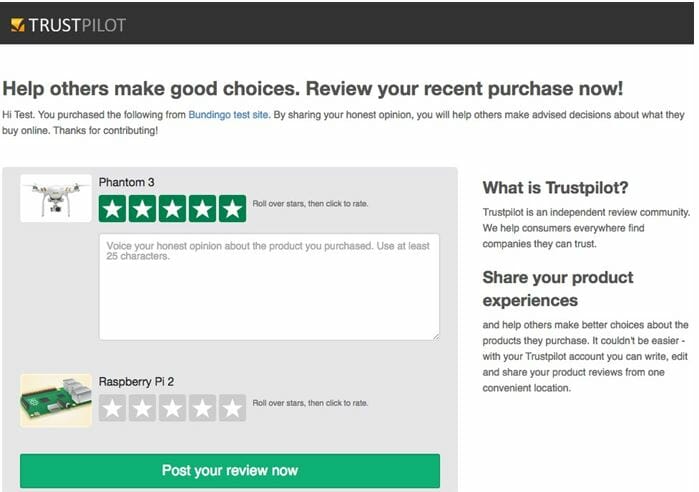 If your product/service has helped users achieve their goals, they will be glad to do it. And most will do it for free.
ii). Transcribe customer call: This is one of the easiest online reviews you can get. When you call your customer, make sure you transcribe what they say. Then ask them if it's okay to include their review to your website or social media pages.
If they accept to have it on your website, you must reverse-engineer it in order to help Google understand and credit your business for that online review. How?
Use the appropriate reviews schema.org type. This is IMPORTANT!
iii). Use third-party services: If you've got a marketing budget, you can spend a part of it to getting reviews from trusted websites that specialize in it. Services like Customer Lobby, Yotpo, and the like will come in handy.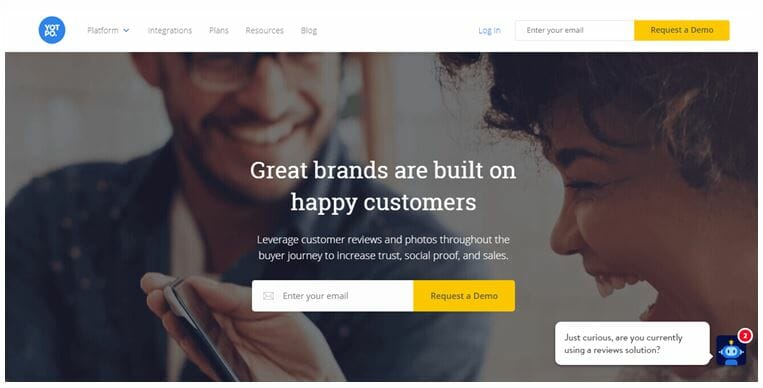 Several case studies have shown that "asking" for reviews in a genuine way is actually powerful — because it helps to create an enabling environment where customers can express what they feel about your product, service, or brand.
In one hand, when asking, though, you don't have to be pushy or desperate. Remember that customers need time to consume the product and settle into the transaction, so give them room to breathe.
On the other hand, waiting too long to follow up with customers could be disastrous to your brand. A recent CreditDonkey survey reported that over 50% of respondents feel guilty about purchases at least occasionally.
If you fail to follow up after a few days or hours (as the case may be), you're giving room to customers to spread the news; which can be negative news about your brand. You don't want that.
Don't leave customers idle and unattended after a successful transaction. Don't give room for buyer's remorse, which could damage your online reputation and affect your online reviews.
The good news is that when you reach out to them and ask politely how they feel about their recent purchases, they will not hold back. If it's a good experience, you could transcribe it (assuming you called their phone) and ask for their permission to have it on your website. Regardless, making your customers happy and satisfied, and then asking for their feedback in the form of online reviews can go a long way in helping you rank better in the Google Map Pack.
3. Understand Local Google 3-Pack Factors
What factors are responsible for brick-and-mortar businesses ranking in the Google Map Pack?
You can take a guess from the points that we've covered so far. However, you need to understand all the primary ranking factors — that way you will know exactly what needs to be done and what directions to take.
Moz experimented with Survey to determine the local SEO ranking factors. And the results were truly eye-opening for SEO professionals and digital marketers alike.
Here are the ranking factors primarily geared towards Google Map Pack: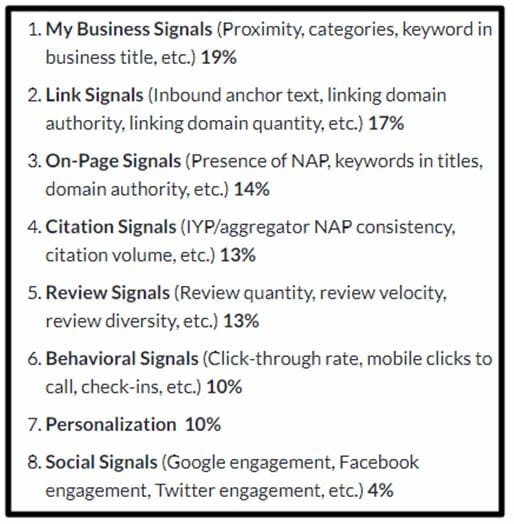 These factors can help you create a relevant local SEO landing pages and increase your organic visibility for the long term. Don't try to cut corners — but stick to these and keep an open mind for updates.
Taking it a step further, here are the insights I got from these local map pack ranking factors:
1). My Business Signals: This is the most important factor (with 19% impact on local SEO). It helps you measure how close your business is to the customer's search query.
And to get better results in Google 3-Pack, you should select the most relevant categories for your business and ensure that your primary keyword appears in your business title. Your phone number must also contain your area code.
2). Link Signals: Links are quite phenomenal in local SEO. Google still rewards the number of inbound links you have pointing to your local business website. The authority of your linking domains, anchor texts used,
When it comes to anchor texts, diversification is the key. Especially for local businesses that want a sustainable ranking, you can't afford to use exact match keywords more than is necessary. However, you're fine using branded keywords in your anchor texts as much as you can.
3). Citation Signals: This factor has a strong impact on your local map pack results. You have to ensure that you're sending signals from trusted and top-ranked directories.
Most importantly (as earlier stated), make sure your NAP is accurate and consistent on YellowPages, Yelp, TrustPilot, etc. Essentially, the more citations you build, the greater chance you have to rank #1 in the map pack.
Conclusion
There you have it. The essential steps you can take to increase your online visibility in the local 3-pack results.
Remember that search engine optimization is constantly evolving and it's essential for you to stay updated.
It's never a set-and-forget-it marketing channel. But rather a dynamic one that requires your full attention.
Follow the best practices in this guide and you'll be able to help Google in serving more relevant and personalized location-based results to local consumers who traditionally used desktop PCs, but have now fallen in love with mobile devices and mobile searches.