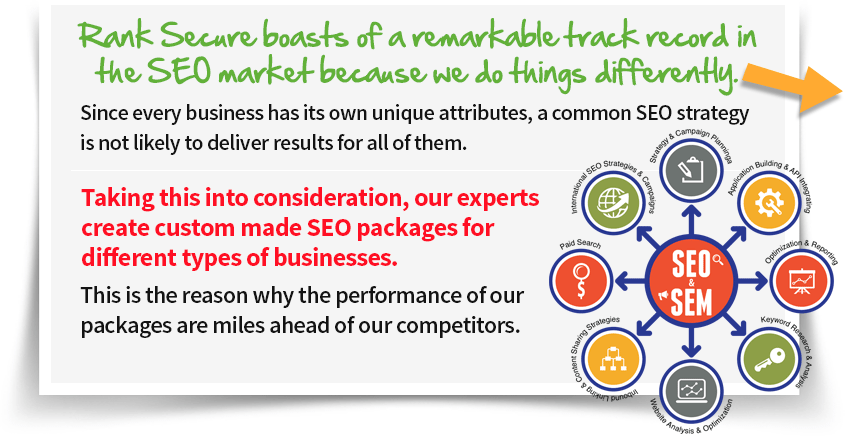 Oshawa SEO Service
Rank Secure provides state of the art SEO service in all major cities across Canada. Our Oshawa SEO packages are tailored to suit the specific requirements of your business. No matter what your business is, Rank Secure promises to take your business in a commanding position as far as search engine rank is concerned. We are so confident about our service because we have specially designed SEO packages for more than 50 categories of business. Our team consists of highly skilled SEO experts dedicated to help businesses build a strong online presence. We have already served many established businesses in this region with a remarkable track record.

It is important to understand that building a robust SEO campaign is a time consuming process and it is unfair to expect immediate results. However, some inexperienced Oshawa SEO service providers often make such commitments to attract clients. Rank Secure believes is building a relationship of trust with clients and only makes commitments that are achievable. We start our SEO projects with a comprehensive review of the website and its code, structure, meta tags, title, etc. On the basis of this analysis, alterations are made to all these factors, if required. The importance of quality content is extremely high while building a successful SEO campaign. We have our own team of writers who can create keyword rich content to enhance the online presence of your website.
A significant part of our Oshawa SEO projects are performed beyond the scope of a website, and are collectively known as offsite SEO. Implementation of these techniques require a high degree of expertise and many businesses pay the price for following techniques that are not approved by Google. Some of the most important offsite SEO techniques in our projects are blog posting, creating social media campaigns, link building, and article submission to high authority article directories. Our experts are always up-to-date with the changes in search engine ranking rules  made by Google. Therefore, your business always remains in Google's good book. We also provide recovery service to websites that have been penalized in the recent past by Google.
SEO Oshawa packages from Rank Secure are designed according to the size, type, and aspirations of a business. Therefore, we have the best service plan for you no matter how small or large your business is. All our packages also provide a guarantee for achieving the desired level of performance.
Thank you very much for visiting this page. Call us now to find out more about our efficient Oshawa SEO service.