When Google released the E-A-T update in 2018, it affected many websites' organic traffic in the medical and financial niche.
Perhaps, this is one of the reasons it's called the "medic" update.
But what does E-A-T mean? It means:
Expertise

Authoritativeness

Trustworthiness
According to the Google search quality evaluator guidelines, E-A-T is one of the most important factors for page quality ratings.

But mentioning those 3 words alone is vague without further explanations. What expertise are we talking about? What are the other two words telling us in relation to search quality?
In more details, E-A-T means:
The

Expertise

of the creator of main content on a page.

The

Authoritativeness

of the creator of the main content, the main content itself, and the website on which it appears.
The Trustworthiness of the creator of the main content, the main content itself, and the website on which it appears.


This update has shown that producing quality content alone is not enough if you're looking to improve your search rankings. You also have to establish your position as an expert and have your content on authoritative websites.
When you think of it, the writing has been on the wall for an update like this.
For instance, former Google CEO Eric Schmidt said about brands: "Brands are the solution, not the problem. Brands are how you sort out the cesspool."
The need for E-A-T
Some of the biggest targets of this update are the YMYL pages.
A YMYL page simply means a "Your Money or Your Life" page. This name comes about as a result of the importance of these pages.
These are pages that provide important and delicate information that prompts a person to take either a financial or health decision.
Furthermore, these pieces of information can have grievous consequences on the readers if they turn out to be wrong.
Some examples of such pages are:
Medical information pages

Finance information pages

News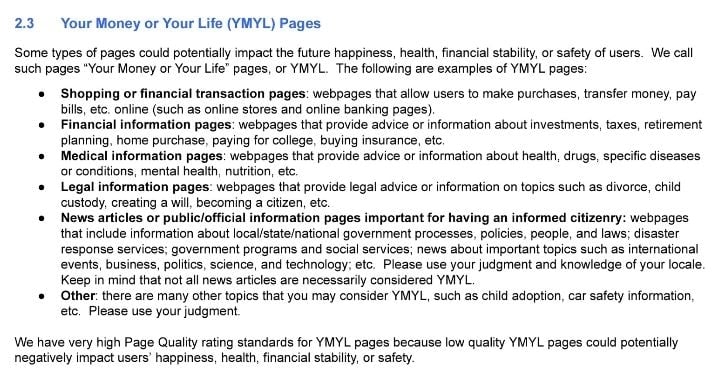 So it makes sense that Google would prefer such pages be written by experts who are more likely to provide the right information to readers.
This ensures that Google can provide better value to searchers on their results page.
It also means a popular figure who has been established as an expert medical doctor will outrank someone who's not an expert when they produce content on similar topics. Which is applicable to other industries, too.
How can you ensure you meet up to these standards? How can Google see you as an expert that's authoritative and trustworthy in your niche?
Follow this guide as I show you 7 steps to take to ensure you can reap the benefits of this update and improve your search rankings for important keywords. Or at least not lose your current rankings.
Publish Useful Content
Even though this guide started with the premise that content may not be enough to rank today, the truth is that content is the foundation to build E-A-T.
You'll only build a reputation as an expert after a period of time of producing quality content or when content has been produced about your expertise.
Regardless of the amount of content published about you, publishing content about your industry will help you build a following online and establish a reputation as an expert that can be trusted. But the concept of producing quality content is vague.
What does quality content even mean? According to the guideline, a high-quality page should have a beneficial page and achieve the purpose well.

An important question to ask is: what solutions are readers looking for in this piece of content?
Any piece of content that's able to provide these solutions can be called quality content no matter its length or format.
Have a Regularly Updated Blog
Updating your blog also help to keep your website updated. Likewise, you're more likely to connect with your audience on a regular basis when you publish content on your blog regularly.
Added to that, you have a low chance of getting your website to rank on Google if it's only updated once in a while.
Because Google prefers to provide fresh content to its users. According to a study by HubSpot, companies that publish more than 16 blog posts monthly get 3.5 times more traffic.
The reality though is that this may be easier said than done. If you're a professional, you may be too busy to write blog posts regularly or on a consistent basis.
Apart from that, writing may not be your thing. If you're in this situation, then you can get a professional writer in your industry to produce content on your preferred topics.
However, you'll need to read these pieces of content to certify the details and facts before publishing them on your blog.
Update Your Thin Content
If you have poor content on your website, it could lose its rank as a result of this update. Thin content is simply a piece of content that fails to provide enough details to prove beneficial to readers.
This is an example of a thin content that will be seen as low quality: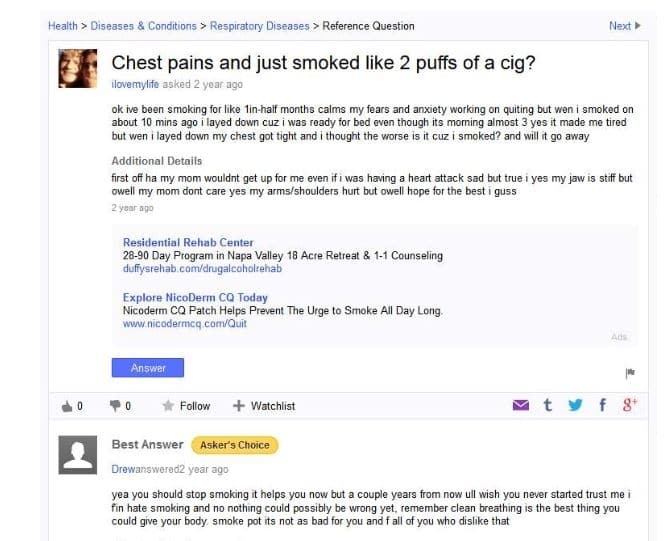 Thin content could have either or all of these traits:
Too short (less than 500 words)

Too vague without necessary details

Providing inaccurate information
Therefore, it's important to analyze the posts you currently have on your website. For those that are too short, you can update the post with more details to offer more value for your audience.
In cases where your posts contain inaccurate or outdated information, it's necessary to provide the right and current information to show yourself as an expert.
Publish Guest Posts On Authoritative Websites
To gain access to a bigger audience as an expert, then you need to engage in guest blogging on other platforms. This is a way to improve your brand and gain more backlinks to your domain.
Consider that an important part of the E-A-T update is the authoritativeness and trustworthiness of the website on which your content appears. And you'll see why you can't just publish guest posts on any website you find.
It's advisable to publish your guest post on authoritative websites. Especially in your industry. This helps to boost your E-A-T score and ensure you have more content ranking high for important keywords.
Another point to consider is your author bio when you feature on other websites. You should provide an author bio that provides details about what you do and big achievements in your field if you have any.
See Alex Barysevich's author bio on a Search Engine Journal post:

By guest posting on authoritative websites and other strategies, Shane Barker grew his organic traffic 12X in 2 years.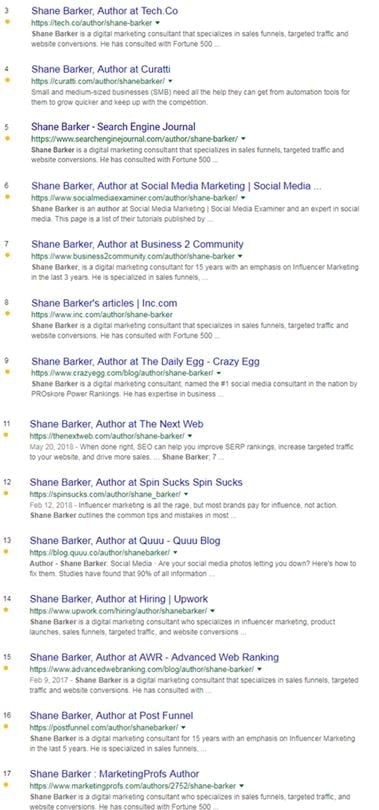 5. Engage with Followers on Social Media
Every day, people visit social media to interact with other people. As a big platform with billions of users, various types of discussions take place on social media. Including professional discussions.
As a professional, you can give various industry insights on your page. Of course, this doesn't replace posts on your blog. But your followers can gain from your social media insights. Furthermore, it's an opportunity for interactions with followers as they can ask you more questions.
And even better, your followers can share your social media posts to others for a greater reach. All these can help you to build a brand as an expert and gives you a greater footprint online.
Check out this example of Rand Fishkin, Moz founder, sharing a post on his Twitter page: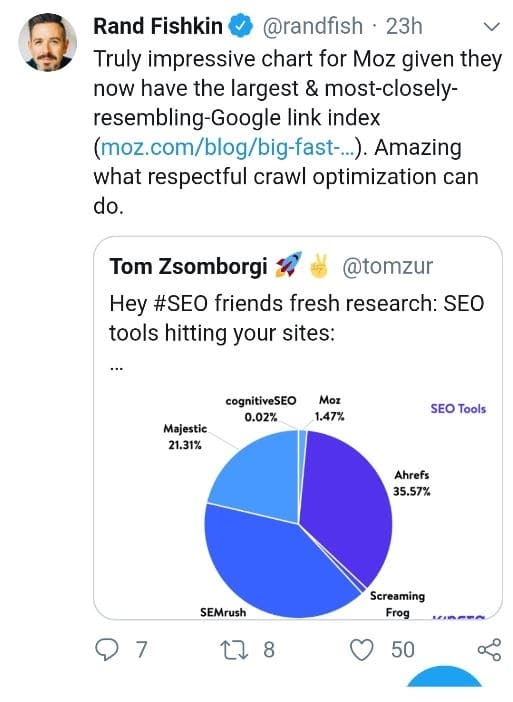 6. Establish Your Expertise on Your About Page
According to Copyblogger's Sonia Simone, your about page should be written for your audience. It means your about page should be able to show your visitors how you can help solve their problems on your website.
What better way to do this than to establish your expertise? When you show expertise on your about page, it becomes easier to convince a visitor to trust your content.
Google is also able to see you as an expert with the details you post about yourself on your About page. Some necessary details to include on your about page are:
Your name and basic details about you.

Your practice or business name.

Big career achievements.

Reputable publications you've been featured.

What you can offer website visitors.
Check out this example of Aja Frost's About page. You can see her basic details, her work for HubSpot and even one of her achievements supported with a graph.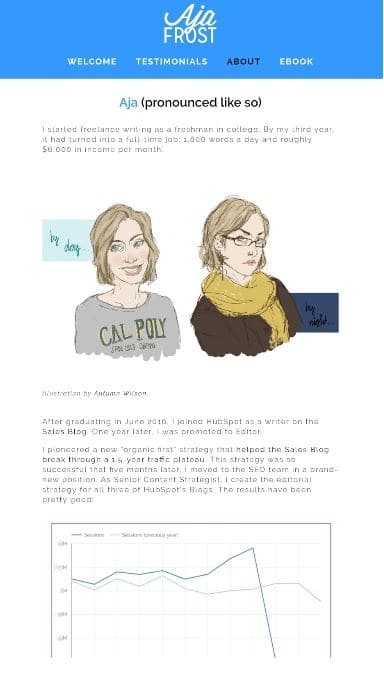 7. Encourage Reviews and Testimonials
One way Google can establish your authority as a professional is to look at what others say about you.
Even though Google looks at what you say about yourself, what others say carries more weight.
People become experts by their past and current achievements. Online reviews on are one way to show how you have helped people solve their problems in the past. This is vital if you run a practice or local business.
Through online reviews, you can gain better rankings for local searches and appear on local map packs. More so, it's easier to convince a potential customer when your past customers have good things to say about your business. According to a study, 61% of consumers read online reviews before purchasing a product or service.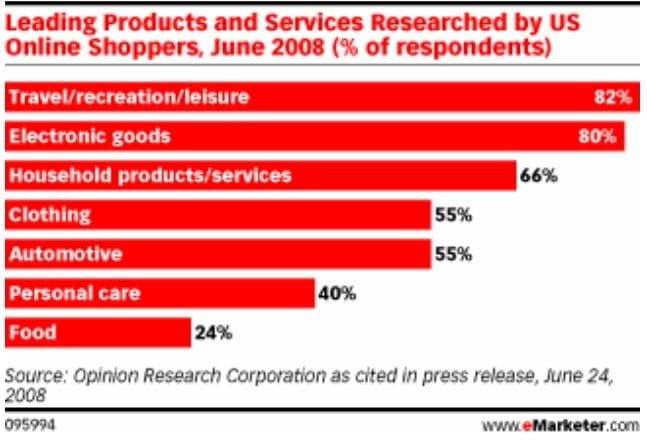 See this example of a Google review page of a chiropractor: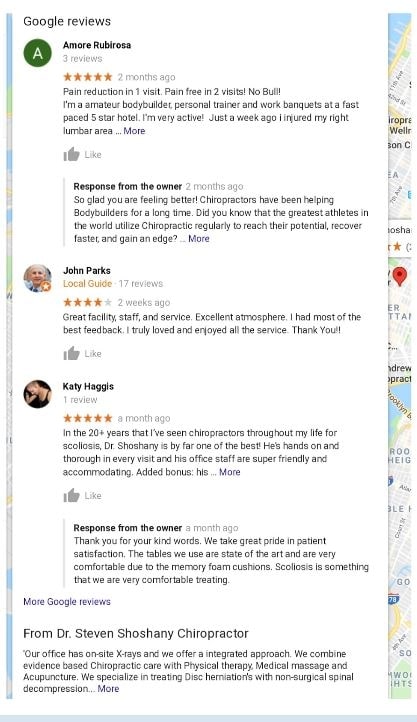 Another form of social proof is to have testimonials on your website. Your past and current customers can state how you've helped them solve their problems in the past.
An example of a testimonial page you can follow is mHelpDesk. The page has both text and also include videos of customers.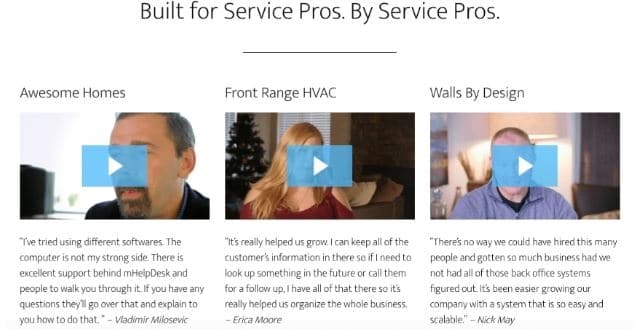 However, the issue is that not everyone will drop a review or write a testimonial for your business.
You have to encourage your customers by telling them to drop reviews on your pages.
Popular platforms you can have online reviews are Google, Facebook, Yelp, and other professional directories related to your business.
See this example of a message sent to get a testimonial from a customer: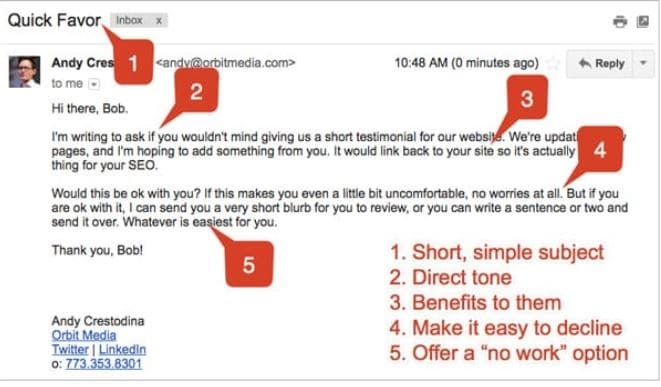 Conclusion
Having your website at the top of Google rankings is not a day's job. You can produce great content today. But that doesn't mean it will outrank a similar piece of content by an expert.
You have to build your expertise, authoritativeness, and trustworthiness over time. And you have to publish content on authoritative and trustworthy websites.
Follow the steps in this guide and you'll build a sustainable performance on Google search results for important keywords.