Do you still engage in manual tasks like entering leads information, adding progress to their details, sending emails, and so on?
Yes, you can get some results when you choose to use a manual approach to run your business. However, that time is long gone.
You need a better strategy — marketing automation!
When marketing automation software became the norm, it brought about a revolution in the digital marketing environment. And it got better as the days go by. Why?
Because businesses are now able to get more traffic to their website, turn them into leads, and convert them into customers.
In a survey of business owners, executives and marketers by GetResponse, 30% say the biggest benefit of marketing automation is saving time while 22% say lead generation.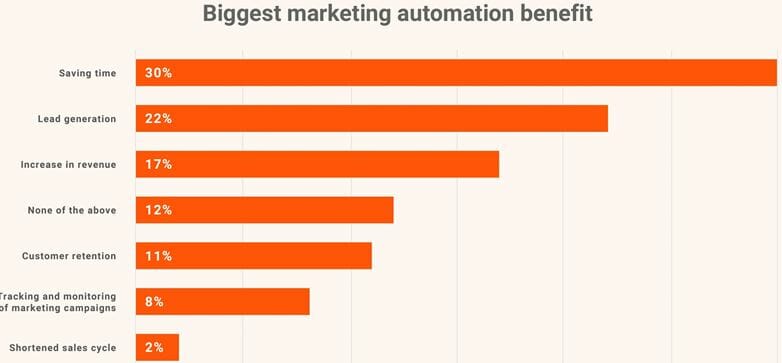 Sadly, not every business has achieved good success with marketing automation. Because it takes more than purchasing software and installing it.
You need solid strategies to make it work.
In this post, I'll show you some proven strategies to gain more traffic to your website and convert them to customers through marketing automation.
Produce epic content
Epic content is the engine that runs your website and campaigns. Without unique content, your marketing automation software would deliver low-quality information to your leads. [source]
Even if they click-through, they will bounce off your website and you lose their trust, and ultimately the opportunity to convert them.
Great content attracts visitors to your website and encourages them to visit other pages. Through this, you can pull them further down your marketing funnel until they become customers.
Without helpful and well-formatted content, your strategy falls apart and the marketing automation software you subscribed to won't be able to help you. Truly, "content is king!"
DemandGen Report found that 47% of buyers viewed 3 to 5 pieces of content before engaging with a sales agent.
If the content fails to provide the right information, they're definitely not going to engage with a sales agent.
To produce effective content for your marketing automation campaigns, consider these steps to guide you:
i). Understand your recipients: Having a detailed buyer persona will help you to achieve this. Who is your ideal customer? These are the people your content must address. Trying to write content that pleases everyone is a losing strategy.
ii). Define their problems: What's their reason for visiting your website? What problems are they trying to get solved? Answering these questions will enable you to know what pain point to address in your content.
iii). Solve these problems: Solving these defined problems gives your content a better focus, and your readers will applaud and share it with other people.
iv). Ask for feedback: Great content should be an opportunity for communication. Visitors should have an avenue like comments to tell you what they think about your post and other problems you fail to address.
Cincom Systems, an enterprise software solutions company, didn't know if their leads were receiving their newsletter updates. They decided to implement a behavior-based content campaign.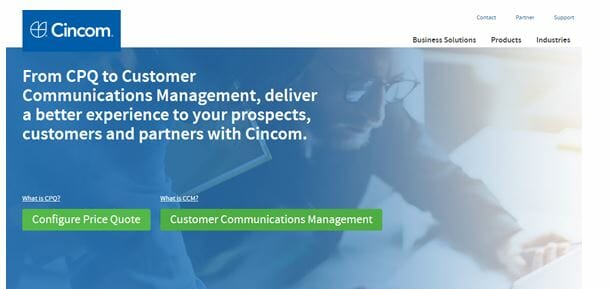 Through this means, they were able to track when their newsletter subscribers clicked-through to one of their articles. They also tracked the content users were engaging with and send those users more relevant content and offers.
This automation processes led to a 256% increase in the campaign open rate, 1941% increase in the click-to-open rate, and an average of 18 new sales leads per week.
Build Effective Drip Campaigns
Drip campaigns help you to structure your messages according to your lead's interactions with your website, email, and other marketing channels.
They also help to nurture your leads until they get ready to buy. Research by Email Monks showed that drip email open rates are 80% higher than single sends an average click-through rates is 3X higher.
Furthermore, they found that companies that excel at drip campaigns generate 80% more sales at 33% lower cost.
Why is a drip campaign so vital?
i). Personalization is the key: People love offers that are relevant to them. Someone who visited your wristwatch sales page, for example, will be receptive to more content about wrist watches from you rather than shoes.
A poll by Marketo found that 79% of consumers are likely to engage with an offer only if it has been personalized to reflect their previous interactions with the brand.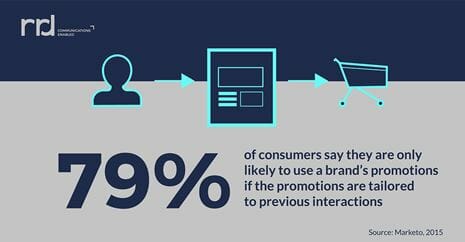 ii). Your messages are more effective: When people receive content that is tailored to their needs, they'll spend more time on the page, consume more content, and buy from you.
There are many types of drip campaigns you can run. These include:
Educational drip campaign
Promotional drip campaign
Top of the mind drip campaign
Training drip campaign
Competitive drip campaign
Re-engagement drip campaign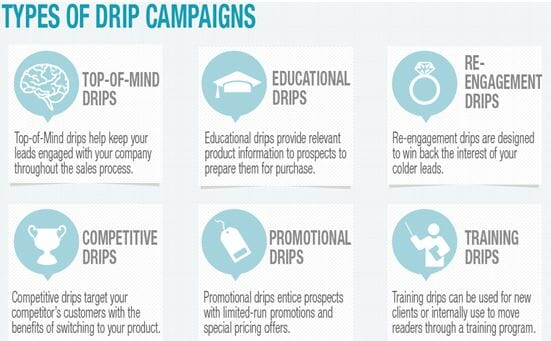 The beauty of marketing automation is that you can run as many of these campaigns as you want. To run a drip campaign, you need to consider these factors:
Content for your campaign: The best practice is that you have all your content for a campaign before it begins. This gives your content the consistency it needs.
Decide on the aim of your campaign: The aim of your campaign will determine the type of content you use. For instance, educational campaigns may be used to get more traffic to your website and deliver needed information that solves your leads' problems. Promotional campaigns aim to sell your product through attractive offers, discounts, etc.
Kana Software, with the use of drip campaigns, increased their email click-through rates by 3X and site visits via email lasted an average of 3:02 compared to the website average visit time of 1:56. They also had a better submission rate (34.19%) than their CPC landing pages (2.63%) and drove more engaged traffic to their website.
Organize your sales funnel
To have a successful campaign, you must map out a sales funnel. To do this, you have to structure each stage of the buyer's journey. These stages are:
1). Top of the sales funnel: This is usually the awareness stage where buyers are looking for more information about their problems. At this stage, your content needs to enlighten them about why they need a solution to their problems. You need to build interest in your website content and product at this stage.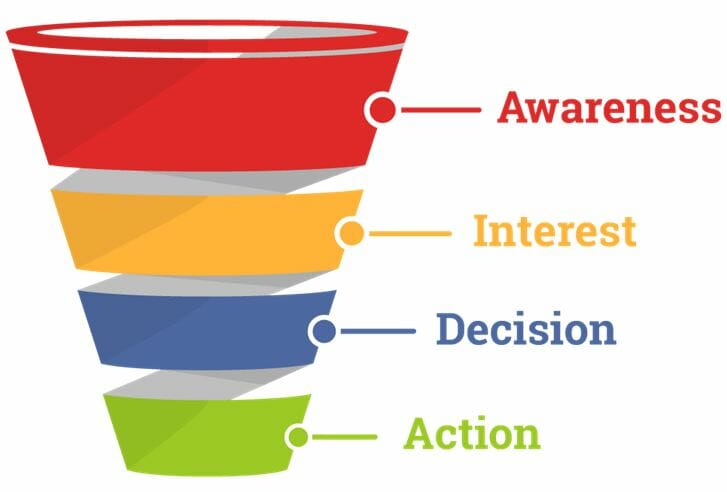 2). Middle of the sales funnel: At this stage, leads/prospects want to know the types of solutions available to address their problems. It's the consideration stage.
3). Bottom of the sales funnel: This is the decision stage where the buyer selects one of your offers.
What should you consider when organizing your sales funnel?
The goal of your campaign
The amount of content at each stage
The amount of time for your campaign
Departments to be involved at each stage
How to track results
How to set up your funnel with your marketing automation software
Dr. Ruth, a Veterinarian, through an automated marketing funnel, got a 27% conversion rate and a 50% increase in total revenue.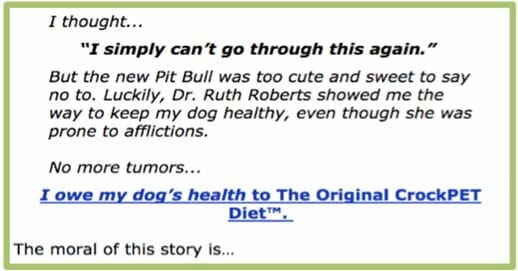 Automate social media updates
Updating social media channels can be a lot of stress for your business. This is the time you could spend developing your content and your product. This is also the time that could be spent engaging with your potential customers or leads.
Automating social media updates means you can send information to potential leads through social media without having to spend time on the platforms.
Marketing automation software also allows you to manage all your social media channels on one platform. You can track the interactions between all your social media platforms.
How do you go about this?
Import your social media pages into your marketing automation software. If your software doesn't have this feature, you can integrate with social media tools like Buffer, SproutSocial, HootSuite, MeetEdgar, etc.
Schedule your social media posts. You can schedule your post for up to a week or two on these platforms.
Track your social media performance. What's the engagement on your posts? How much referral traffic are you getting to your website through these platforms? How do these visitors interact with your website content?
Connect landing page forms to segmented lists
Landing pages are one of the most effective ways of getting leads and conversions on your website.
For a website, there are usually many landing pages. It's no surprise though because companies that increase the number of their landing pages from 10 to 15 see a 55% increase in leads.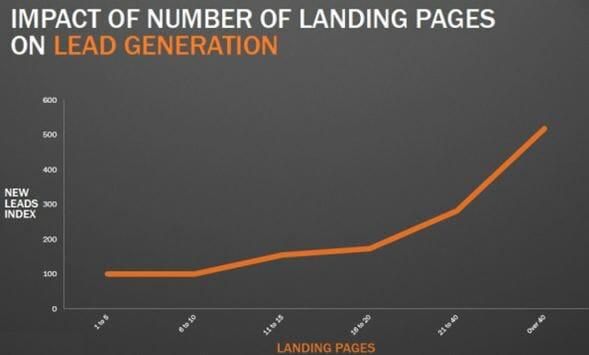 Landing pages serve different functions. This is why all leads from your landing pages should not be on the same list.
For instance, a landing page about auto insurance should collect leads in a different list apart from a landing page about credit cards.
These lists are connected to different drip campaigns for further contact. This will allow you to send targeted messages to them later to bring them to your website and convert them into customers. You can also send relevant offers that will interest them.
To make this effective, you should consider these tips:
i). Prepare your lists first: This should be done before you prepare your landing pages. Doing this means your leads can enter into your sales funnel straight away when your landing page goes live.
ii). Track your landing page performance: You can easily track the number of your landing page views and how many leads it's converting. This gives you insights into its conversion rate and helps in performing A/B tests on the page.
iii). Track your list statistics: How many subscribers do you have on your email lists? This would show you where you have more leads to work with and what aspect of your business you need to market more.
Capterra, a business software vendor, noticed that their marketers spent a lot of time segmenting lists and manually sending A/B tests to optimize email messages. Marketers were also unable to reply to follow-up emails and just forwarded the emails to sales reps.
This led to a waste of time as many of the leads were not qualified. Capterra implemented marketing automation software to eliminate these issues. This led to an increase in lead qualification rate from 11% to 40% and a 400% increase in sales.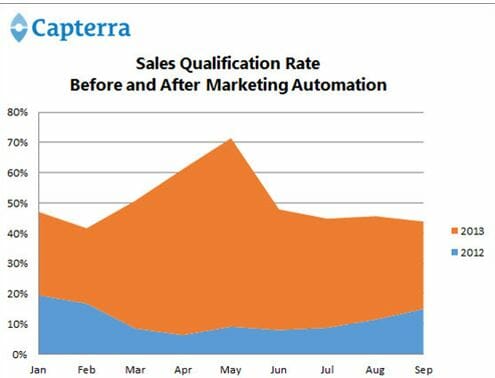 Make leads information available to enhance collaboration
One of the major issues in workplaces is poor collaboration. In a study by Salesforce, 86% of respondents said lack of collaboration or ineffective communication is responsible for workplace failures.
There is a loss of potential leads because sales don't have the same information available to marketing. But with a marketing automation software, you can correct this.
You need to make information about the leads available to all departments that will interact with the leads. This allows continuity in your service.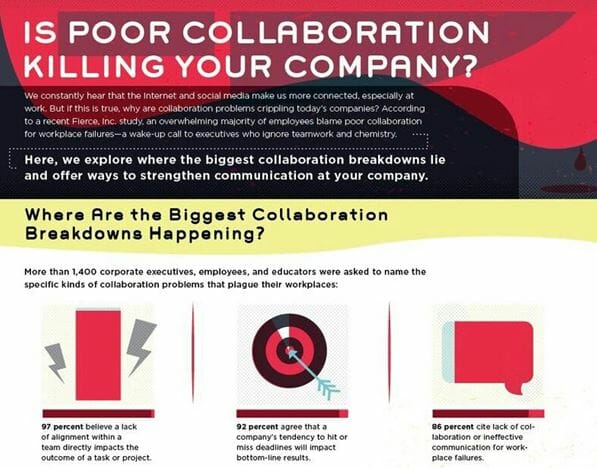 What should you consider in order to enhance collaboration with your marketing automation software?
The number of departments involved: How many departments are involved from the beginning of a buyer's journey as a visitor to when they become a customer. These departments must have the information from previous interactions about each contact.
Set notifications: The process becomes easier when each department is notified about a contact they need to follow up. For instance, the sales department could be notified when the marketing department turns a marketing qualified lead to a sales qualified lead.
Managed Maintenance Inc. noticed that their marketing and sales technology were siloed because their marketing automation and CRM software were not integrated.
With the alignment between marketing and sales, marketing was able to engage in lead scoring and nurturing. After the first year of implementation, they achieved a 75% lift in lead generation and 30% of their business came through the marketing automation software.
Study top marketers
To get the best out of your website through marketing automation, you have to study marketers who are getting great results with it. What are they doing right? What are they doing wrong and can be improved upon?
You can copy the strategies that work and improve upon them while avoiding their mistakes.
One other way to do better than the competition is to bring in these marketers to train your employees on how to get the best out of marketing automation.
As part of its marketing efforts, SmartBear employed automation experts in areas like demand generation, lead automation, reporting, and social media. These experts came in to improve their departments and also to train other employees.
The marketing automation campaign led to a 200% increase in lead volume, 80% of global leads generated with automated trial downloads, and 85% of their revenue generated by the trial download leads.
Conclusion
With effective marketing automation strategies, you can reduce the time spent on mundane tasks, increase the time spent to close leads and provide a great user experience for your website visitors.
All these while reducing cost and making your employees more effective. When you follow the strategies outlined in this post, you should get ready for more traffic to your website.
Not only that, you will also increase customer satisfaction level as you're now able to track their interests better with marketing automation.