Almost all blog owners have come across a scenario where they are completely clueless about the topic of their upcoming blog post. At times, they can somehow manage the situation by writing about an emerging trend or breaking news in their industry. Sometimes they also cover a recent conference or review a just launched product or service. However, it is not possible to solely rely on these types of topics all the time. In addition to being useful and attractive, your blog post topic must also help you connect easily with your target audience.

You are not alone if you find it difficult to unearth new topics for your blog from time to time. This is a problem for many highly experienced marketers, copywriters and bloggers who have a very good knowledge of their audience. From my own experience, I feel that finding out relevant data is not a difficult proposition at all. However, making this data actionable is an uphill task because we are often lost in information overflow. In order to be able to identify blogging ideas that help stay connected with the audience, we require a simple and actionable process that is repeatable, scalable, and works for any industry.
It is possible not to get lost amongst so much of data from different sources by focusing only on the most relevant data. You can get started by going through your blog and selecting the most popular posts. Make use of Google Analytics to find out the blog post that have had the highest number of visitors. Also, shortlist the posts that generated maximum conversation and page views, and had the maximum visit duration. Make use of any advanced social media tools to find out the posts that were shared the most on the visitors' social networks. Only keep the top 20% information for all of these. Now, once you have this data, make a spreadsheet for each of these posts with information such as title, url, visits, conversion, visit duration, and social media sharing. This spreadsheet will give you a clear idea about what was your most popular content, which one attracted maximum traffic, and social network visibility of the posts, and the preferred social networks of your audience.
Now, repeat a similar process for the posts published in you competitors' blogs. Though you will not have access to the complete analytics of these blogs, it is still possible to find out some highly relevant information. This includes the posts that have been shared the most on different social networks and posts that have yielded the highest number of external links. Again, create a similar spreadsheet for the top 20% posts consisting of the url, title, social network sharing, external links and linking domains.
In addition to your and your competitor's top content, you can also find out the most shared content in your social community, contents that are most relevant to the social networks. Web industry questions relevant to you, and the web content requests. All these are extremely useful sources for the blog post ideas.
Now you have collected a comprehensive yet manageable source of potential ideas for blog posts. It is now possible for you to make this information actionable by implementing a few steps.
Start by making an effort to find out the characteristics that differentiate these top questions and content. Try and figure out if they have something in common. Identify the pattern that these posts follow in terms of areas, style, and format. Make a list of potential blog post ideas by taking the existing popular contents, requests, and questions as the input. For each of these potential topics ask how, what, who, when, why, and where. The next step is to classify these ideas based on their relevance to the audience and the search volume corresponding to each of them. Now you must identify the ideas that have already been covered by you or any other website in the past.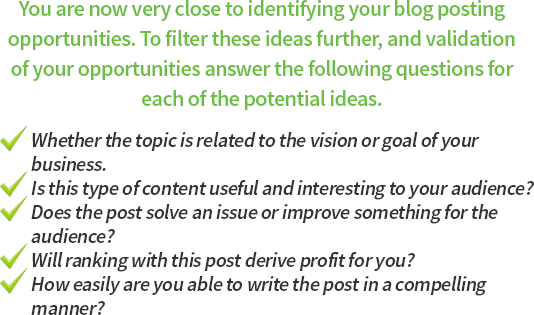 At Rank Secure, we have been helping website and blog owners make the most out of their content in this rapidly changing search engine landscape. We hope you enjoyed going through this post and please visit again for more similar discussions.