When people need a dentist or dental service, they search Google for "dentist near me."
If you've spent years transforming smiles and building your practice with care, did you know that thousands of people are searching for you right now in your city?
Dentistry is a huge market with lots of potential. 
The global dentist equipment market, which is a segment of the broader market, is projected to reach $11.6 Billion in market share.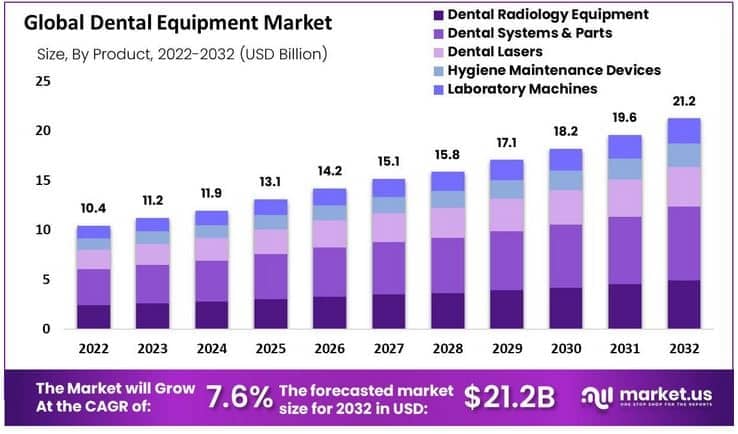 Other dentists in your city would hijack potential clicks and patients if your practice is not showing up on Google. Don't let that happen!
To rank your dentist's website or page on Google, you need to embrace Search Engine Optimization (SEO).
Unlike traditional marketing channels (e.g., TV, Newspapers, Radio), SEO offers cost-effective, targeted, and you can easily track results.
This is the ultimate guide to SEO for dental offices. 
Discover how to rank on Google, how to finetune your online marketing strategy, and shoot your dental practice website to the top of Google's ranking.
SEO for Dental Offices: Pros and Cons
Why should dental practices implement SEO in the first place? What are the key pros and potential downsides? This table provides a summary:
| Pros | Cons |
| --- | --- |
| 1. Your dental practice will be found online when people search for dental services. | 1. Setup can take time and effort initially. |
| 2. SEO attracts people actively seeking dental services. | 2. Many dentists use SEO, making it competitive. |
| 3. SEO is budget-friendly compared to traditional ads. | 3. SEO needs continuous work and updates. |
| 4. High search ranking builds trust and credibility. | |
| 5. SEO tools provide data for improvement. | |
Chapter #1. Understanding SEO Fundamentals for Dental Offices
Your dental practice may provide the best services in your city or state, but if it's hidden away, known only to a few, you'll struggle to grow it.
The first step to change that is to understand the fundamentals of SEO.
SEO is your map, guiding patients to your city of dental excellence.
SEO Begins with knowing your target audience and their pain points. While keywords are the foundation of any SEO strategy, there's more.
It boils down to making your website a welcoming haven for both potential patients and Google's algorithms.
When you align with Google's E.E.A.T. principles (Experience, Expertise, Authoritativeness, Trustworthiness), you show that your dental practice is the destination patients have been searching for.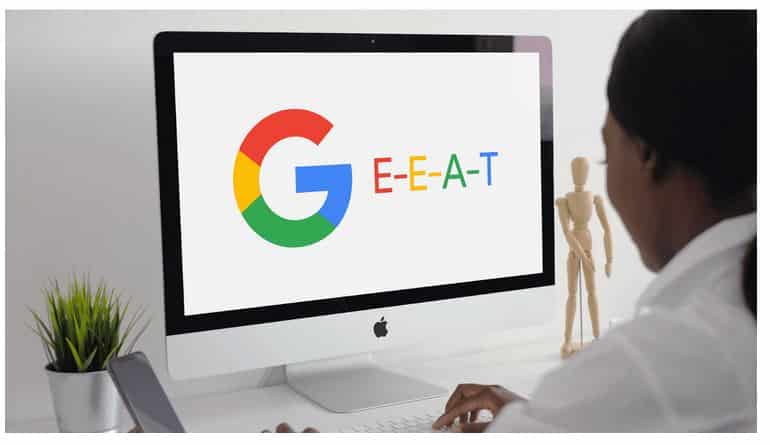 When implementing SEO today, keep in mind that Google seeks not just data but human connection. Your website is your digital handshake to connect with potential patients.
Your content should be engaging, empathetic, and clear.
Remember, it's not just about keywords; it's about crafting content that addresses real human needs and concerns.
Chapter #2. Keyword Research and Targeting
Here's a scenario: Imagine a dentist who wanted to attract more patients.
She realized that people weren't just typing "dentist" into Google; they were searching for answers to their dental fears and desires.
Through keyword research, she discovered a treasure trove of long-tail keywords. These were the questions people were asking, the problems they needed solving.
Can Cavities be treated?
Best dentist near me
Dental office in Houston.
How do I get a Snap-On Smile?
Does Clip-On Veneers work?
When should kids go to the dentist?
Keyword research is the compass that guides your content. It's about understanding the language of your potential patients and speaking it fluently.
This means digging deep into tools that reveal the exact words people use when they seek dental care. It's not just about "dentist near me" but also about "how to overcome dental anxiety."
Simply head to the Google Keyword Planner, enter the seed keyword (e.g., best dentist), and click on the "Get results" button to find keywords that your target audience is searching for in your locality.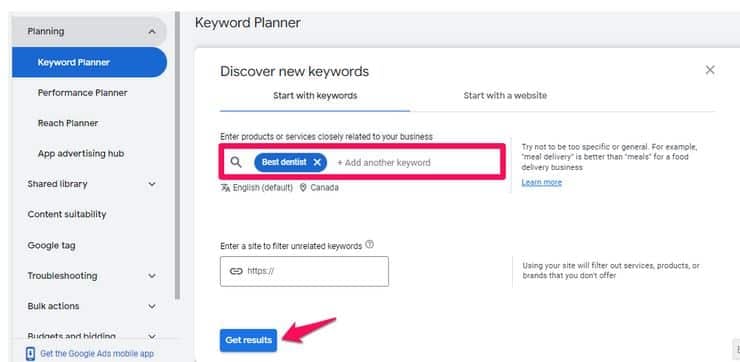 From the list of keywords below, pick the ones that will drive the most traffic, clicks, and leads to your practice.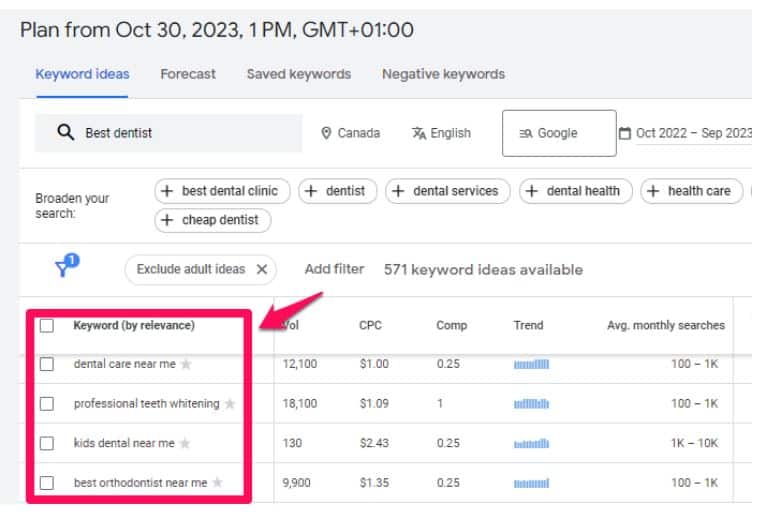 Note: Choose keywords that align with your dental services. Your keyword choices are the foundation of your SEO strategy, and like our dentist, you'll uncover the hidden pathways to patient hearts.
Chapter #3. On-Page SEO for Dental Websites
Your dental website needs to be well-designed for users. It's not enough to have a beautiful website; it must be welcoming and easy to navigate.
On-page SEO deals with the interior design and usage of your website. When someone walks in, they should feel comfortable, informed, and assured that they're in the right place.
Here's exactly how to implement on-page search engine optimization for your dental website:
1. Optimize Title Tags and Meta Descriptions:
Use relevant keywords in your page's title and meta description.
For instance, if you specialize in pediatric dentistry, incorporate phrases like "Top Pediatric Dentist in [Your Location]." 
This approach helps Google understand your page's content and boosts your chances of ranking higher in search results.
Since your meta description appears in the search rankings, it needs to be engaging and nudge users to click through to your website or call your office.

2. Create High-Quality, Informative Content:
Your website's content should reflect your dental expertise.
Consider FAQs about common dental issues, such as:
How to Maintain Healthy Gums
How to Identify a Reliable Dentist in Your City
Tips for a Brighter Smile.
What to Consider Before Visiting a Dentist
How to Prepare For Your Next Dental Veneer
Each of these topics will likely appeal to those searching for dental services around you.
The articles not only educate people but also signal to Google that you provide valuable content — and deserve the top ranking spots on Google.
3. Optimize Images and Alt Tags:
Images, videos, and other interactive visuals will enhance your website, but they should also be compressed and properly optimized.
Ensure image file names and alt tags include relevant keywords.
If you have a page on teeth whitening, for example, an image with the alt tag "teeth-whitening-dentist" can improve your SEO.
4. Improve Page Loading Speed:
A slow website can deter potential patients.
Use tools like Tools.Pingdom to identify and fix issues that may be slowing down your site.
Faster load times result in a better user experience and are favored by search engines. Aim for 2 second load time to retain visitors — because in 3 seconds, they will leave.
5. Mobile-Responsive Dental Website: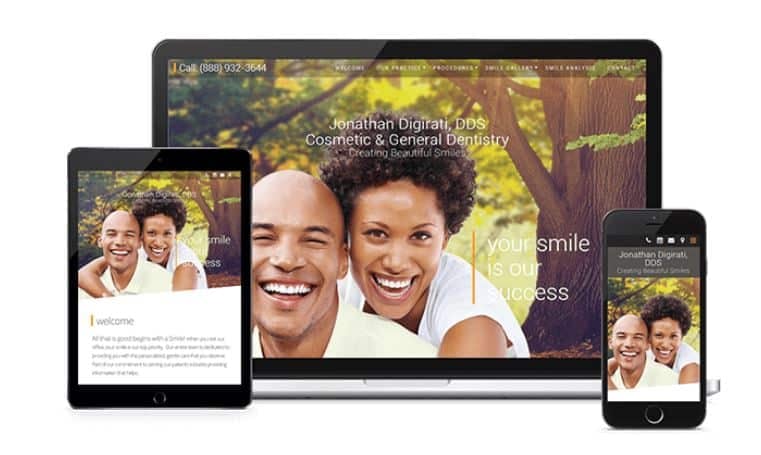 As a dentist, you need to understand that your audience is mostly searching for you via mobile devices.
That's why your website must be mobile-friendly. A responsive design ensures that your content looks and functions well on all devices, from smartphones to desktops.
Follow these quick tips to make your dental website mobile-responsive:
Implement responsive web design
Ensure content adjusts to different screen sizes
Optimize images for mobile viewing
Compress and minify code for faster loading
Use legible fonts and clear headings
Test mobile usability on various devices
Prioritize mobile-friendly navigation
Optimize forms for touch input
Ensure quick page loading on mobile
Monitor and improve mobile performance regularly
Case Study #1 – Kits Family Dental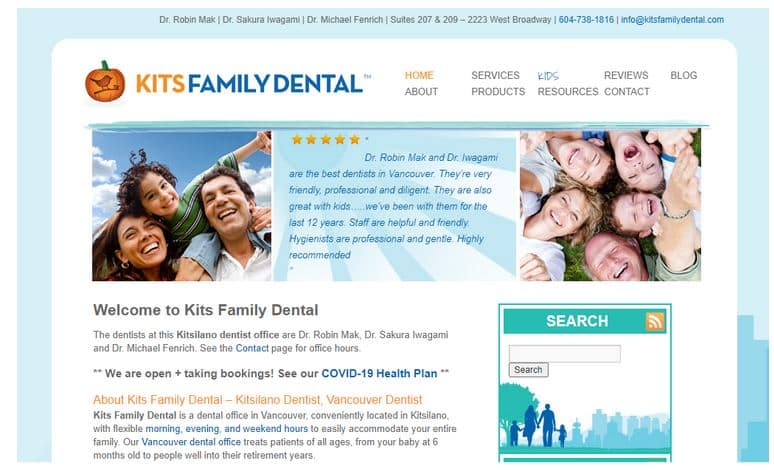 A family dental practice in Vancouver wanted to attract local patients. Their website was optimized with location-specific keywords like "Family Dentistry in Vancouver." 
This practice now ranks high for several variations of these keywords, driving a steady stream of local patients to the clinic.
Chapter #4. Local SEO Strategies for Dental Offices
If you have a dental practice in the heart of a bustling city, for example, there's a chance you want the locals to know about your services.
That's where local search engine optimization (SEO) comes in, like a neon sign on your storefront, shining bright.
Local SEO is the step you take to position your dental practice in Google so that potential patients in your locality can find you.
It's the key to putting your dental practice on the map and ensuring that potential patients find your practice in the pack like so: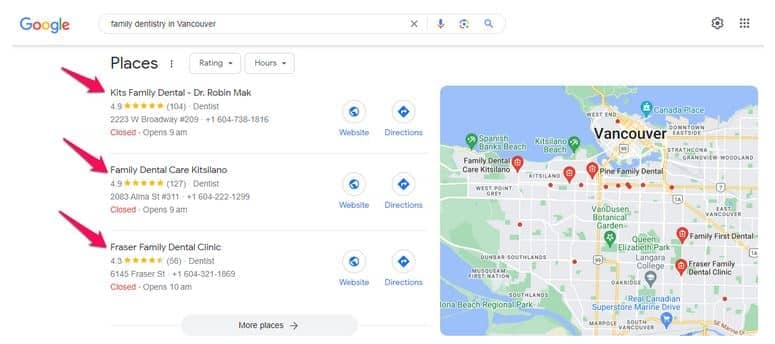 In recent years, Google has continued to refine its algorithms, favoring businesses with a strong local presence.
Use these 7 strategies below to optimize your website for Local SEO:
1. Claim Your Google My Business Profile:
The first step to getting listed on Google is to claim and verify your Google My Business (GMB) listing. It's completely free.
Ensure your profile is complete with accurate contact details, category selection, and high-quality photos of your dental clinic.
Encourage satisfied patients to leave positive reviews, as Google rewards high-rated businesses with improved visibility.
Upper Canada Dental Centre in Canada optimized its GMB profile with high-resolution images and regular updates about special offers and clinic events.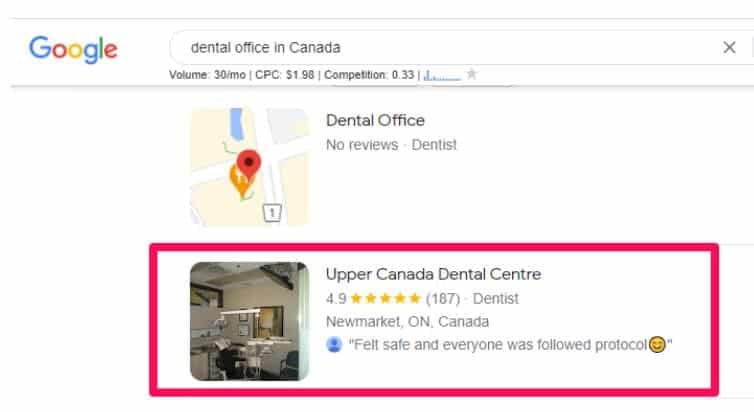 They also encouraged patients to leave reviews, increasing both online and offline traffic.
2. Target Local Keyword:
Research local keywords specific to your dental practice, like "best family dentist in [Your City]." 
Incorporate these keywords into your website content, meta tags, and GMB profile.
Remember to include the city or neighborhood name you serve.
The Art of Dentistry, a Canadian dental practice targeted local keywords like "Cosmetic Dentistry in Ontario" on their website.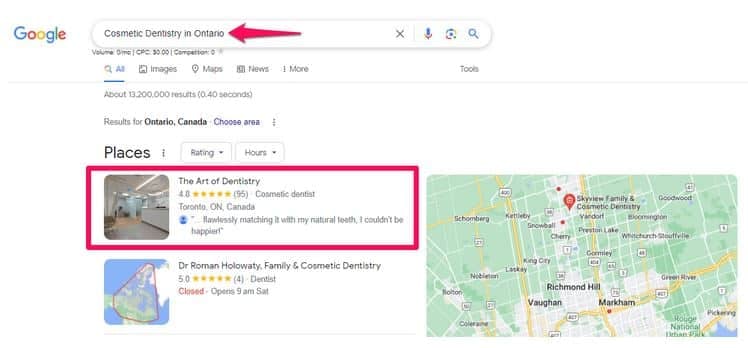 This led to improved rankings for dental searches done within Ontario, attracting more local patients.
3. Ensure Consistent NAP Information:
Ensure your business name, address, and phone number (NAP) are consistent across all online platforms, including your website, GMB listing, and local directories.
For example, if this is your NAP:
Address: 17000 Zenith Avenue, Box 100, Newtonville, ON L3Z 5Y2.
Phone: (905) 000-1234
Then make sure to use it as it appears, in the same order, everywhere you list your practice, online, and even on your business card.
This uniformity builds trust with both Google and its users.
Skyview Family & Cosmetic Dentistry kept their NAP consistent across their website, social media profiles, and local directories, reinforcing their credibility in Google's eyes.
4. Build Local Links:
We'll dive into link building later on in this guide.
Inbound links from trusted and relevant websites can improve your rankings in the local search results (specifically in Places).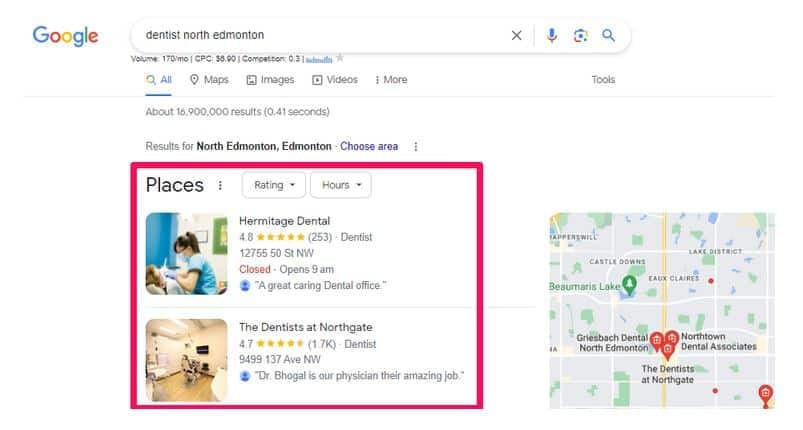 Build local backlinks by collaborating with local organizations, sponsoring events, or participating in community initiatives.
These local links establish authority and relevance, improving your local search rankings.
Green Valley Dental Group in a small town in Arizona established partnerships with local schools and sports teams.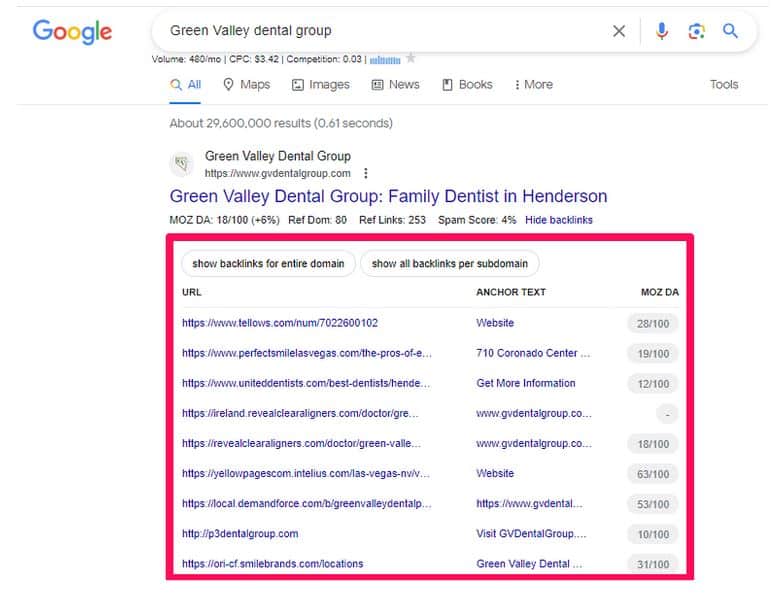 This led to various local websites mentioning and linking to their practice, elevating their local search presence.
Pro tip: Make sure your dental website displays properly on mobile devices, is quick to load, and easy to navigate.
Google's mobile-first indexing prioritizes mobile-friendly sites, and this directly impacts local search rankings.
SmileCare Dentists invested in responsive web design to provide an excellent mobile user experience. This led to increased mobile search rankings, generating more local patients looking for dental services.
5. Align Your Content to Locals
To win in local search engine optimization, it's important to produce content tailored to local interests, news, and events.
Write blog posts about community involvement, dental health seminars, or even dental care during local festivals.
This not only provides value but also connects you with local audiences.
You could also capitalize on specific events in your city to create content that appeals to potential patients at that time.
6. Monitor and Respond to Reviews:
Track and respond to online reviews promptly, both positive and negative.
72% of consumers trust online reviews the same way they do personal recommendations from real people.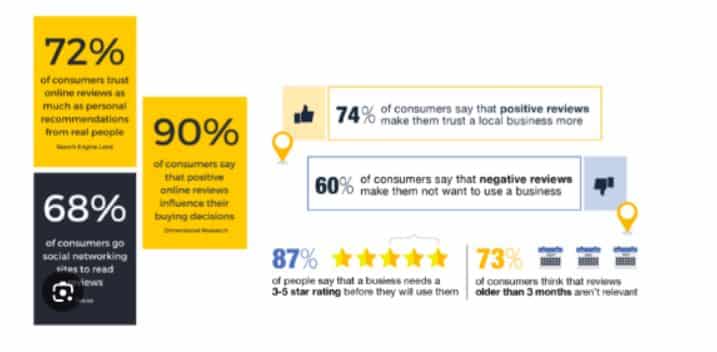 Engaging with online reviews also shows Google and potential patients that you value feedback and are committed to patient satisfaction.
SmileCity Dental maintains an active review monitoring system.
The team replies to patient reviews, addressing concerns and thanking satisfied patients, which has led to enhanced credibility in the local search results.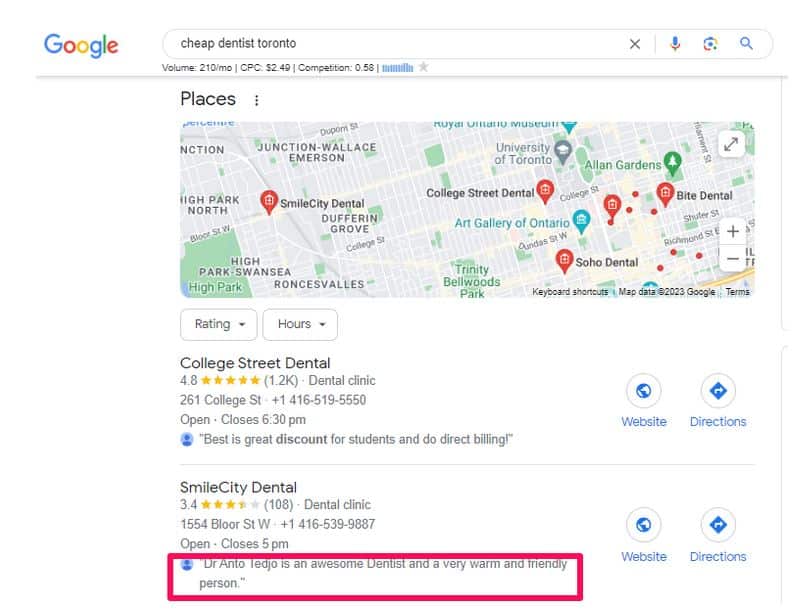 Chapter #5. Off-Page SEO and Link Building
For a moment, let's envision your dental practice as a thriving community for a second. You want to be part of this community, actively engaged and well-connected, right? 
You can use off-page optimization and link building to get into the conversation happening in your industry.
Off-page SEO and link building are like joining clubs and forming connections with others in your community.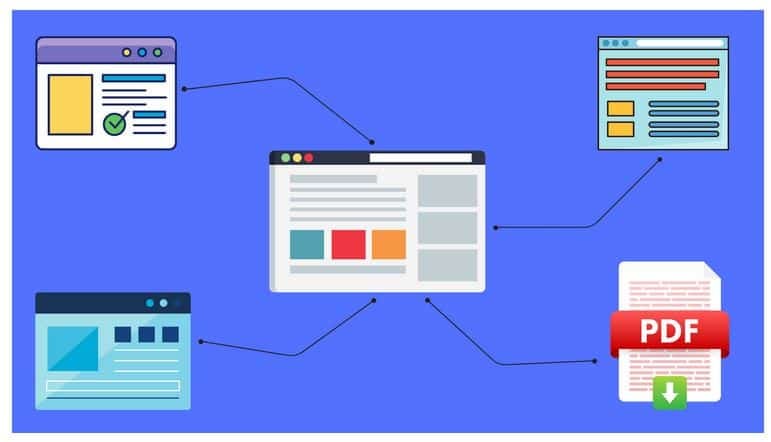 Links are no longer the sole determinant of a page's position in the organic results, but they are predominantly used by Google.
Google's algorithms continue to prioritize high-quality backlinks and off-page signals, making it essential to stay up-to-date with the latest techniques.
Here are 7 Google-friendly off-page strategies, complete with practical implementation and real-world examples:
1. Write High-Quality Guest Posts: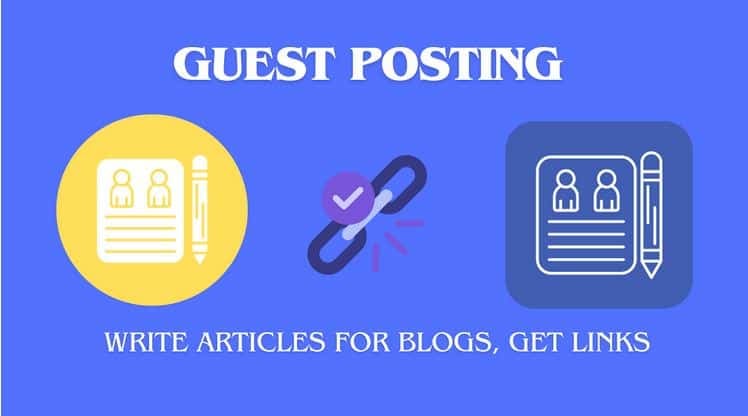 Guest blogging involves creating content for other authoritative websites in the dental or health niche.
Most bloggers write 1 – 5 guest posts each month to showcase their expertise but also to earn backlinks from trusted sources. Focus on creating informative, engaging, and shareable content.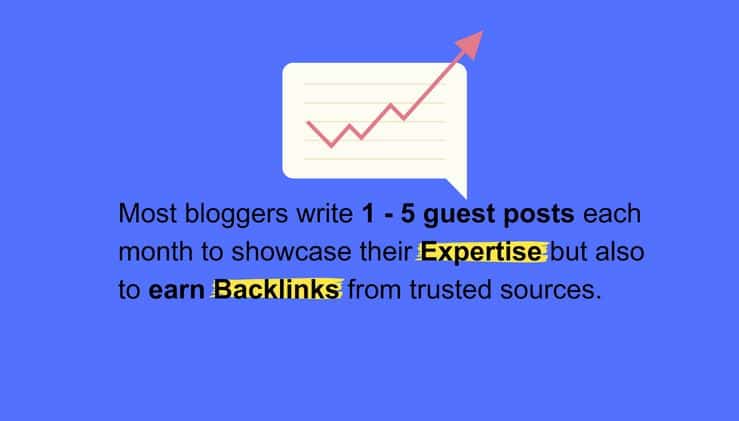 To get started with guest posting, start by identifying reputable dental websites that accept guest posts.
A quick search in Google for "dental + write for us" will show you all the relevant websites in your niche that accept guest articles.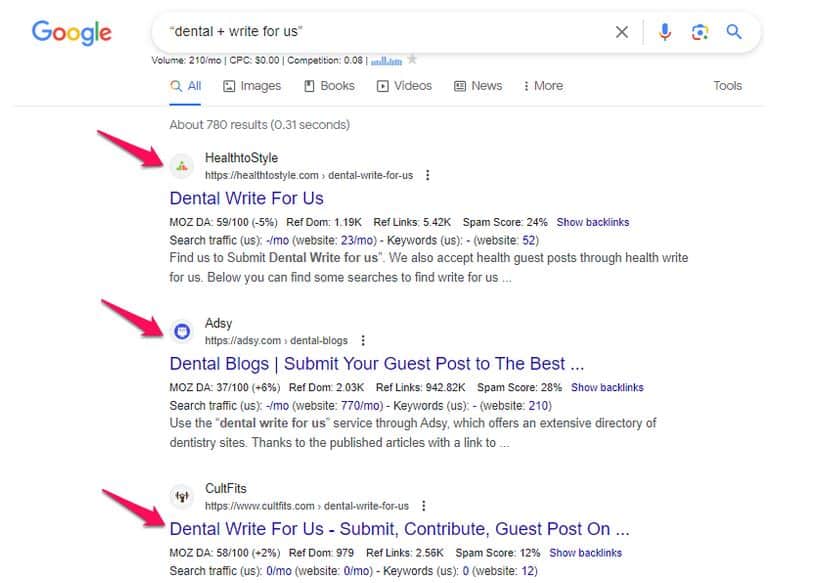 Reach out to these websites with a well-crafted pitch and offer valuable, relevant content. You could use ChatGPT to craft winning pitch emails that would get a "YES."
Ensure your guest post includes a link back to your practice's website.
Dr. Jane, a dentist in Houston, wrote a comprehensive article on "Oral Health for Kids" for a popular parenting blog.
Her guest post not only educated parents but also linked back to her dental practice website. This generated high-quality traffic and improved her website's authority.
2. Engage People on Social Media: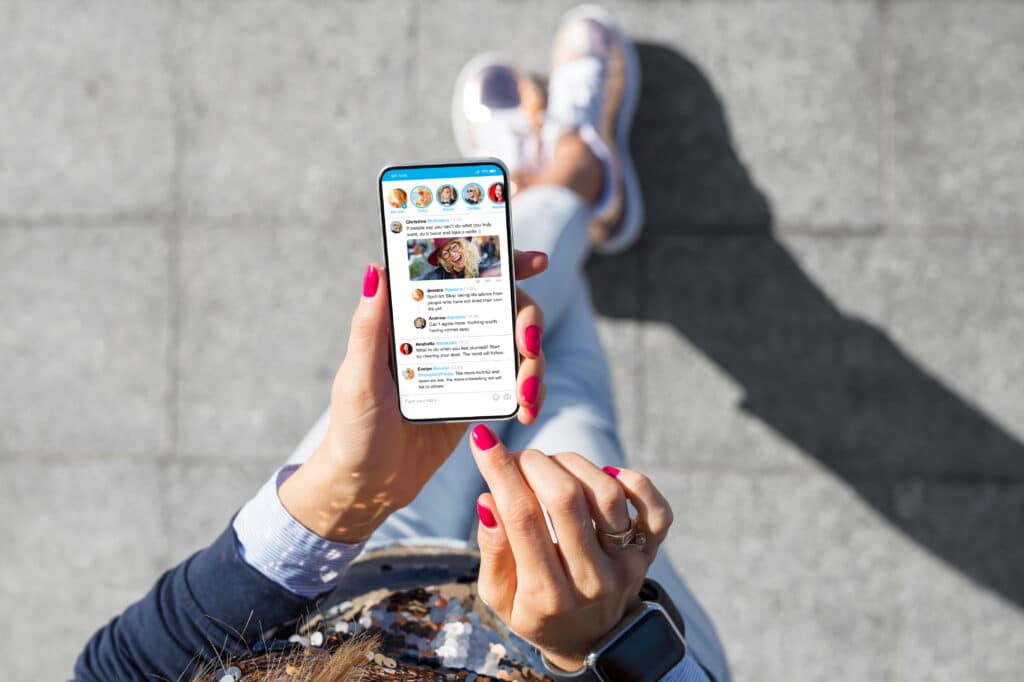 According to Search Logics, about 4.26 billion people use social media platforms daily for an average of 2 hours and 27 minutes.
You can increase your odds of getting natural links by actively engaging with your local community on Facebook, Instagram, LinkedIn, etc.
Encourage satisfied patients to share their experiences on your social media profiles, creating organic buzz around your practice.
Google acknowledges social signals (such as comments, likes, shares, and votes), so having an active and positive online presence is vital.
So how can you leverage social media for off-page SEO and link building?
Post regularly on your social media channels, showcasing your expertise, sharing patient testimonials, and engaging with comments and messages.
Encourage patients to leave reviews and share their experiences online.
3. Collaborate with Local Influencers: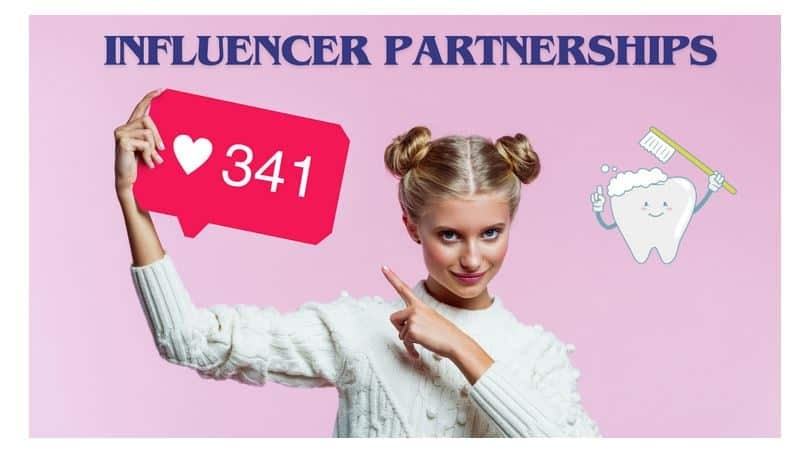 A local influencer usually has an audience between 1k-10k followers from a specific region or state. Their content is highly targeted to local consumers.
Your dental practice can be seen by a wider audience when you collaborate with local influencers or authoritative figures in the dental field.
Influencers can review your practice, endorse your services, or co-create content that highlights your expertise.
Whenever you identify local dental influencers or health bloggers in your area or through a local directory, reach out to them with collaboration proposals. It could be as simple as a blog review or as involved as a joint webinar.
Dr. Johnson partnered with a local health influencer for a live webinar on "Healthy Dental Habits for Families." This collaboration expanded her practice's reach, with the influencer promoting the event to their followers.
4. Get Listed on Online Directories: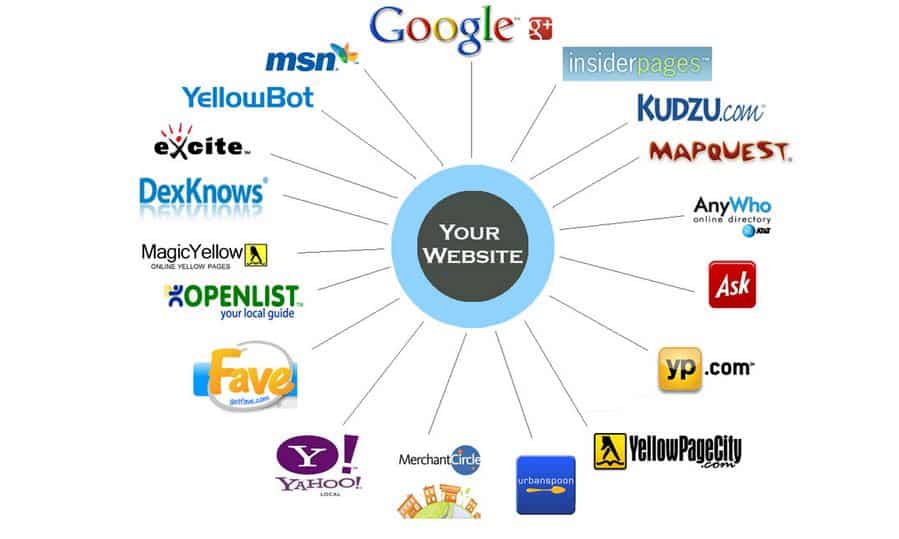 Get your dental practice listed on reputable online directories and local listings like Yelp, Healthgrades, and Yellow Pages.
Use a consistent NAP (Name, Address, Phone number) across the directories.
Google values consistency in your business information across various platforms.
5. Network with Local Businesses: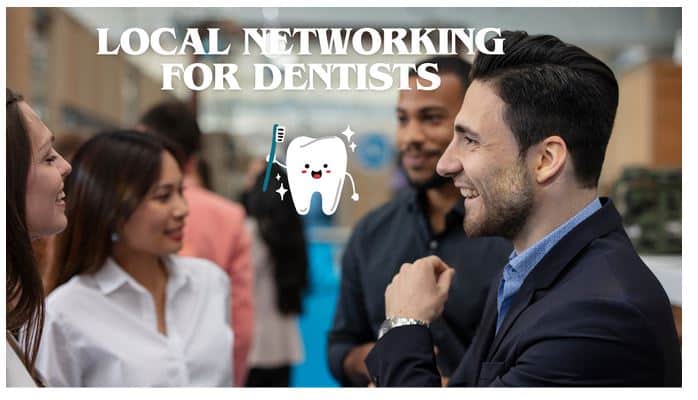 Establish partnerships with other local businesses, especially those in the health and wellness niche. Cross-promotion and collaboration can lead to backlinks from other businesses' websites.
Start by reaching out to local health and wellness businesses and propose mutually beneficial collaborations.
It could involve co-hosting health fairs, joint social media campaigns, or featuring each other on your respective websites.
6. Syndicate Your Content: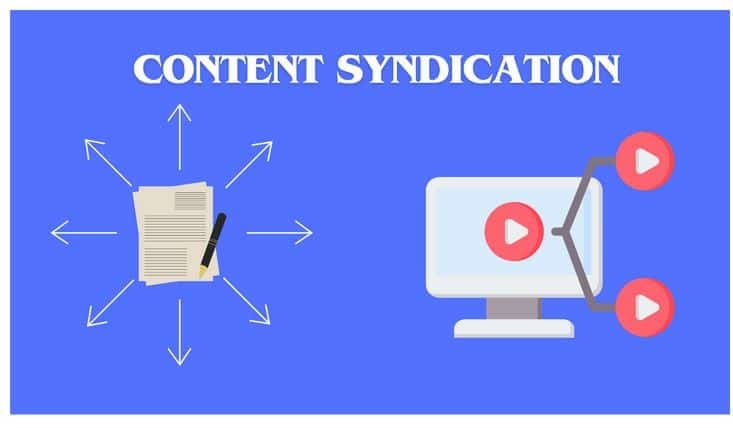 Republish your high-quality blog content on reputable platforms like Medium, LinkedIn, Facebook, and other platforms.
In addition to getting a link back to your website, you'll also attract a wider audience.
Choose relevant content from your blog and republish it on reputable platforms. Add value to the audience on those platforms and link back to your practice's website.
7. Sponsor Local Events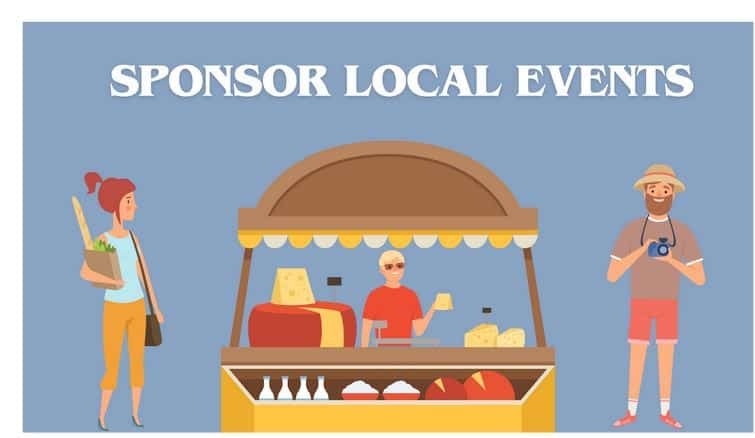 A great way to implement off-page optimization is to sponsor local events, charity drives, or community initiatives.
Such activities often lead to online mentions and backlinks from the event organizers' websites.
Identify local events, charities, or community organizations that align with your values and participate as a sponsor. This not only supports your community but also generates online mentions and backlinks.
Chapter #6. Technical SEO and Website Performance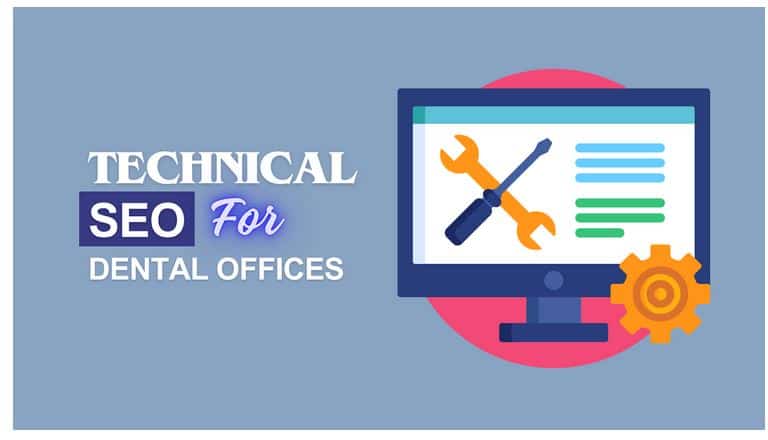 Technical SEO and website performance play a pivotal role in your dental practice's online visibility and user experience.
Google continues to emphasize the importance of website quality and page speed.
Let's explore the various aspects of technical SEO for your dental practice:
1. Page Loading Speed:
Website speed directly affects user experience and SEO rankings.
Use tools like Google PageSpeed Insights to identify and fix speed issues. Optimize your site to load quickly, ideally within a few seconds. 47% of visitors expect your dental website to load in 2 seconds or less.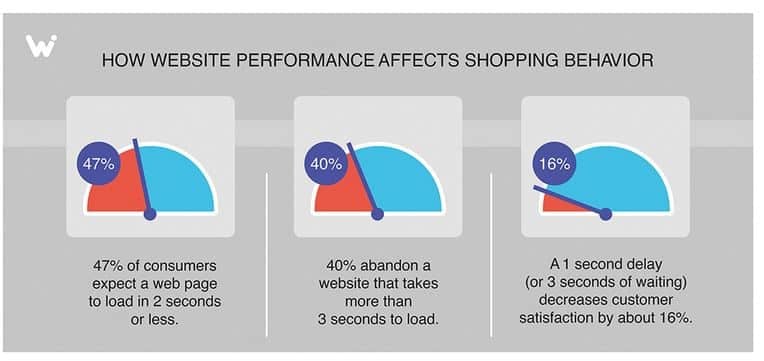 To improve page speed, compress images, leverage browser caching, and minimize HTTP requests.
A content delivery network (CDN) can also speed up your site by serving content from servers located closer to the user.
2. XML Sitemaps:
A well-structured XML sitemap helps search engines crawl and index your website efficiently. Create a sitemap that includes all your website's pages, and regularly update it.
Generate an XML sitemap using tools like Google's Search Console. Include it in your website's robots.txt file and submit it to search engines for indexing.
3. Schema Markup: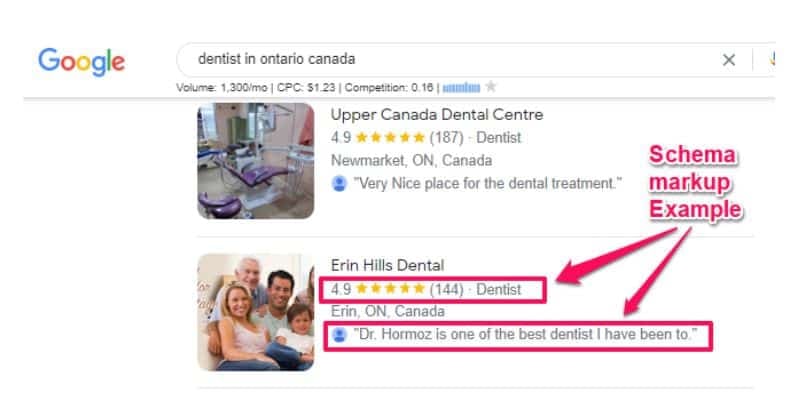 Utilize schema markup to provide search engines with more information about your dental practice.
This can lead to rich snippets in search results, providing users with additional information and boosting click-through rates.
Implement schema markup for elements such as your practice's name, address, phone number, and operating hours.
You can use Google's Structured Data Markup Helper to create the necessary code.
4. Install an SSL Certificate:
Google gives preference to secure websites.
Ensure your site is protected with SSL (Secure Sockets Layer) encryption, which is indicated by the "https://" in your URL.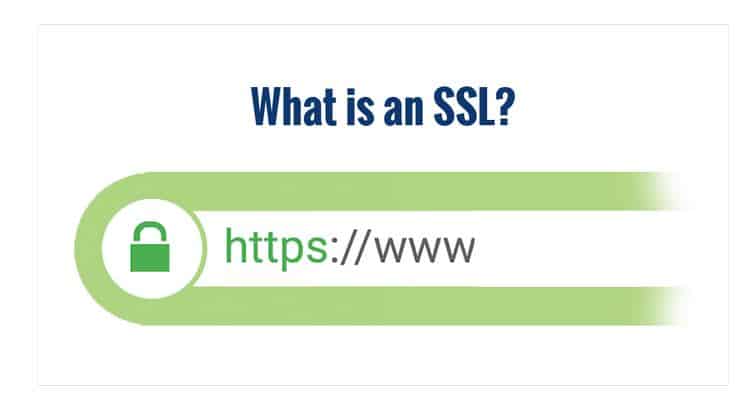 Purchase an SSL certificate from a reputable provider and install it on your web server. Update your website's settings to enforce secure connections.
Chapter #7. Content Marketing and the Google Helpful Content Update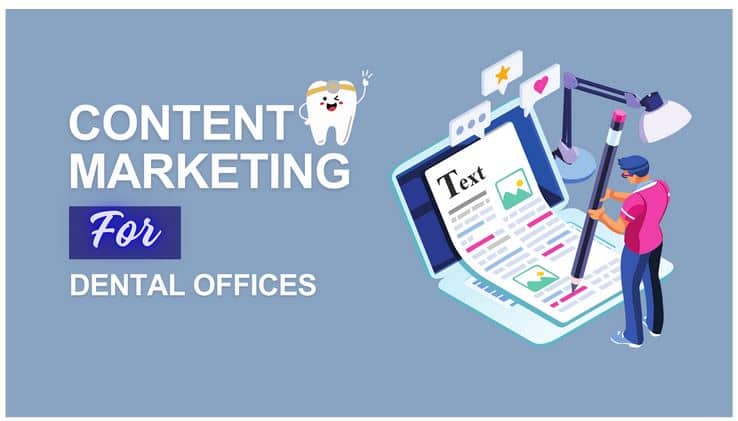 Did you know that dental patients are not just looking for dental services?
They want to overcome their fears, find solutions to their pain, and discover their smile's potential. This is where content marketing comes into play.
The recent Google Helpful Content Update emphasizes that it's not just about providing information but about being the helping hand people are searching for.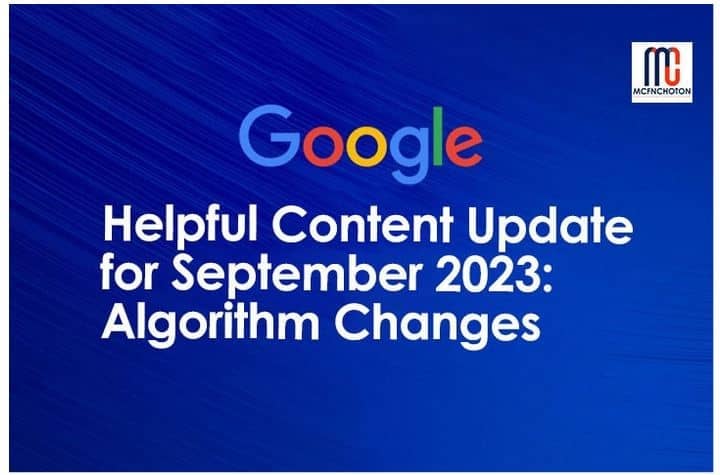 When you create content that answers people's questions, eases their fears, and guides them on their dental journey, you're not just a dentist; you're a trusted advisor.
Blog posts, videos, infographics, and social media posts help reach out to your patients online. They're like the conversations you have with your patients in your clinic, but now, they happen online.
As you create content, aim to form connections and build trust. 
When your content is not just informative but also genuinely helpful, you become a beacon of hope for those seeking dental care.
Mastering Mobile SEO for Dental Offices
According to The State of Mobile in 2022, each year, the number of mobile users exceeds desktop users. As of September 2022, 58.72% of world internet users came from mobile, and 39.18% from desktop.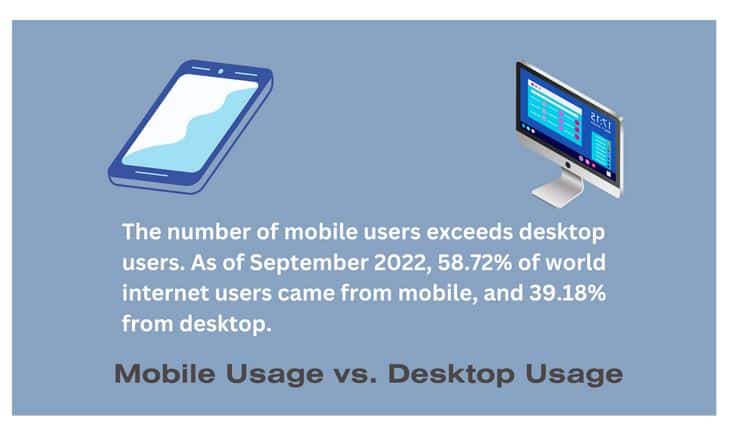 It's a fact that the number of users searching for dentists in your city far exceeds those searching from their computers.
Google continues to prioritize mobile-friendly websites, making it crucial to employ strategies that ensure your dental practice shines on mobile devices.
Here are 5 essential SEO strategies to ensure you're mobile optimization is excellent:
1. Responsive Design:
Responsive design ensures your website adapts to various screen sizes, providing an optimal user experience on mobile devices.
Google favors mobile-responsive websites, and this approach is essential for mobile SEO success.
Work with a web developer to implement a responsive design for your website. Ensure all elements, such as text, images, and navigation, adjust seamlessly to different screen sizes.
2. Mobile Page Speed:
Mobile users expect fast-loading pages. Slow websites can lead to high bounce rates and decreased visibility in search results. Aim to have your pages load in under three seconds.
Use tools like Google PageSpeed Insights to analyze your website's mobile performance. Compress images, leverage browser caching, and minimize HTTP requests to improve loading speed.
3. Mobile-Friendly Content:
Mobile devices have smaller screens, so your content should be concise and easy to read on mobile. Use shorter paragraphs, clear headings, and legible fonts.
Ensure your website's content is well-structured and easily digestible on mobile devices. Test your website's readability on various mobile screens.
Canada Way Dental revamped its content for mobile users, making it more visually appealing and easily navigable. This enhanced user experience led to longer visits and higher engagement.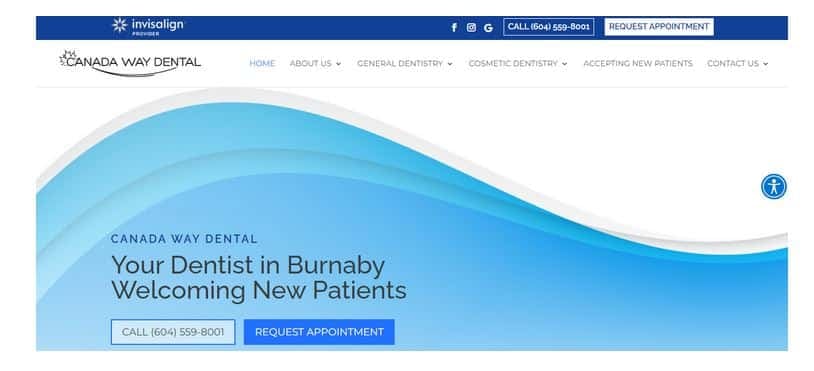 4. Voice Search Optimization:
Voice-activated devices such as smart speakers and virtual assistants have become increasingly prevalent today.
A report by Google and Peerless Insights revealed that about 72% of people who purchased a voice-activated speaker use it every day.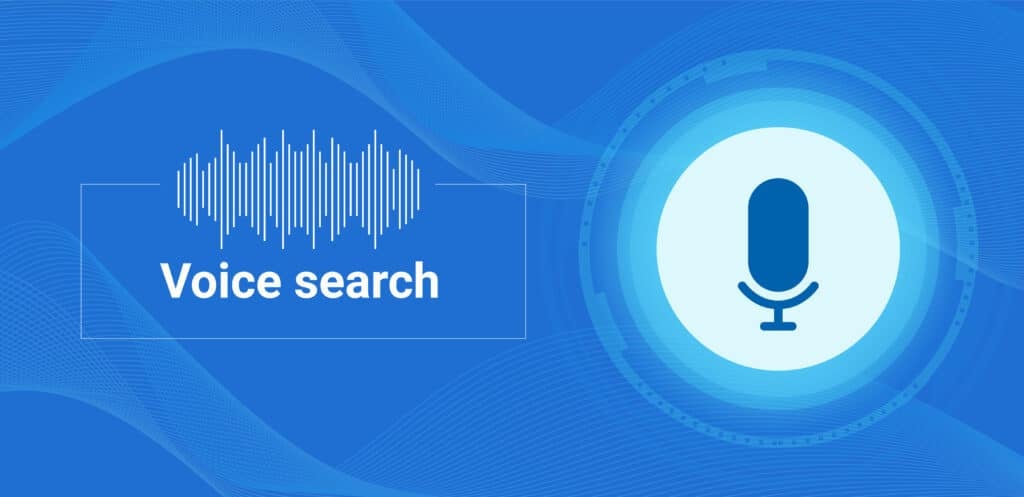 Identify voice search keywords and incorporate them into your content. These are mostly long-tail question-based such as:
What is the best way to eliminate cavities?
Who is the best dentist near me?
How do I get started with dental veneers?
Provide concise answers to common dental queries to cater to voice search users.
5. Mobile-Friendly Forms:
Mobile users may want to contact your practice through forms. Ensure your contact forms and appointment booking forms are easy to use on mobile devices.
Above all, you may use the Formdr tool to create HIPAA-compliant forms, which is crucial when collecting patient's information.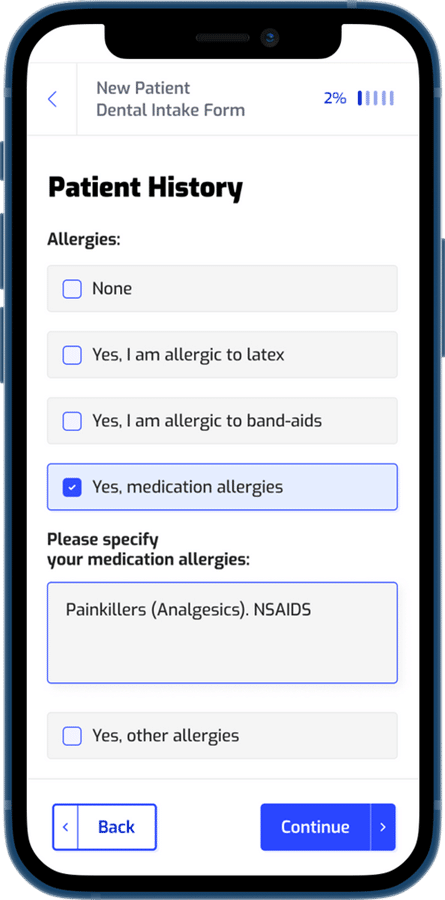 Test your forms on various mobile devices to ensure they are user-friendly. 
Optimize form fields for touchscreen input and consider auto-fill options for convenience.
Chapter #8. Tracking and Analytics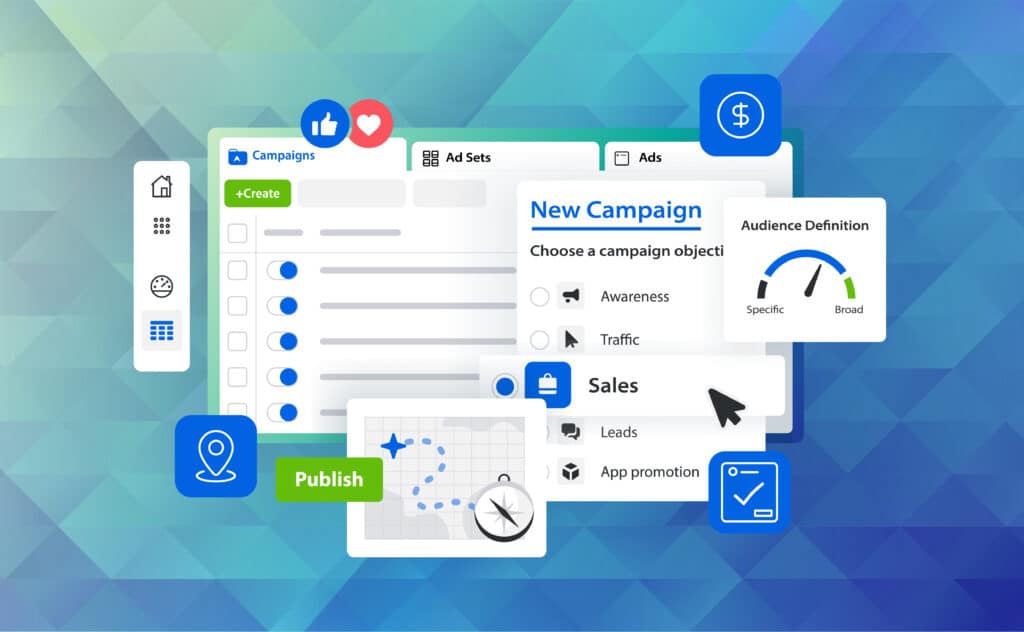 Your dental SEO strategy isn't complete until you have a tool that gives you insights into your patients' needs and emotions, much like you can read their expressions when they sit in your chair.
Google Analytics and Google Search Console are your instruments for understanding what's happening on your website.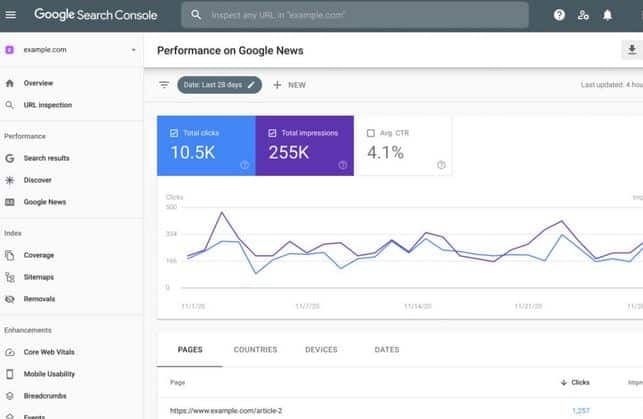 These analytics tools show you where your patients are coming from, what they're interested in, and where they drop off.
Just as you adjust your dental procedures based on your patients' reactions, you can adjust your online strategies by studying user behavior.
When you see which pages are popular, which keywords lead to conversions, and where people lose interest, you're empowered to make informed decisions.
Real-time data from your dental website is the key to continuous improvement.
It's like having a mirror to reflect on your performance, making sure your digital practice is as successful as your physical one.
SEO for Dental Practices: How Much Does it Cost Per Month?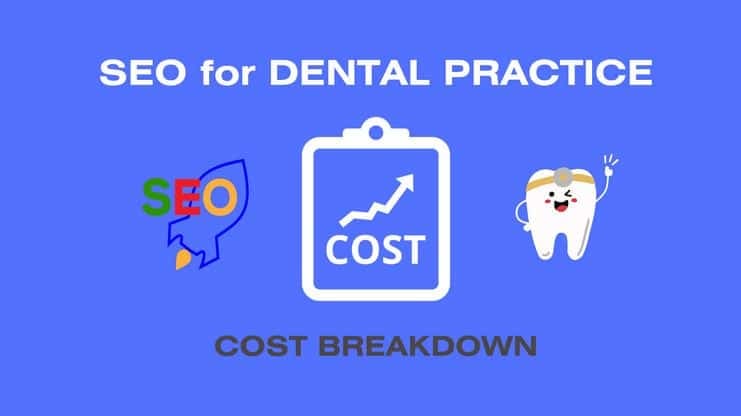 As a dental practice looking to boost your online presence through SEO, understanding the costs involved is crucial.
Let's dive into the financial aspects of SEO, considering various approaches:
1. In-House SEO: A Dentist's DIY Route
Cost Range: $0 – $5,000 per month
If you're a hands-on kind of dentist and enjoy learning new skills, you can opt for in-house SEO.
This essentially means handling SEO tasks within your practice without outsourcing to experts. The cost largely depends on how much time you can dedicate to it.
Factors Influencing Cost:
Time Commitment: Your time is a valuable resource. If you can allocate a significant amount to SEO, it might cost you less.
Tools and Resources: You may need to invest in SEO tools and resources for keyword research, analytics, and content creation, which could add to the cost.
2. Hiring a Freelance SEO Expert: The Middle Ground
Cost Range: $500 – $6,000 per month
For a balance between doing it all yourself and hiring a full-scale agency, you can engage a freelance SEO expert.
They typically charge every month, depending on the services they provide.
Factors Influencing Cost:
Scope of Services: The more comprehensive your SEO needs, the higher the cost. Services may include keyword research, on-page optimization, and content creation.
Experience: Highly experienced freelancers may charge more, but they often deliver more effective results.
Project Complexity: If your website needs extensive work, the cost may be on the higher end.
3. Hiring an SEO Agency: The Full-Service Approach
Cost Range: $1,000 – $12,000+ per month
SEO agencies offer a comprehensive solution for dental practices. They handle everything from strategy to execution, and the cost reflects the level of service and expertise they provide.
Factors Influencing Cost:
Agency Reputation: Well-established agencies with a strong track record typically charge more.
Services Included: The more services you require, such as local SEO, content marketing, and reputation management, the higher the cost.
Geographic Location: SEO agency pricing may also vary based on where the agency is located. Larger cities often have higher costs.
In our years of helping Dental offices and health professionals with their SEO needs, we've seen practices of all sizes successfully implement SEO, each with its unique approach.
It's essential to choose the option that aligns with your budget and goals.
At the end of the day, remember that SEO is an investment with an expected ROI, and the right choice can significantly impact your online visibility and patient acquisition.
What is the ROI of SEO for Dental Offices?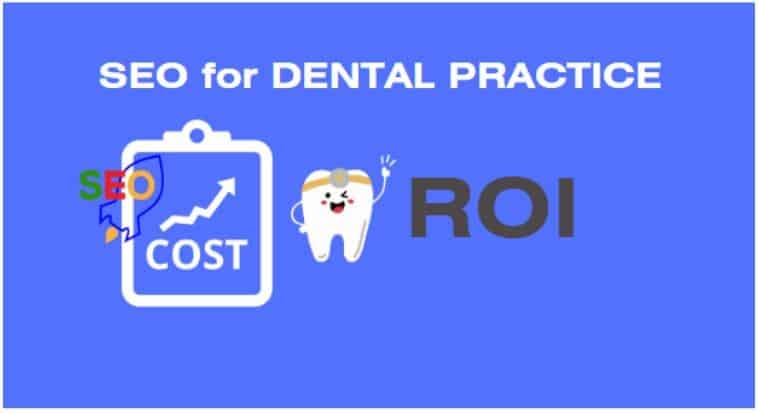 The return on investment (ROI) for SEO can vary. In general, SEO delivers a great ROI, which can be calculated as you'd any other marketing channel.
Metrics to consider include:
Organic search rankings
Website traffic
goal completion (e.g., a sign-up from a search engine)
Lead generation
Note: SEO takes time, regardless of how much you put into it. On average, you need 6-12 months in the short term to start measuring results, and up to 2 years to fully get the benefits of your SEO campaign.
Let's look at a real-world case study to show the impact of SEO on a dental clinic's bottom line.
All Smiles Care, a dental clinic in a competitive market, decided to invest in a comprehensive SEO strategy and paid search.
The results were impressive!
Within the first 6 months, their organic search traffic increased substantially, bringing in an additional 100 website visitors per day.
This boost in traffic translated into tangible results. All Smiles Care witnessed a 314% increase in organic traffic, resulting in a 172% boost in phone calls and new patient inquiries.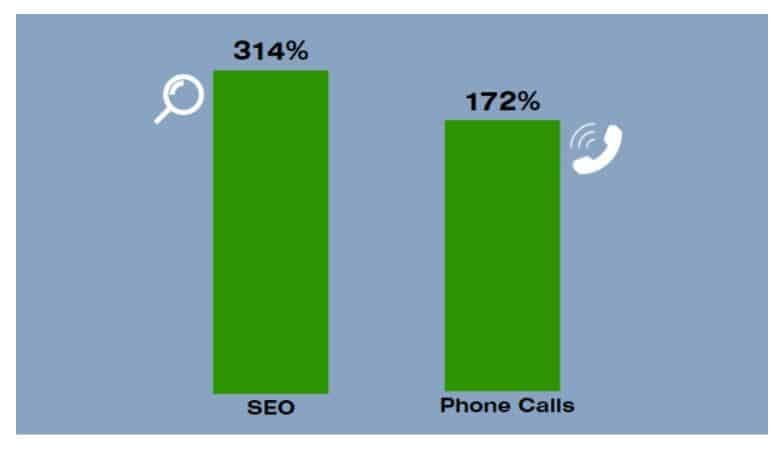 By the end of the year, the clinic's investment in SEO had a clear impact on revenue.
The additional patients brought in through organic search translated to an increased revenue. Suppose the dental practice invested $60,000 in SEO within this period, then the ROI would be a whopping 250%.
This case study demonstrates the substantial return on investment achievable with an effective SEO strategy.
With effective SEO, dental practices can increase their online visibility, attract more patients, and significantly boost their revenue.
SEO is not just an expense but a valuable investment that can transform your dental practice's financial outlook.
Implementing Google E.E.A.T. to Boost Dental Website Rankings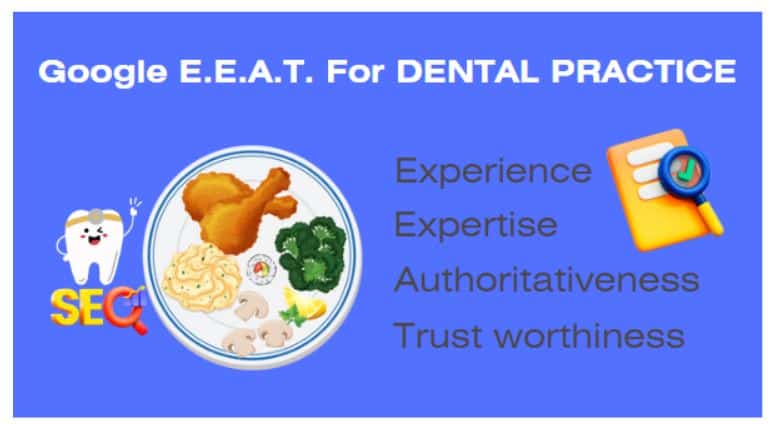 E.E.A.T. is an integral part of Google's Search Quality Rater Guidelines. These guidelines make up the all-important handbook that real people (employed by Google) use to evaluate the quality of search results
Dental practices can enhance their online visibility and credibility by adhering to Google's E.E.A.T., which stands for:
Experience
Expertise
Authoritativeness
Trustworthiness
Here are 5 effective and practical ways to implement the E.E.A.T. principles to your website and drive thousands of new traffic to your practice:
1. Experience: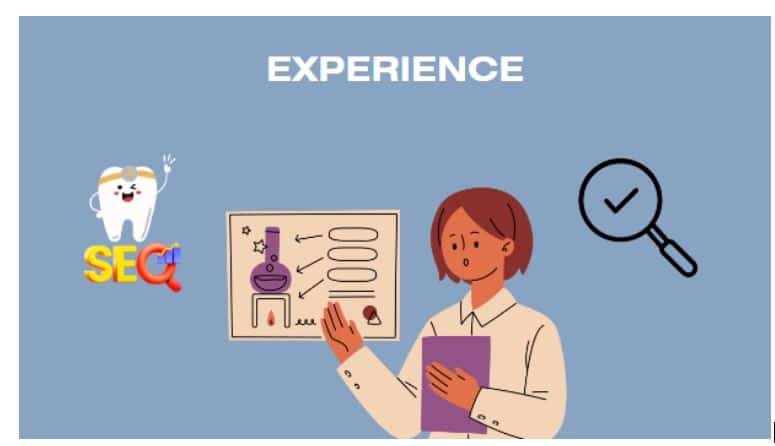 Showcase Clinical Experience:
Highlight the years of experience and expertise your dental team possesses. Explain their specialties and any advanced training or techniques they've mastered.
For example, include an "Our Team" section on your website where you introduce each dentist, sharing their years of experience and unique skills, such as cosmetic dentistry or pediatric care.
Share real case studies and before-after photos of successful patient treatments.
This offers a tangible demonstration of your dental practice's experience and capabilities.
2. Expertise: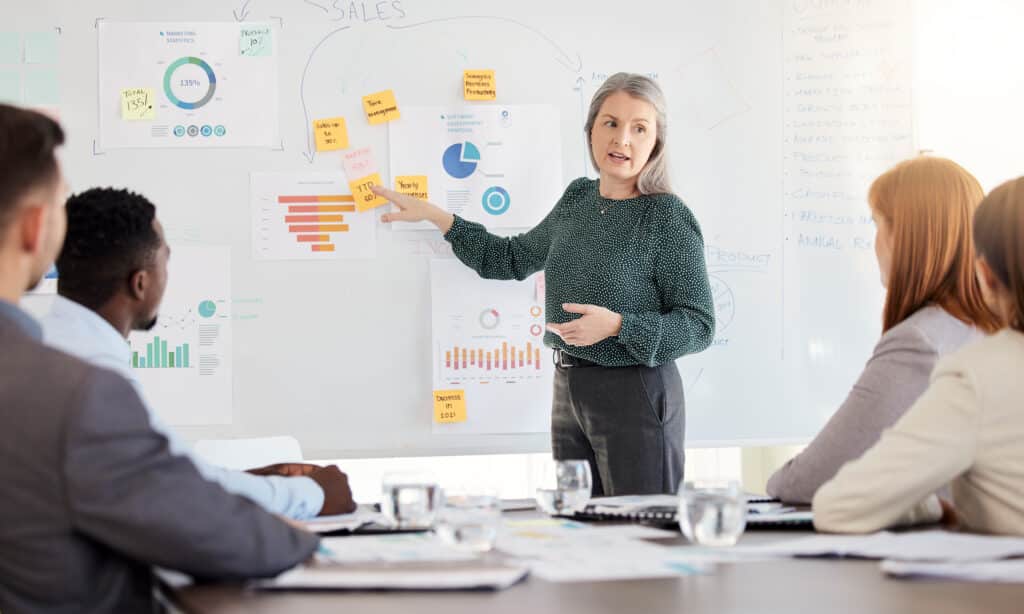 Content Excellence:
Develop high-quality, informative content on dental topics, showcasing your expertise.
This could include blog posts, articles, and FAQs.
As an example, your dental blog could publish detailed articles on various dental procedures, explaining them in simple terms to educate patients and showcase the practice's expertise.
To show expertise, highlight the qualifications, certifications, and professional memberships of the dental team on your website.
An "About Us" page prominently displays the dentist's degrees, affiliations with professional organizations, and any awards or honors they've received.
3. Authoritativeness: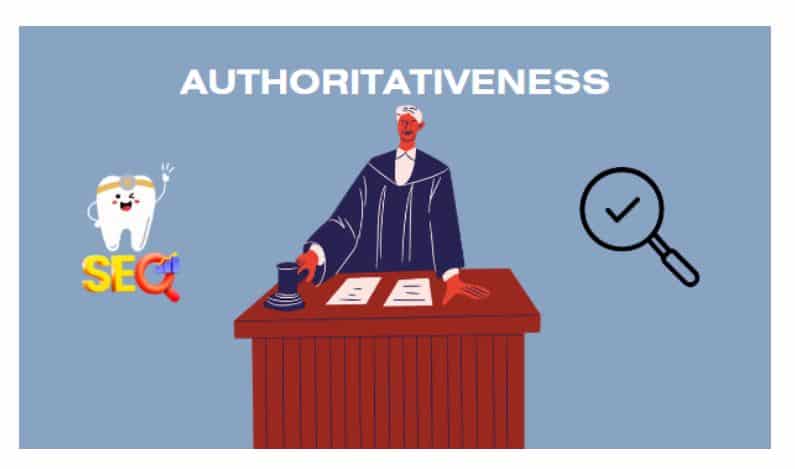 Backlinks from Authoritative Sources:
Acquire backlinks from trusted dental organizations, health websites, or local medical associations.
These endorsements boost your website's authority.
Example: A dental practice earns backlinks from reputable dental associations and universities by contributing to research studies or dental conferences.
Collaborate with other respected dental professionals for webinars, interviews, or co-authored articles, demonstrating your authority in the field.
A dental clinic can partner with a renowned orthodontist for a live webinar discussing the latest trends in orthodontic treatments, showcasing their authority in dental specialties.
4. Trustworthiness: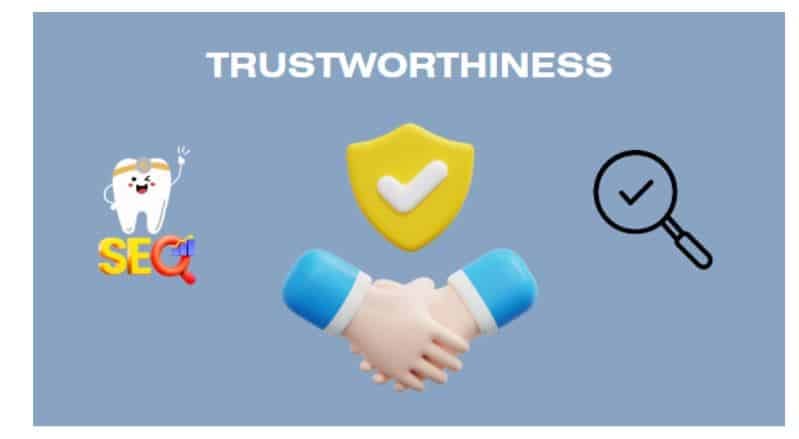 Patient Testimonials and Reviews:
Display genuine patient testimonials and encourage satisfied patients to leave positive reviews on your website and review platforms like Google My Business.
For instance, your dental website features authentic patient testimonials and actively encourages patients to share their experiences, building trust among potential patients.
Ensure your website is secure with SSL encryption and prominently display a privacy policy to instill trust in visitors.
Include a clear privacy policy and SSL certification, assuring patients that their personal information is secure.
Consistency Across Platforms:
Maintain consistent business details, including your name, address, and phone number (NAP), across your website, Google My Business, and online directories.
Ensure that your dental practice information is uniform across your website, Google My Business listing, and various local directories.
Active Social Media Presence:
Regularly update and engage with patients on social media platforms to demonstrate consistency and a genuine, human connection.
Actively posts dental tips, patient stories, and community involvement on your social media accounts, fostering a consistent online presence.
Takeaway
Getting new patients to visit or call your dental office is possible with SEO.
While SEO is a marketing tool, it's also the bridge that connects you to patients seeking your expertise in today's search-based era.
Consider this: 89% of patients search for healthcare providers online. Your investment in SEO is an investment that would drive traffic, leads, and revenue to your dental practice.
It's about establishing your reputation, showcasing your skills, and becoming the top choice for patients searching for dental care in your city.
Ready to rank your dental practice at the top of Google search, get a free strategy session with our team today.