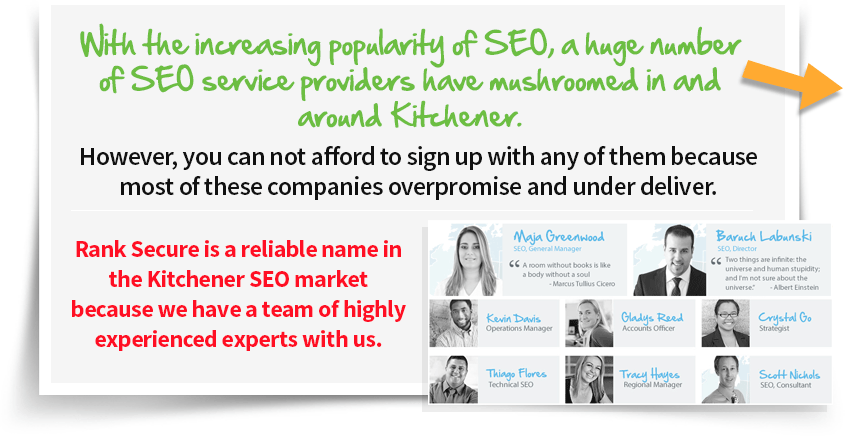 Kitchener SEO Service
Finding out a trustworthy SEO service provider is never an easy job. However, you have certainly done the right thing if you have arrived at this page looking for a reputed Kitchener SEO service provider. Rank Secure can solve all your problems relating to the search engine rank of your business within a price that you can easily afford. Over the years, SEO has completely changed the way a business is marketed. Businesses still making use of traditional marketing techniques are missing out in this changed business scenario where a significant part of buying and selling is done online. Rank Secure helps their clients receive a consistent flow of prospective customers by improving the online visibility of their website.
With the increasing popularity of SEO, a huge number of SEO service providers have mushroomed in and around Kitchener. However, you can not afford to sign up with any of them because most of these companies overpromise and under deliver. Rank Secure is a reliable name in the Kitchener SEO market because we have a team of highly experienced experts with us. Moreover, we offer specially designed and customized service plans for as many as 50 categories of business.



Understanding your business and its target market is extremely important before implementing any SEO strategy. The SEO packages from Rank Secure starts with a detailed analysis of your website, its present search engine position, your target audience, and many other relevant factors. Based on the findings of this review, our experts may make alterations to your website's meta tags, code, structure, title, etc. Keyword research and content creation are two more important aspects of our Kitchener SEO service. We have a team of proficient content writers to write high quality, keyword rich content for your website. We can also offer you top class web development service if you are a startup business without a website.
A vast majority of SEO strategies are required to be implemented out of your website. The most important of these off page optimization techniques include building social media presence, posting to blogs, submissions to high authority article directories, and creating high quality links. If implemented properly, these techniques can bring in plenty of high quality traffic to your website. At Rank Secure, we know what techniques Google wants a website to follow. Therefore, we only make use of white hat SEO techniques, enhancing your online presence.
No matter what the nature of business is, call us today and find out how our Kitchener SEO service can take your business all the way to the top.