Google has recently introduced the manual action viewer feature to the Google Webmaster Tools. This is certainly an excellent tool that will enable webmasters to find out whether there are any manual actions applied to the site. With the introduction of the manual action viewer, Google has also documented eleven manual actions that a website may be subjected to, for search result spamming.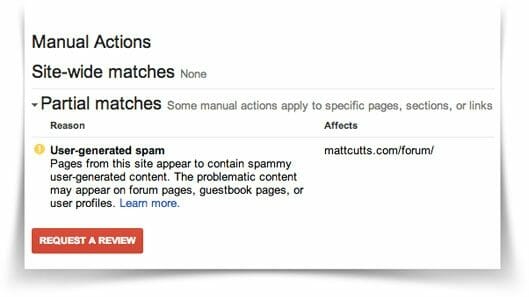 Google has also come up with eleven videos explaining their eleven spam action documents as mentioned below.
Manual Actions: Matt Cutts clearly mentions that Google is more than willing to take manual actions against websites using spammy techniques.  All these actions are listed in the Manual Action page along with how these problems should be addressed.
Cloaking and/or sneaky redirects: This message will appear on the page for Manual Actions if a website displays different pages to users comparing to what is displayed to Google. Webmaster Guidelines from Google completely prohibits cloaking and sneaky redirects.  Actions affecting the entire site are shown as Site-wide matches. Whereas, those affecting the site partly are available under Partial matches.
Hacked Site: This message will appear when Google detects pages in a website hacked by third parties. Hackers may modify existing files in a website or add new files. It may become extremely difficult for these pages to rank high in search engine and are labeled by Google as compromised.
Hidden Texts and/or Keyword Stuffing: This message appears on the page for manual action if there is keyword stuffing or hidden text in some of the pages in the website. These techniques are beyond the Google Webmaster Guidelines, and their manual spam action applies to the website's affected portions.
Pure Spam: This message will appear on your manual spam actions page if your website has used techniques that are not a part of Google Webmaster Guidelines. This may include content scraping from another website, cloaking, or automatically generated contents making no sense.
 Thin Content with Little or No Value: The value of good content is now well known and acknowledged by all. Pages with low quality content may also lead to manual actions from Google.
Unnatural Links from Your Website: Use of outbound links of unnatural, manipulative, or deceptive nature is a direct contradiction of  Google's Webmaster Guidelines, and may result in manual action.
Unnatural Links to Your Website- Impacts Links:
User Generated Spam: This type of spam is seen mostly in user profiles, guestbook pages, or forum pages.