The basic requirements to run a successful business has changed over the years. With the increasing use of the internet in a common man's life, it was no longer possible for a business to attract enough buyers in the online marketplace without a well crafted website. With further advances in technology, it has now become important for businesses to have a mobile website. At present, there are almost 6 billion mobile phone users all over the world. Interestingly, this figure increases at the rate of one thousand per minute. Latest figures also suggest that one of each five mobile users regularly browse the internet using their mobile device. This is the reason why it has become so important for businesses to have a mobile compatible website.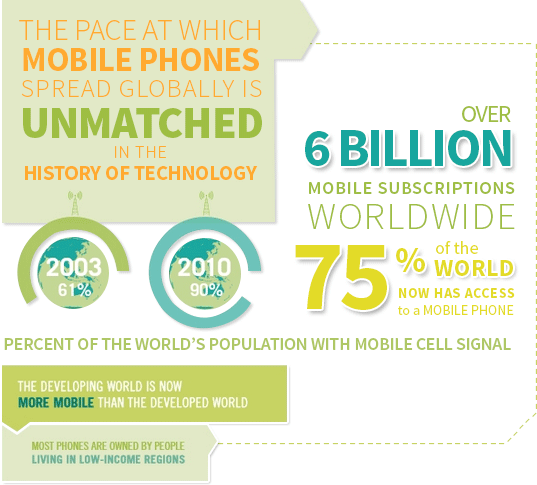 Before discussing ahead, it is relevant to find out how does a mobile website differ from a regular one? Traditional websites can be extremely difficult to navigate and view in a Smartphone because of the small screens. Also, the websites utilizing FLV or flash videos are not properly displayed in a Smartphone. Structurally speaking,  a mobile website is the scaled down versions of the original website. These mobile websites are generally less complicated in terms of design, and focused on providing essential information people look for while browsing the website.
Though more and more people are now using their mobile phones to access the internet, has it really affected the business conversion rates? In this regards, it is important to take into account that many Smartphone users are still not 100 % comfortable using their mobile devices and all companies have still not been able to build their mobile websites.  In spite of these factors, Google has revealed that 35% of website visitors using Smartphones have made a purchase during the year 2012. It has also been found that there is 50% likelihood that a mobile user will make a purchase comparing to that of a desktop user. These are definitely encouraging figures and things are bound to improve as people become more acquainted with mobile purchase and the web becomes more easily accessible for the mobile users.
Interestingly, the importance of mobile sites is no less for a company that operates offline and  is not looking to sell their products online. Statistically speaking, during the holiday shopping season in 2012, almost 70 percent of shoppers made use of their mobile devices for shopping. Also, over 60 percent of them accessed the website or the app of the store of their choice. Offline retail stores, therefore, can certainly consider creating  mobile friendly website to let people know about product details, item reviews, coupons, special promotions, etc.
It has also been observed that informational websites can benefit a great deal from a mobile website.  It is often assumed that people may not prefer reading articles or longer contents using their mobile devices. However, according to The New York Times, the source of almost 33% of their traffic are the mobile devices. Therefore, there is no denying the fact that all types of websites need a mobile version in this rapidly changing business environment.
After deciding to build a mobile website, the next step would be to select an option to create the website. With too many available alternatives, opting for one of them can be confusing and frustrating at times. It is possible to create mobile sites as a scaled down mirror image of the original site, a completely different website, or a responsive site. Your choice here should ideally depend on what type of content you want in your mobile site, and how you intend to present them.
While deciding on the content of your mobile website, it is important to set the objectives for your mobile website correctly. This goal can be same as or different from that of your original website. If the goals for both the websites are similar, your mobile website should have content identical with the original one. However, you may require different content in case you are targeting different browsing behavior and search engine queries with your mobile site.
After content creation, the next step is to opt for a technology platform to build the site. Building a responsive site is a great alternative if the content in your mobile site is similar to the main website. In such cases, the main benefit of a responsive design is that there is no need to update the two sites separately, once a responsive template is built. Another benefit is that the links pointing to the main website will also be directed towards  the mobile site. However, it is a better idea to have separate sites if the contents for the two sites are different. In such cases, you can directly target the specific keywords for mobile search engine results. Creating these sites has an easier initial build, and there is no need to redesign your main website. The idea of creating a mobile website may sound overwhelming at the beginning. However, the incentives are certainly lucrative.
At Rank Secure, we have successfully built mobile websites for several businesses and can help you, too. Thanks for taking the time to go through this post and keep visiting for more useful discussions on SEO.