So you're looking for the best hosting for your WordPress site?
I have used so many WordPress hosting providers since I started my online marketing business.
Here's what you should have at the back of your mind:
Your choice of a web host can affect how fast your website loads, how much traffic you drive from organic traffic, and how much money you make. 
Yes, it's that serious!
There are thousands of companies out there. Most of them are actively investing in online advertising and retargeting — so you always see their ad campaigns everywhere.
But are they the best? What is the most reliable web hosting for WordPress sites?
You don't have to second guess anymore. Here are the top 10 hosting services for WordPress, with pros & cons, as well as the plans & pricing:
Best for ease of use
WP Engine is an easy-to-use web host for WordPress sites. It offers a variety of features that make it an easy and hassle-free option for many WordPress users.
It uses a Content Delivery Network (or CDN), which distributes site data across thousands of servers worldwide.
This reduces the geographical distance between your site and its users, resulting in faster loading times for your website.
There are many reasons to choose WP Engine as your host.
It offers premium features as standard, including automatic nightly backups, integrated CDN, private testing, and in-built page performance testing.
Pros
It's easy to create a staging site
WP Engine uses enterprise-level security to protect your site and files
The company is a reliable managed WordPress hosting provider
You can easily scale out your hosting infrastructure, especially when there's a traffic spike
Site speed is always at its best, which is crucial for user experience (UX)
Hosting uptime is great, you can't go wrong with this
Cons
It's quite hard to set up a custom server or other languages outside of WordPress' PHP7
WP Engine is a bit expensive (especially for small websites)
You can only host WordPress sites, there's no way to manage domains as you'd on Bluehost and Siteground
Pricing
WP Engine offers straightforward plans and pricing to help you make smart decisions for your WordPress hosting:
Managed WordPress ($26/month): Maximize speed, performance & SEO, effortless 1-click staging & backup, and more.
eCommerce Solutions ($64/month): Everything in the Managed WordPress plan, plus auto-plugin updates for site safety, premium eCommerce themes & blocks, and more.
Advanced Solutions: Get in touch with sales for a custom quote. Get all eCommerce Solutions features, plus the highest level of security, SOC2 Type II, managed web application firewall, and more.
2. Flywheel
Best for freelancers and agencies

Compared to many other WordPress hosting services, Flywheel's user-friendly dashboard allows for quick and easy site management.
It features a Backups tab that let you manage and download site backups and an Advanced tab that contains useful features.
Flywheel doesn't offer phpMyAdmin but instead offers a custom database management tool. If you're a WordPress developer, you'll love Flywheel's easy-to-use features.
If you're a freelancer or a small business, the Freelancer plan is an affordable way to get started on premium WordPress hosting.
Pros
Clean and easy-to-use dashboard
Easily host local sites and staging sites
The pricing tiers for smaller agencies are affordable
Reliable and quick daily backups
Customized WordPress hosting and responsive support
Cons
No email hosting for custom domains
Limited tools available inside the WP admin area (no flush cache, for example)
Pricing
Here's a breakdown of the 4 Growth Suite plans and pricing that Flywheel offers:
Tiny ($15/month): 1 WordPress site, 5,000 monthly visits, 5GB storage, etc.
Starter ($30/month): 1 WordPress site, 25,000 monthly visits, 10GB storage, etc.
Freelance ($115/month): 10 sites, 100,000 monthly visits, 20GB storage, etc.
Agency ($290/month): 30 sites, 400,000 monthly visits, 50GB storage, and more.
3. DreamHost
Best for speed and security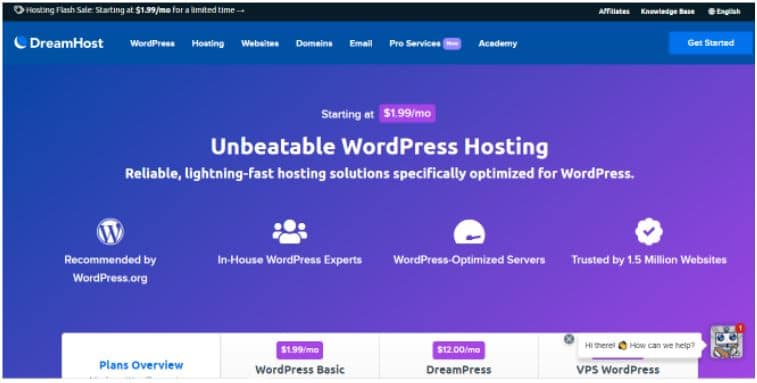 DreamHost offers amazing web hosting features for WordPress sites. These handy features and data centers ensure fast loading times, security, and performance.
DreamHost offers WordPress hosting with SSD servers. SSD servers use solid-state drives instead of traditional Hard Disk Drives, so they save content faster.
The servers are held in several data centers, including the U.S. It does not offer international data centers, though.
While cPanel is standard among web hosts, DreamHost uses its own management interface.
DreamHost does not use cPanel, which provides a framework for the backend management interface.
Pros
An excellent customer support team that listens
Affordable WordPress hosting plans you can trust
The dashboard is easy to understand (even as a beginner)
DreamHost has a reliable backup feature
Great uptime service with a few technical issues (that can be resolved by the customer support team almost immediately)
Cons
You may experience compatibility issues when migrating websites over to DreamHost from another web host (such as Bluehost)
It doesn't track hosting performance well
The user management could be more simplified
Pricing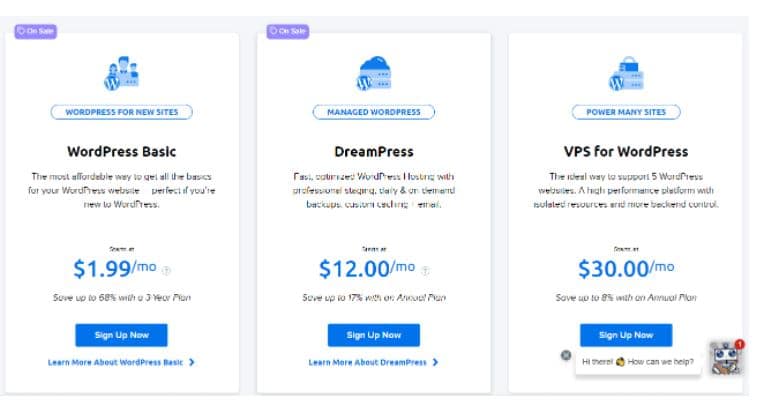 DreamHost comes with unbeatable WordPress hosting plans. Here's a breakdown:
WordPress Basic ($1.99/month): Get started with the basics of WordPress hosting. Save 68% with a 3-year plan.
DreamPress ($12.00/month): Save 17% with an annual plan, and get professional staging, daily & on-demand backups, custom caching, plus email, etc.
VPS for WordPress ($30.00/month): Ideal for hosting many WordPress sites. Save 8% with an annual plan.
4. Bluehost
Best for bloggers and content creators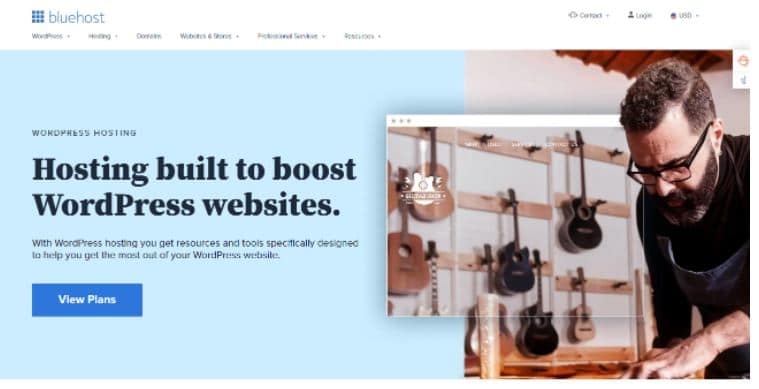 Bluehost lets you host and build your WordPress site on a solid foundation. It's packed with features that are easy to use, reliable, and scalable.
You can either use your existing domain or choose a new one. After selecting the domain, you will be redirected to an account creation page.
After entering your personal details, you can select your desired theme and install WordPress on it.
You can also manage users and settings for your WordPress blog by using Bluehost's tools.
When it comes to navigating the control panel, Bluehost uses a version of cPanel.
Pros
You get a free domain to create your website
It integrates well with WordPress
Responsive customer service with a chat option
Free SSL certificates for your websites
It's one of the cheapest WordPress hosting providers
Cons
The new dashboard is a bit confusing (the old version was better)
It can be too simple or basic for experienced WordPress users
It's quite hard to customize your site within Bluehost
Pricing
Here are the plans that Bluehost offers with automatic updates and 24/7 expert support:
WordPress Hosting ($2.95/month): Get all the WordPress tools and support you need to get started.
Managed WordPress ($9.95/month): Quickly grow your brand, scale your site, and enjoy unmatched capabilities with bandwidth.
Online Stores ($15.95/month): Do you want to launch an online store? This plan gives you the guidance and security features to sell online with complete confidence.
5. Siteground
Best for eCommerce websites with easy site migration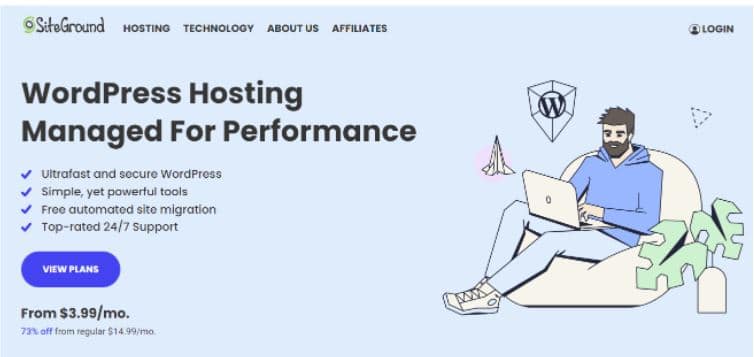 Siteground has excellent uptime and many features to help you make the most of your WordPress website.
You will get 40GB of free storage, and you can create as many sites as you need.
Siteground also provides white-label hosting, SSD disks, and ultrafast PHP.
The basic StartUp plan includes free installation of WordPress. In addition, you'll receive a free WordPress Migrator plugin, SSL and HTTPS, as well as a Cloudflare CDN.
You'll also get free domain-associated email addresses and daily backups.
You can choose from a single-instance, public cloud configuration, or geographically distributed cluster, and you can choose a plan that's right for you.
Pros
Siteground has a response and excellent support team
It's secure and fast
It's easy to set up and use (especially for beginners)
Modern user interface (the tools are easily accessible)
Highly intuitive website builder
Cons
Limited storage space for your websites
More professional website templates would be appreciated
Lacks two-way staging environment sync
Pricing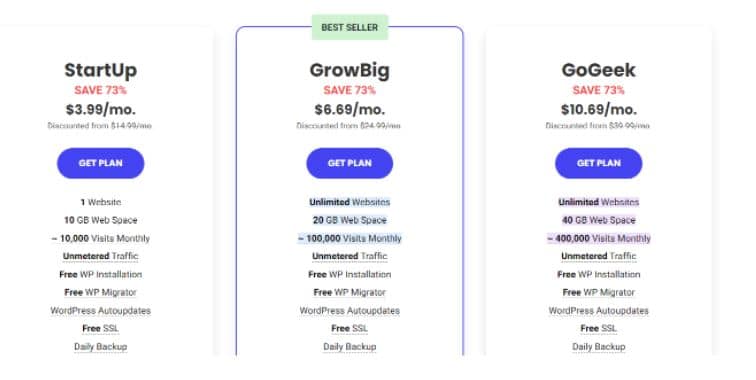 How much does Siteground cost? Here are the plans:
StartUp ($3.99/month): 1 website, 10 GB storage, 10,000 visits monthly, and more.
GrowBig ($6.99/month): Unlimited websites, 20 GB storage, 100,000 visits monthly, etc.
GoGeek ($10.69/month): Unlimited websites, 40 GB storage, unmetered traffic, and more.
6. A2 Hosting
Best for uptime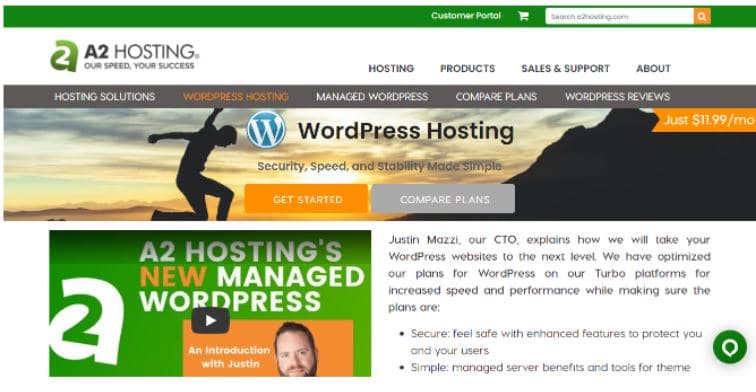 A2 Hosting is a Michigan-based company with reliable WordPress hosting packages to suit your needs.
A2 Hosting is recommended by WordPress.org, a leading WordPress directory.
The company offers a free domain name and site staging service for your WordPress site.
It offers a wide range of shared and WordPress hosting plans at competitive prices.
There are also scalable dedicated servers, cloud, and VPS options. A2 Hosting is certified carbon-neutral and provides excellent customer support.
Pros
Reliable uptime results after series of experiments
Unmetered storage and bandwidth
Staging environment for your websites
Reliable speed when compared to other hosting services for WordPress
Easy to set up and start your first site
Cons
On-demand backups can get expensive and ONLY limited to the tools that cPanel offers
All shared hosting packages seem to be limited to 35 concurrent HTTP connections to the server
Pricing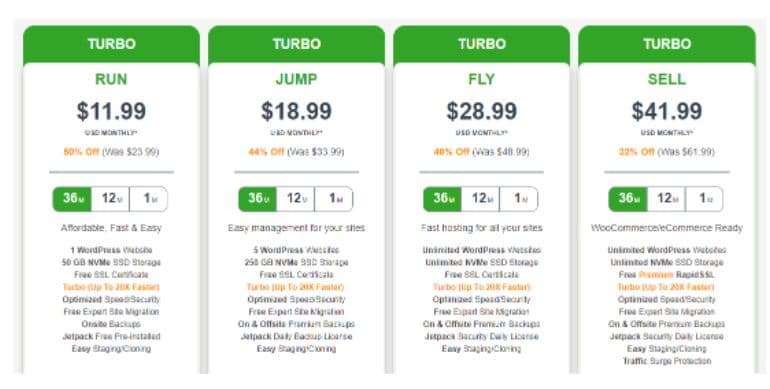 A2 Hosting offers 4 Managed WordPress plans, which include:
Turbo Run ($23.99/month): 1 WordPress site, 50 GB SSD storage, free SSL, and more.
Turbo Jump ($28.99/month): 5 WordPress sites, 250 GB SSD storage, free SSL, and more.
Turbo Fly ($36.99/month): Unlimited WordPress sites, optimized speed/security, plus everything in Turbo Jump.
Turbo Sell ($49.99/month): Every feature in Turbo Fly, plus traffic surge protection, and more.
7. Hostinger
Best for hosting multiple sites on a budget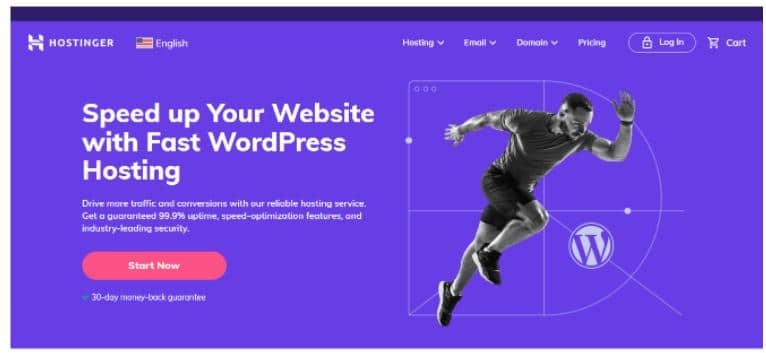 Hostinger is a great choice for WordPress hosting. You'll get a free domain name, an email account, and an SSL certificate.
There are 3 different pricing solutions for your needs. The cheapest plan requires a 4-year commitment, and prices go up from there.
You'll also get 30 GB of disk space and two databases for your site.
And if you're looking for budget-conscious hosting, Hostinger has a plan for that too.
All of their plans come with automatic plugins and core updates, and their setup is easy enough for even novice users.
You'll also get a free SSL certificate, and you'll get weekly backups. The first year's price is less than half of what you'd pay for a single-year plan.
Pros
User-friendly and clean interface
Easy to use WordPress hosting platform
Free daily backups for your site or blog
Great and reliable uptime you can trust
Affordable and flexible pricing
Cons
The website builder can be more intuitive and easy to use
Sometimes, site speed fluctuates
Some tools are daunting to use
Pricing
Hostinger offers 4 distinct plans and pricing for WordPress sites:
Single WordPress ($1.99/month): 1 website, 30 GB SSD storage, 10,000 visits, etc.
WordPress Starter ($3.99/month): 100 websites, 100 GB SSD storage, 25,000 visits, etc.
Business WordPress ($6.99/month): 100 websites, 200 GB SSD storage, 100,000 visits monthly, and more.
WordPress Pro ($11.59/month): 300 websites, 200 GB storage, 200,000 monthly visits, and more.
8. Kinsta
Best for small businesses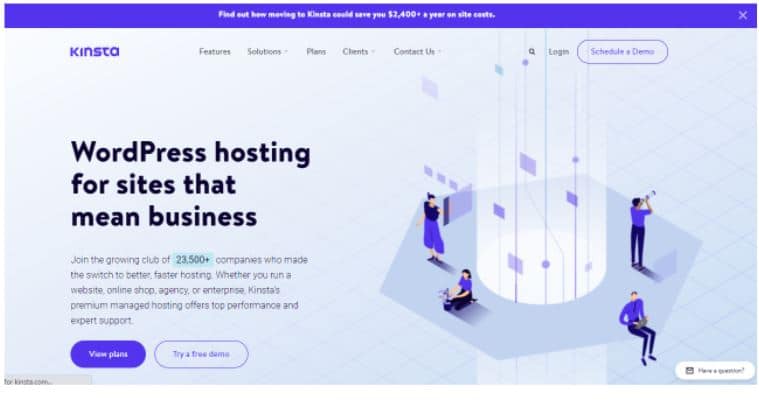 Kinsta offers a range of WordPress hosting plans, which is ideal for both beginners and expert WordPress users.
The Kinsta Starter plan includes 10GB of disk space and enough bandwidth to host a single website.
This plan is sufficient for smaller sites, but if you have a lot of files and/or traffic you will need to upgrade to a higher-tier plan.
Kinsta PRO plans have a limit of 20GB of disk space and 50,000 monthly visits, respectively.
The Kinsta team keeps daily backups of your WordPress site, which you can restore easily. Backups are stored for two weeks. Users can also create backups manually.
Pros
Great storage space for your first site (10 GB)
Daily backups of your WordPress site (with easy-to-restore options)
User-friendly and clean interface
Easy to use WordPress hosting platform
Free daily backups for your site or blog
Great and reliable uptime you can trust
Affordable and flexible pricing
Manage multiple WordPress websites with ease
Cons
Limited to single staging environments (multiple would be great)
Limited control over Cloudflare features with the control panel
A phone-in customer support line would be appreciated
Pricing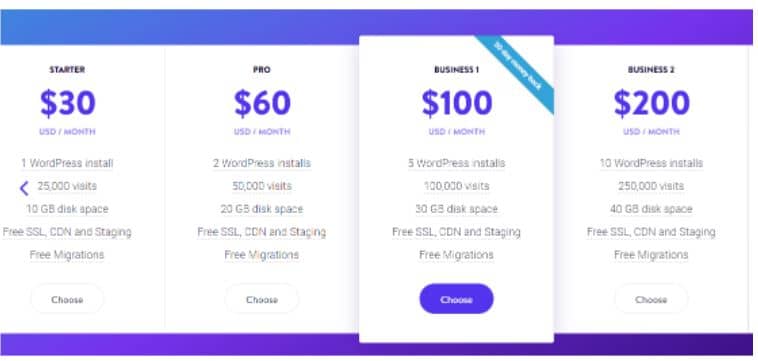 Kinsta uses multiple plans that appeal to most businesses out there. Let's take a closer look:
Starter ($30/month): 1 WordPress install, 25,000 visits, 10 GB storage, etc.
Pro ($60/month): 2 WordPress installs, 50,000 visits, 20 GB storage, and more.
Business 1 ($100/month): 5 WordPress installs, 100,000 visits, and more.
Business 2 ($200/month): 10 WordPress installs, 250,000 visits, 40 GB storage, etc.
Business 3 ($300/month): 20 WordPress installs, 400,000 monthly visits, and more.
9. Cloudways
Best for flexibility and extensive options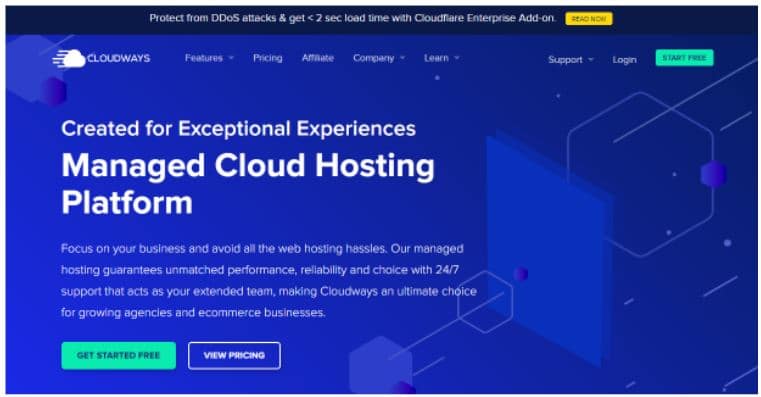 Cloudways WordPress hosting is a managed platform that manages WordPress sites on dedicated, virtual, and physical servers.
Its custom control panel and interface make it easy to install WordPress, secure your website, and create backups.
When you need to host a WordPress website, Cloudways offers Managed WordPress Cloud Hosting and is the first choice of hundreds of web giants.
Cloudways manages more than 50 thousand cloud servers and millions of sites and applications are running smoothly on these servers.
You're in total control and you can easily manage your WordPress hosting account and scale your business.
Pros
Free WordPress site migration
Automatic backups and restore in 1 click
Regular security patching
Highly-intuitive staging environment
Team management tools to collaborate at scale
24/7 real-time monitoring
Optimized with advanced caches
Cons
You can't easily turn off PHP FPM and some other features
CDN isn't free, compared to some WordPress hosting provider that offers it at no cost
Pricing
Cloudways offers flexible & transparent pricing that revolves around different cloud hosting platforms. Let's take DigitalOcean as an example:
$10/month: 1GB RAM, 25GB storage, 1TB bandwidth, and more.
$22/month: 2GB RAM, 50GB storage, 2TB bandwidth, and more.
$42/month: 4GB RAM, 80GB storage, 4TB bandwidth, and more.
$80/month: 8GB RAM, 160GB storage, 5TB bandwidth, etc.
10. GreenGeeks
Best for eco-friendly website owners
GreenGeeks is a web hosting company for eco-conscious business owners and WordPress users.
The company has a larger mission: "to be the world's most environmentally responsible hosting company."
GreenGeeks will match 300% of your usage in renewable energy credits.
The website builder will allow you to set up a test version of your website, which mimics the look and feel of a live working site.
One of the best features of GreenGeeks is its scalable hosting. You can add computing power as your website grows, eliminating the need to invest in a costly Virtual Private Server.
GreenGeeks also offers free domain registration and site migration, and even an exclusive drag-and-drop page builder.
Pros
Free WordPress site migration
Reliable uptime of up to 99.9%
Free nightly backups
Free domain and free migration services
Eco-friendly web hosting solutions
A ton of learning resources to enhance your knowledge
Cons
The pricing structure isn't as straightforward as it appeas
No Windows server hosting solutions
Pricing
For your WordPress hosting needs, you'll get these 3 plans from GreenGeeks:
Lite ($2.95/month): 1 WordPress install, standard performance, 50GB of storage, and more.
Pro ($5.95/month): Unlimited websites, better performance, unlimited storage space, transfer, and email accounts.
Premium ($10.95/month): Everything in Pro, plus best performance.
Best Hosting for WordPress 2022 – Summary
There you have it, the 10 best hosting for WordPress sites in 2022. You should feel more confident in picking a hosting solution that will suit you.
If you need a helping hand, however, I recommend you use WP Engine.
It's my all-time favorite and I wish many business owners and bloggers will use it to power their WordPress sites.
Now it's your turn.
Which of these hosting for WordPress sites do you plan to use? What questions do you have right now? Leave them in the comments, I'll be sure to read and reply them.