Companies of all sizes are taking advantage of SEO to generate traffic, acquire customers, and increase revenue.
However, many small businesses are being sidelined. They feel that Search Engine Optimization (SEO) isn't for them, as long as they have a Facebook presence, that's all. Why invest in SEO?
But that's not true. Investing in SEO should be the primary focus, especially in 2022 when most businesses and customers will get back to their normal lives after the pandemic hit.
According to G2, 60% of businesses get the most relevant and highest quality leads from SEO and blogging campaigns.
We wrote this article for you if you run a small business and want to attract high-value customers without spending money on Google Ads or Facebook Ads.
What is Small Business SEO?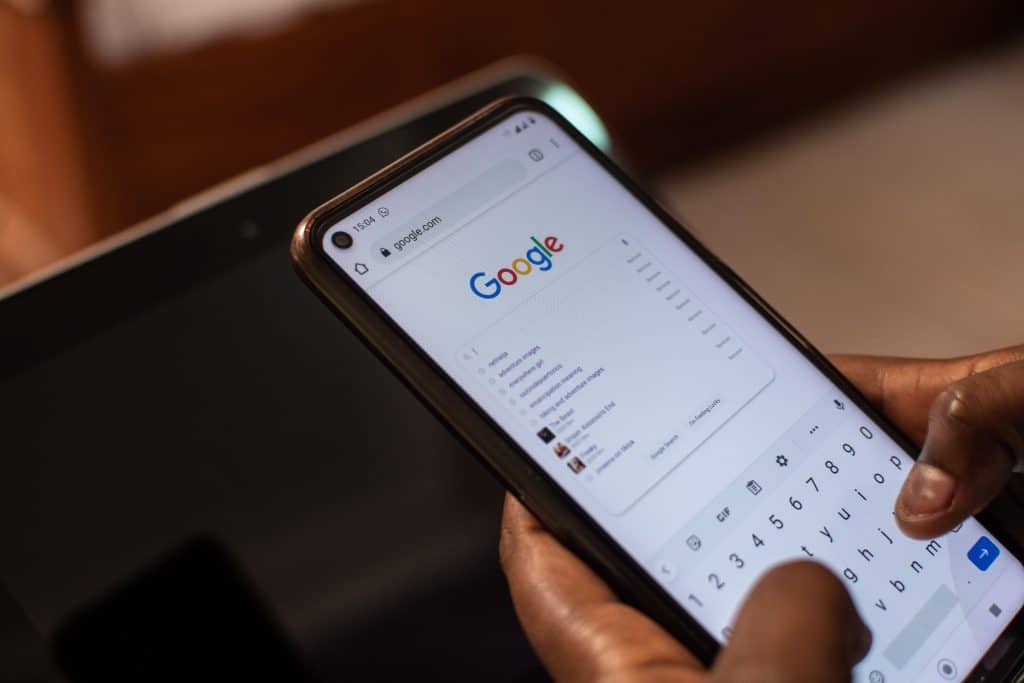 The ultimate goal of small business SEO is to get people to visit your website, purchase your product, and/or join your email list.
While these are additional features on SERPs that can help you rank higher, such as optimizing your page for the right keyword and crafting clickable titles, the content on the page, links pointing to the page (both from within and outside your site), and the satisfaction that users get are the 3 key components of SEO.
You can also use keyword tools to create a plan for your SEO campaign.
But don't forget to set a budget and decide on your needs before you choose an SEO company.
Throughout this article, we'll dive into some of the most important tips to help you achieve this.
Benefits of SEO for Small Business
If you're not doing SEO for your small business, you're doing yourself a huge disservice.
Because in 2022, your competitors are going to double down on their content and link building efforts.
To nudge you towards giving SEO for your business a try, here are 3 key benefits you stand to gain:
1). Organic Traffic from Google Converts Well
Between Instagram, Facebook, LinkedIn, and Google, the traffic you get from Google will convert better — all things being equal. Data from G9 shows that 14.6% is the completion rate of leads generated via organic search.
To achieve great results from your SEO efforts, make sure your website and its pages are optimized for search.
It's not enough to increase brand awareness; you need to convert that awareness into business.
It's crucial to convert your organic leads into paying customers. Aim for a 10 – 16% conversion rate. If you don't meet this goal, you may need to focus on optimizing for conversion.
2). Proper SEO Delivers a High ROI
The benefits of having a successful SEO campaign are immeasurable. Higher rankings translate into increased sales.
In other words, your SEO efforts will pay off in the long run.
That said, you will still need to tweak your SEO efforts from time to time and adjust them to changes in the online marketing landscape. "Knowing how to estimate your ROI is critical to your long-term success," says David Jackson.
While customer loyalty is still very important, the digital age has created an environment where competition is fierce and consumers have more choices.
The increase in organic visibility can lead to more revenue, but it's hard to quantify. In order to determine your ROI, you must first determine how many times your target keywords are searched on Google each month. 
A good way to find out how many searches your target keywords receive is to use a keyword tool like Google's Keyword Planner or SEMrush.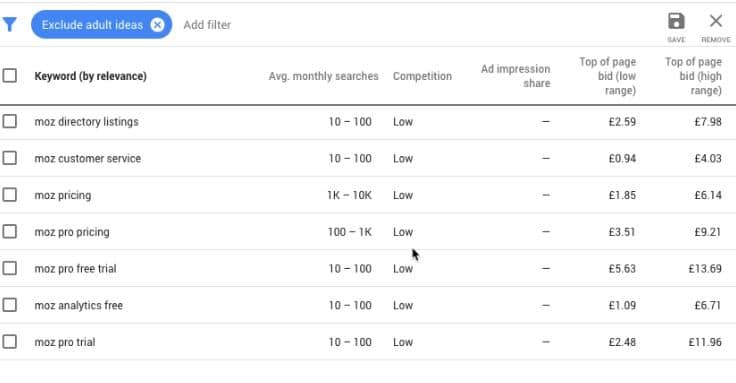 Another way to calculate your ROI is to measure the traffic and revenue you receive from organic search.
This means analyzing your traffic and revenues for a year and comparing them to the same time frame. When your ROI is high, you'll want to focus on the performance of your SEO campaign.
You should evaluate its month-to-month and year-over-year performance to see whether it is generating revenue. If your SEO campaign is effective, it can yield organic traffic improvements within six months, movement, and even a boost to your website's organic rankings in a matter of a week
3). SEO Traffic is Free and Consistent
SEO (search engine optimization) is one of the best methods to generate free and sustainable traffic for your website. If you rank high for competitive keywords, you'll have a lot more visitors and business.
To get to the top of search engine results pages, however, you'll need to put in a lot of work. For example, your content needs to be unique and engaging.
SEO content should be based on specific keywords that can increase your rankings. The content on your site should focus on these keywords. Also, it's critical to get or build do-follow backlinks.
To get more free organic traffic, here are 3 simple steps you can take today:
Create and publish more helpful content on your website.
Create and optimize your content to be visible in the SERPs. Do this by targeting low-competition keywords, and answering the question of the search (or search intent).
Promote your content to get to the top of Google Search results.
You can use video to promote your website. This is a free and effective way to attract traffic to your site.
This type of traffic is consistent and highly targeted. YouTube's popularity has made it one of the most popular sites for internet marketers.
If you're looking for a free source of traffic, YouTube is the place to be. You can market anything to the millions of users who watch videos on the site.
Another benefit of YouTube is the fact that users can view your videos on their smartphones.
SEO For Small Business: Factors to Keep in Mind
Let's consider a few important things to keep in mind when developing a strategy for your small business SEO:
1. Optimize Your Website for Speed
It's very important to optimize your website for Speed. Page speed is a term that describes how quickly web pages are downloaded and displayed.
There are several techniques that you can use to increase your web performance.
i). Cache your website: The first is to use a caching system. By using this technique, your site will load faster than its competitors.
ii). Optimize your images and scripts: Optimizing Your Website for Speed will allow it to run faster than its competitors.
A slow website can damage your credibility and may hurt your rankings on major search engines. You can improve your speed by optimizing your image files and scripts.
You can also hire a web developer to make changes to your site's code. 
These changes can be done yourself or through a third party. This way, you can test the changes and see how they affect your site's speed.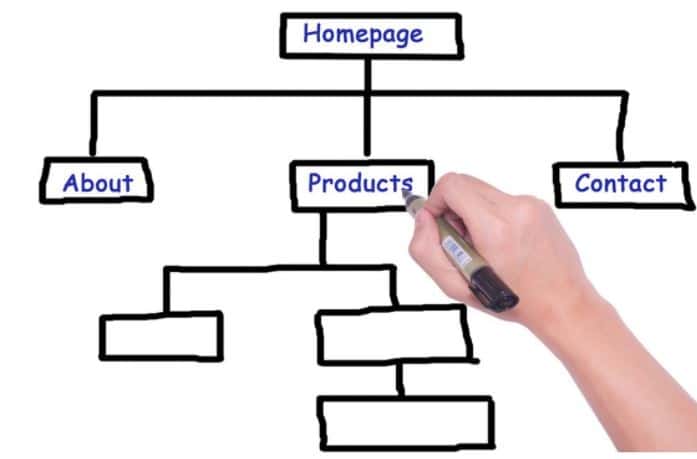 The best way to make your website usable is to start with a clear, logical site structure. You should consider the number of pages, navigation, and page titles before you start designing your website.
This will make it easier for visitors to find the information they need, and it will make it easier for them to move around.
Also, avoid using too many choices for your users; instead, focus on a few broad topics.
Your website structure must follow a style guide. This is a document that outlines how to organize your website content pages.
For example, a page with a lot of text should use lists and headings to make the information flow smoothly.
A user-friendly site will use white space liberally and utilize links throughout the site. This allows your visitors to easily jump to the pages they need and navigate around. If you do not follow these guidelines, you may end up with a site that looks like it was built on a sandbox.
A user-friendly website structure is important for SEO. Google will give your website the best ranking when it is optimized for people to use.
Claim Your Google Business Profile Page Fast
Adding a Google My Business page to your website is a quick and easy way to increase traffic and get more business.
To claim your business page, you must first search for your business name on Google and confirm its name and address. Next, you must verify your address. If your address is a P.O. box, enter the appropriate number.
You can also request a call from Google to confirm your location. If you don't receive the call, try calling the phone number listed on your GMB page and letting them know where your business is located.
If you own multiple locations, you can choose to verify each location separately. You can upload a spreadsheet with all your business information to claim your listing faster.
Once verified, you can add a cover photo and link to your social media pages. It's also a good idea to answer customers' questions and update your information regularly.
Identify Trends Through Competitive Analysis
Once you have a general idea of who your competitors are, it's time to stalk them. In a good way!
A competitive analysis allows you to make informed decisions about how to position your business and attract potential investors.
Plug your competitor's website URL into Ahrefs or Ubersuggest to determine their top pages, organic keywords, and their inbound links.
You can also use social media platforms to research your competitors. Once you've done your competitive analysis, you can execute a strategic plan. Having a strategy and an action plan is essential to your success.
After you've defined your competitors, you can look at the solutions your competitors are offering.
By examining the problem your customers are facing, you can develop a more effective product and service.
Find Keywords To Target in Your Content
Finding keywords to target in your content is the key to success. Especially when you focus on long-tail keywords.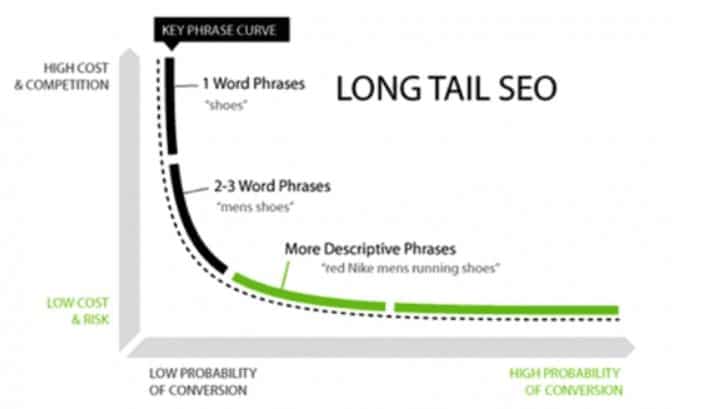 There are many factors to consider. For example, you must know who your audience is and where they live. Using this information will help you target your content based on their intent.
This can lead to better results than trying to guess what they'll be searching for. Once you have these answers, you can then create a content strategy. This will help you find the right words to include in your content.
One of the most important factors when it comes to finding the right keywords is to consider the intent of your target audience. 
For example, if a person searches for "what is a gravel bike," they are probably looking for information.
However, if they search for "gravel bikes for sale," they are likely further down the sales funnel and in a transactional mindset. Make sure your content targets these audiences by incorporating relevant keywords.
Create Engaging Content for Users (Optimized for Search)
You can make your website more interactive and more engaging for your readers. You can do this by putting more thought into your articles and making them more interactive.
You should always consider creating listicles or 'list-type' posts to present the information you have to offer your audience.
Providing value to your users in the form of useful content is the most effective way to engage readers.
People are not looking for 1,000-word articles on a specific topic. Instead, they're looking for information that will benefit them.
If you want to attract more attention, add media to your content. For example, use an infographic.
An infographic is a combination of text and visuals. It's a good option to convey important information to your audience quickly. This type of content is highly shareable, which means it will get shared a lot easier than a lengthy text post.
When creating engaging content, keep in mind that your readers aren't necessarily looking for your product or service.
Their needs are different from yours, so you must understand what they're looking for.
Be helpful, but make sure to tie back to your brand. It's also a good idea to take notes of the topics you think your users would be interested in. They can use these notes to come up with more content that will be more relevant to them.
Internal Linking – How to Interlink Your Relevant Pages
The purpose of internal linking is to create a better user experience. Although a navigational menu bar is helpful, it doesn't have the same impact as hyperlinked text on the body of the page.
For example, Wikipedia uses internal links to provide a better user experience across the site.
To get the most out of internal linking, identify the relevant pages for your keywords. If you have an eCommerce site, for example, your product pages are likely related to some category pages.
This will help Google to consider the eCommerce category pages as more important and increase their authority. Moreover, you can use authoritative blog posts to boost the authority of these pages.
While it may seem like a difficult task, internal linking is very simple. You just need to know a few basics.
Make sure you consider the structure of your site and stick to it.
The internal links are essential for crawling and SEO. So, make sure to follow the site's structure and use informative links.
This will improve the overall engagement level of your site visitors. It will make them want to explore the rest of your site and read what's on it.
Build Relevant Backlinks from Credible Websites
The process of building relevant backlinks from credible websites can be very challenging. However, with the right approach, you can earn a lot of relevant links and boost your search engine ranking.
Listed below are some tips to help you achieve this goal. Creating and submitting quality content will also help you earn a lot of relevant backlinks.
These will help you rank higher in search engines like Google. Guest posting, Link reclamation, and HARO are all viable ways to build inbound links to your pages, however, there's one technique that many small businesses ignore. Here:
Write testimonials on SaaS websites
Software companies are excited to read your testimonials and success stories, especially while/after using their product.
And some of them will gladly post your testimonial on their website, with a dofollow link to your page. Here's a good example: David Klein got a backlink by sharing how amazing LinkResearchTools was with the brand.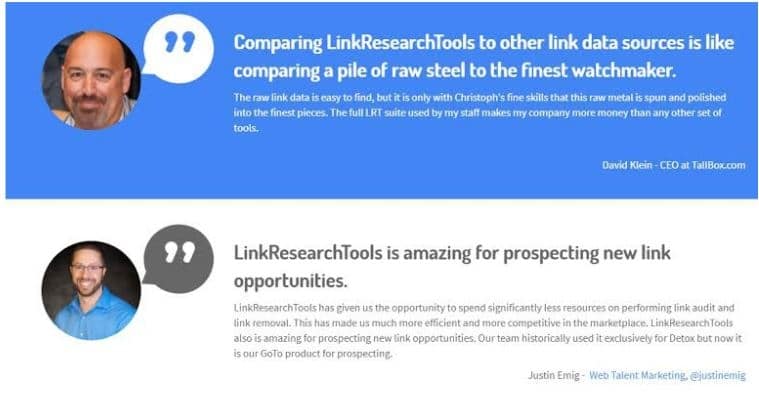 Find a website with at least 60 Domain Authority. Once you've found SaaS platforms that have enough domain authority, create a list of products you've tried and tested.
Write (or preferably record a video) and send it to the company. Do this consistently and you'll start picking up relevant authoritative backlinks.
Get Started With SEO for Small Business
We have covered a ton of information on how to rank your small business websites in Google. Keep in mind that leveraging the right tools to automate your SEO campaign is key.
I use Ahrefs, SEMrush, and other tools to analyze my competition, find low-competition keywords with decent search volumes and create well-optimized content. There are many free SEO tools available as well, and it's best to take advantage of them.
The process of SEO is not rocket science. It's not about tricking Google into indexing your website. Instead, it's about making your site searchable by optimizing your content, formatting, and making the whole experience worthwhile for users.
There's no better way to make your website discoverable than with a strong SEO strategy.