What is the essence of a website without visitors? It is bound to fail in achieving its targets. It might as well not exist!
On every website owner's mind are, or should be, thoughts of how to generate traffic to their website. One of the best ways of getting visitors to your website is through search engines.
And to get significant traffic through search, you need to be on the first page. Chitika found that 92% of all Google search traffic goes to the first page.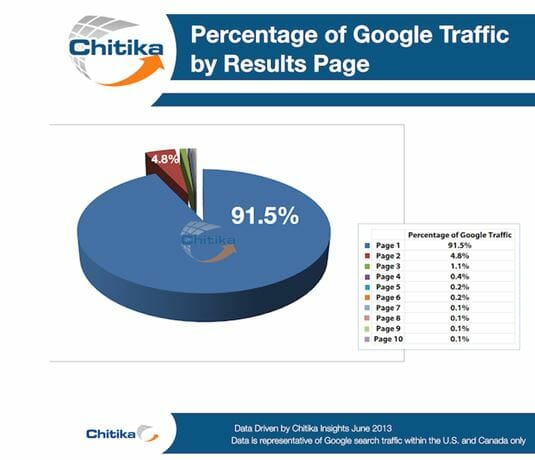 But the truth is that many websites today are struggling to get the number of visitors they want from search engines.
Search engine optimization is the way to go in getting more organic traffic. I know you've heard that before and it sounds so generic. That is because SEO is a very wide field.
People have heard so many things about SEO that they're confused about what to do. But simplicity can never go out of fashion.
In fact, if there's one thing to know about improving your SEO, it's what Google recommends: The single most important thing to improve SEO is to provide value and great user experience for your visitors.
Most of the best tips you can get about SEO is based on achieving that single goal.
In this post, I'll be talking about the 5 simple tips that you can implement right away to improve your performance in the search engine.
Create long-form high quality, relevant content
For any website to get significant traffic from search engines, it must have quality content. Quality content must achieve one or more of these things for your visitors:
It must answer their questions.
It must solve their problems.
It must provide in-depth knowledge.
It must be clear, simple, and easy to implement.
One way of achieving these is through long-form content. Although, the quality of content may not necessarily be determined by its length, detail is often necessary.
Search engines like Google assume (based on several experiments) that a post should be long enough to explain the details needed by a reader.
And this has reflected in posts ranked on the first page of Google's search results pages. When Backlinko analyzed over a million Google search results, one of the things he found was that word count correlated with Google search rank.
They found that the average word count of a Google first page result was 1,890 words.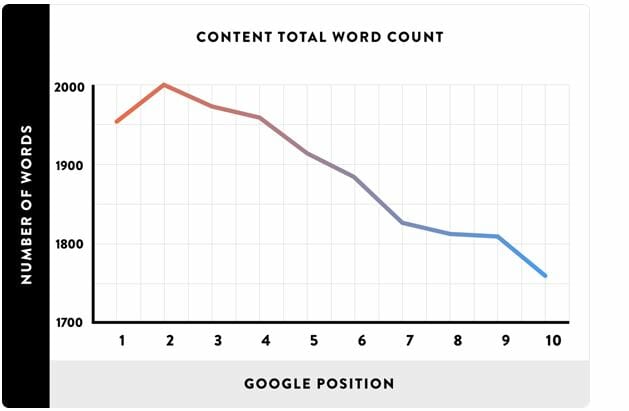 serpIQ also found that an average word count for a Google top 10 search result was at least 2,000 words; with the number one result having an average of 2450 words.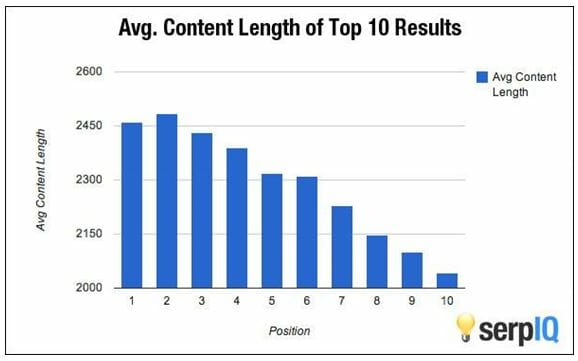 BuzzSumo and Moz teamed up together to analyze shares and links of 1 million articles. They found that longer posts consistently had more shares and referring domain links.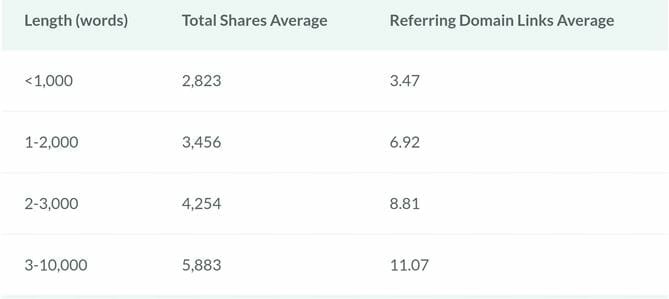 There are many benefits you gain as a result of having high-quality and comprehensive content on your website:
It increases the dwell time of visitors on your website.
It reduces your website's bounce rate.
It helps your website to build natural inbound links.
That said, what are the steps you need to take to produce the best content possible for your website?
i). Define the problem
When creating content for your website, one of the first things to do is to define the problem you want your content to solve.
When you can state these problems, it becomes easier to provide solutions for them. It also makes your content more focused.
ii). Produce a variety of content
If you're only producing only written content for your website, you may be missing a lot of potential traffic. You should consider visual content as well.
Research shows that the brain processes visual information 60,000 times faster than written content.
Another research found that people recall 65% of the information on visual content like images and videos 3 days later, compared to 10% of the text.
Having this makes your content a lot easier to consume for readers; who will, in turn, share it with their friends. People also follow visual instructions 323% better than just written instructions. This improves the user experience.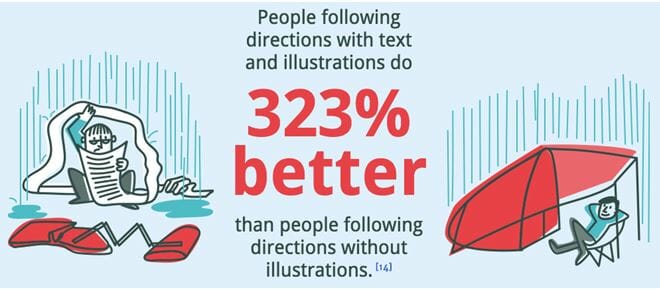 With the use of infographics, Mindjet boosted their blog traffic by 420%.
iii). Link out to reputable websites
There is rarely a single post that can cover everything about a topic. In your post, there may be a concept that you can only explain briefly. It's a good practice to link to another post that explains this concept in details.
Linking to reputable sites improves user experience as they can click to get more details about that concept. Search engines also see your website as a quality website when you link to other quality websites. This can lead to better rankings.
An experiment by Reboot showed that the presence of external links affected the rank of websites in the search results page.
Optimize page load speed
A slow website is the easiest way to deliberately jack up your bounce rate. And I'm sure you don't want that to happen? As the time it takes to load your website and its pages increase, users leave for a competitor's site. According to DoubleClick, 53% of mobile sites are abandoned if it takes more than 3 seconds to load the page.
This graph by KISSmetrics shows how users react to a snail-loading page: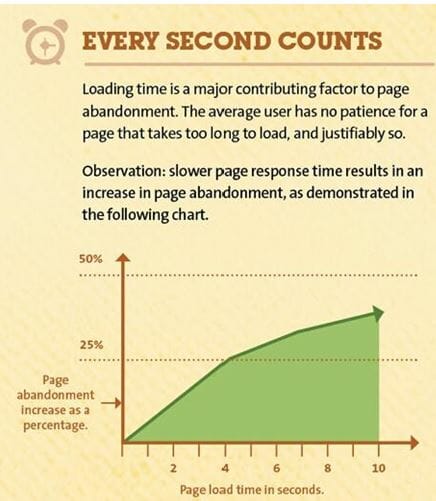 When users leave your website few seconds after entering it, it's a sign of bad user experience to Google and other search engines. Unfortunately, this will affect your site performance in the organic ranking.
Amazon estimates that a 1-second lag in its website load speed could lead to a loss of $1.6 billion in revenue.
To check your website speed, you can use tools like Pingdom and Google PageSpeed Insights.
To use Pingdom to check, follow these steps:
Visit the Pingdom and enter your website address. Click on the 'Start Test' button.

Pingdom gives your website a performance grade and also shows insights like the number of requests, load time, and page size. It also grades your website performance using different metrics.
You can also use Google PageSpeed Insights to analyze your website. It analyzes your website and gives you suggestions on what to fix to improve its speed.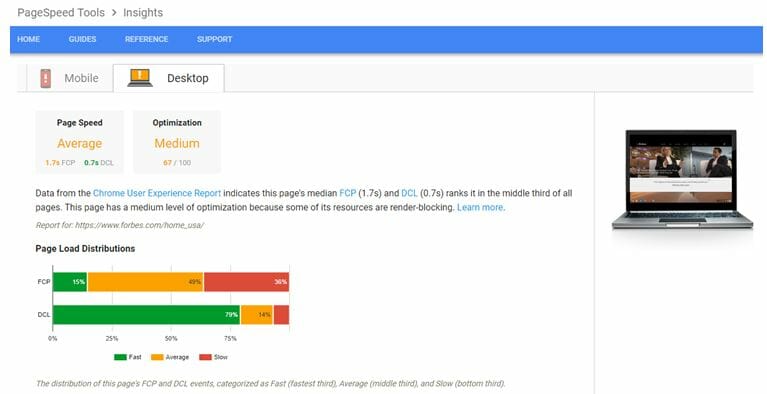 Another tool you can use is the thinkWithGoogle tool which helps to analyze the speed of your mobile site.

To reduce the load speed of your website, some of the steps to take include:
Reduce the size of scripts on your page
Reduce the size of images on your page
Reduce the number of elements on your page
The size of a page can affect its speed. It's important to take any step that can reduce the size of your page without negatively affecting usability.
Make website mobile-friendly
Today, the number of mobile device users has exceeded desktop on Google search. When your website is not optimized for mobile, you're already taking a risk that could see you lose more than half of your readers.
According to Statista, mobile phones now account for 52.2% of all website traffic worldwide.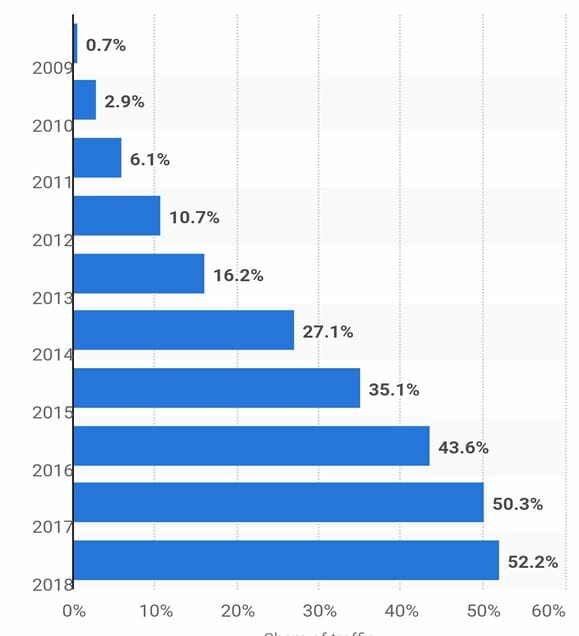 This is one of the things Google considers when ranking websites. Most times, the search results on mobile are different to a desktop.
For a website that is poorly optimized for mobile, its bounce rate on mobile goes up and it slips down the rankings, especially on mobile search results pages.
To check if your website is mobile-responsive, enter your website address into the Google mobile-friendly test bar, and click the "RUN TEST" button.


With the use of a mobile-friendly site, Offspring, a UK-based shoe store, increased their organic traffic by 25.59%, conversion rate by 15.19%, and mobile device revenue by 102.58%.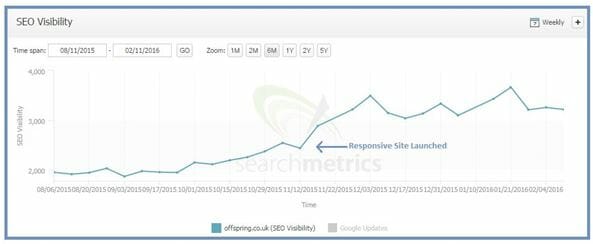 Perform keyword research
To improve your visibility in search engine results, you need to target keywords that are important to your business. More importantly, these keywords must be what your target users are searching for.
For most general keywords in your business, the competition is high. Most of the search results for these keywords are dominated by the high-authority websites.
For instance, if you're selling shoes, the keyword 'shoe' itself will be difficult or almost impossible to rank for. But 'winter shoes Alaska' will be easier to rank for and probably lead to more sales if you're based in Alaska.
It's advisable to try to rank for long-tail keywords. These are keywords that are usually more than 3 words. They usually have a low search volume but brings more targeted traffic to your website. These keywords also show more intent than short keywords.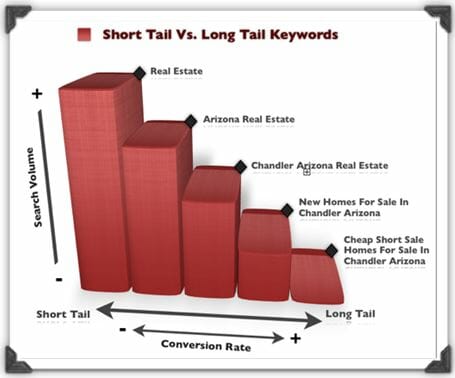 You can use the Google AdWords and Trends tools to check for keywords and their search volumes. You can also use other tools like SEMRush or Ahrefs for your keywords research.
Clickon Digital, an online startup company increased organic traffic to their website by 271% by optimizing its pages with long-tail keywords.
Internal Linking
One of the keys to improving your search engine performance is to show that your website is a great resource on a particular subject/topic.
You can do that through internal linking.
This is one of the factors that give Wikipedia an unfair advantage in the search over every other website you can imagine. Take a look at the number of internal links on this Wikipedia page: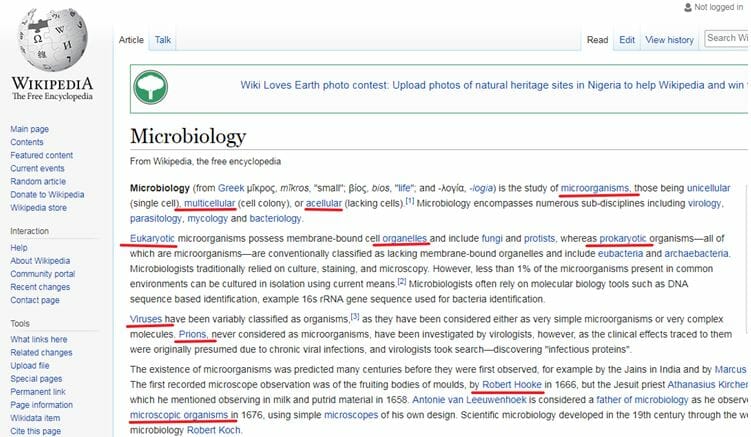 Apart from having high-quality articles, each page has tons of links (see above) to internal pages on the same website.
Linking to other pages on your website shows positions your platform as a great resource on a topic — and this helps to improve your search ranking for that topic.
For the best results, it's important that you build internal links to the most important pages on your website.
In few months, Ninja Outreach increased its organic traffic by 40% through internal linking.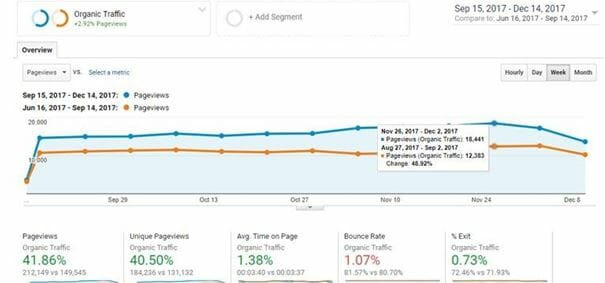 Conclusion
No one can guarantee that you'll rank #1 for a search term in Google search results page. Why? Because Google may decide to change the game tomorrow.
But optimizing your web pages using these tips will improve user experience on your website and send a signal to search engines that you're providing value for visitors. Hence, you gain better search visibility in the long-run.