Businesses have countless options for SEO providers, and they all promise page one rankings.  But not all SEO firms are created equal.  Rank Secure, headed by hands-on founder, Baruch Labunski, is one-of-a-kind.  We're a boutique firm that delivers results-oriented SEO and so much more.  We specialize in local SEO, brand building, and we deliver unparalleled customer service.
Don't believe us?  Read what our customers have to say on Clutch.co.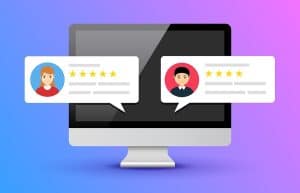 Clutch.co is a unique b2b directory with detailed, verified reviews collected by Clutch.co.  If your business needs a service, Clutch.co can help you find an outstanding partner who meets your specifications.
You may think local SEO means finding an SEO and marketing expert in your immediate area, but that's not the case.  What you need is an SEO firm with the tools, insight, and dedication to delivering stellar SEO no matter where your business is located.  For example, Rank Secure is based in Toronto.  Our most recent five-star Clutch.co review comes from a neurologist who's CEO of Brain Doc LA, located in Los Angeles.
The client writes: "Our local SEO performance is booming. People find me on the internet because of the website and everything that Rank Secure has put together. I've become easy to find, and my phone is ringing like crazy. I've gone from nowhere in the search results to the top of it within a week or two because of Rank Secure."   Rank Secure built the Brain Doc LA website from scratch, and our services didn't stop there.
One point of difference between Rank Secure and its competitors is our founder, Baruch's expertise in brand building, marketing that goes far beyond the confines of traditional SEO.  The Brain Doc LA CEO explains: "Engaging with Rank Secure isn't like talking to a random person. They're highly knowledgeable and have a boutique-style, one-on-one service approach. In other words, I feel like I'm working at the heart of their business. For comparison, a doctor friend of mine hasn't had the same results that I've got with Rank Secure."
And Brain Doc LA isn't the only business to have a five-star experience with Rank Secure.  The owner of a Toronto-based locksmith business is also thrilled, saying: "Rank Secure's SEO work significantly increased our online user traffic. Since working with them, our company has grown from 2–15 operators. It's been an amazing relationship."  The owner goes on to praise Baruch's customer service as well, explaining: "Their approach to management has been excellent. We communicate through calls, emails, and texts. They're so responsive it's like the project manager sleeps with the phone next to him."
At Rank Secure, we've not only discovered that Clutch.co is a go-to resource when we need to find other dedicated professionals to help us grow our business.  We've also discovered that Clutch.co helps us get fresh feedback from our clients to ensure we're delivering the best experiences and results we can.